Winter Dry Skin Problems and Solutions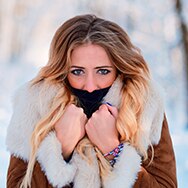 If you struggle with flaky skin, temperamental redness, ultra-dry lips, and other problems during winter, there are simple skincare tweaks that can help alleviate these issues quickly. We present the best solutions to get every inch of your skin feeling hydrated, smooth, soft, and radiant!
For many of us, frigid winter weather introduces unwanted changes in skin. Temperamental redness, flaky skin, parched lips, sensitivity, uncomfortably dry hands, and rough legs are just a few of the assaults winter inflicts. It makes us cold to even think about it!
There are truly easy skincare tweaks and targeted solutions that can help alleviate these problems as if they never existed. Here are our research-proven recommendations and expert-tested advice to transform your winter dry skin back to a hydrated, soft, smooth, radiant, and younger-looking glow!
Nourish Dry, Dehydrated Lips
Problem: Lips are the most susceptible to the cold, frigid air because they lack the oils and certain other components of skin the rest of your face has. That means you need to be extra good about nourishing them in chilly, drier climates.
Solution: During the day, use an SPF-enhanced lip balm (don't leave home without it) and at night, slather on an ultra-rich balm as an intensely hydrating lip mask. This day/night lip-nourishing duo will lock in moisture, enrich lip's delicate surface, and deliver concentrated hydration for smooth, soft lips that can stand up to winter's cold, windy weather.
Make sure that your lip balm does not contain cooling or tingling ingredients such as peppermint or menthol. The sensation that these ingredients produce is actually a sign that they are aggravating your lips and making dryness worse!
Combat Suddenly Dry Skin on the Face
Problem: When temperatures drop, skin often becomes suddenly dry and tight, but you don't have to run out and buy an entirely new range of skincare products. Boosting your skin's natural ability to stay hydrated is the best solution to give you immediate and long lasting results.
Solution: After cleansing, toning, and exfoliating, apply a few drops of our Hyaluronic Acid Booster over your entire face. Then over stubborn dry areas, apply a few drops of our Moisture Renewal Oil Booster.
The concentrated Hyaluronic Acid Booster drenches skin with moisture and is able to keep it inside. Our Moisture Renewal Oil nourishes skin with a unique mix of skin restoring plant oils. Then apply your moisturizer. You skin will look noticeably plumper, supple, and radiant. (Depending on your skin type, this also works beautifully all year long.)
Diminish Dull, Flaky Skin
Problem: Dull, flaky skin goes hand in hand with winter dryness, but scrubbing it away only creates a detrimental cycle of aggravating skin causing more dryness, moisture loss, and removing vital substance skin needs to be young and healthy.
Solution: Use a gentle, leave-on AHA or BHA exfoliant to naturally shed built up layers of dry dead skin in the healthiest way possible. There is even research showing these types of exfoliants can help improve skin's ability to hold moisture—a phenomenal way to combat dry, flaky and dull skin all at once!
If you have classic dry skin, go with an AHA. For combination/oily or breakout prone skin experiencing areas of dryness, opt for a BHA (salicylic acid) lotion. See our Paula's Choice Skincare collection of AHA and BHA exfoliants here.
Curtail Cold-Induced Redness
Problem: Chilly, arid conditions can lead to temperamental, tingling, red skin that is more sensitized and reactive. You can try covering it up with makeup but calmingly neutralizing redness and restoring your skin is the far better way to go.
Solution: Tone down reddened skin with soothing antioxidants, skin-replenishing ingredients, and skin-drenching hydrators. Our CALM Redness Relief Repairing Serum combines these elements in a lightweight solution for all skin types to immediately soothes temperamental skin and diminish redness. It's great for sensitive skin, even skin prone to rosacea.
If you're frustrated by reddened skin year round, don't stop at the serum—consider our comprehensive CALM Redness Relief Collection for Normal to Dry Skin or Normal to Oily Skin.
Soothe Uncomfortably Dry Hands
When exposed to extreme winter weather and given how often we have to wash our hands, they can easily and quickly become painfully dry. Cuticles get frayed and nails become brittle and jagged. It's time to restore your hands and keep them that way.
Solution: Any time of year, our rich body butter will replenish vital lipids and reinforce your skin's natural defenses against environmental damage and repeatedly washing your hands. Reapply as needed throughout the day (keep one in your car, desk, and purse). Give your cuticles some love as well (our LIP & BODY Treatment Balm works wonderfully for that).
Avoid washing your hands with bar soap or drying cleansers. As much as possible only wash your hands with a gentle water-soluble cleanser or moisturizing body wash. Being gentle with your hands is critical to keeping the surface strong, supple, and smooth.
Get Beautifully Smooth Legs
Problem: Your legs may be more hidden during the winter, but not tending to them at all can leave them feeling uncomfortably dry and dull-looking from built-up dead skin.
Solution: While basic body lotions feel great, they don't do enough to truly rejuvenate skin. You need more than just a temporary, superficial fix. Enrich your skin with our RESIST Retinol Skin-Smoothing Body Treatment. Retinol is the gold standard anti-aging skin-restoring ingredient for your face and your body!
Every Little Bit of Moisture Helps!
Problem: The hot, dry air circulating via heating systems in your home, car, or office keeps you warm but sucks the moisture right out of your skin.
Solution: You can help your skin (and your entire family's skin) by using a humidifier! Humidifiers disperse moisture into the air, which helps skin stay more hydrated and soft. This is an inexpensive way to love the skin you're in all winter long.
Although a long, hot soak in the shower or tub may sound tempting right about now, too much water is actually bad for skin, as it breaks down the substances that help keep it healthy and intact. Keep showers or baths brief, and moisturize your skin from head to toe immediately afterwards to replenish essential substances lost during the cleansing process (the sooner, the better to help keep any moisture on the surface of skin from escaping into the environment). Moreover, applying your moisturizer over damp skin provides even more beneficial hydration.
References for this information:
Dermatology Research and Practice, 2015, 205012
Journal of Drugs in Dermatology, 2011, issue 9, pages 990-1,000
International Journal of Cosmetic Science, 2008, issue 6, pages 413-434
Archives of Dermatological Research, 1997, issue 7, pages 404-409
About the Experts
Paula Begoun is the best-selling author of 20 books about skincare and makeup. She is known worldwide as The Cosmetics Cop and creator of Paula's Choice Skincare. Paula's expertise has led to hundreds of appearances on national and international radio, print, and television including:



The Paula's Choice Research Team is dedicated to busting beauty myths and providing expert advice that solves your skincare frustrations so you can have the best skin of your life!