The Best Eye Cream for Wrinkles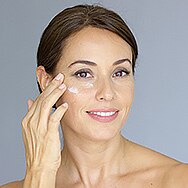 Surprising truth: Not everyone needs a product specifically for the eye area. For some, a well-formulated facial moisturizer can provide the same benefits. Whether or not you need an eye cream depends on two things: one, if the skin around your eyes is drier than the rest of your face, or two, if you have skin concerns around you eyes that your moisturizer isn't formulated to tackle.
Of course, many people simply prefer a dedicated eye-care product, and want to know exactly what to look for. Either way, we'll guide you toward products with anti-aging ingredients proven to reduce the appearance of fine lines and wrinkles, brighten, and revive a firmer, smoother look.
Our guidelines for choosing the best cream for eye wrinkles are the same for choosing any skincare product: Always look for fragrance- and alcohol-free products that are not packaged in jars. (Jar packaging reduces the effectiveness of light- and air-sensitive ingredients.)
Beyond that, the top eye creams for wrinkles include scientifically proven ingredients in three categories:
Skin-replenishing ingredients (also called skin-identical) are naturally abundant in your skin, before age and sun exposure begin to interfere. Therefore, these are all-skin-types, safe-to-use-around-the-eyes ingredients. Some of the most effective are peptides, ceramides, and hyaluronic acid, which hydrate to improve the appearance of wrinkles and leave skin visibly firmer and smoother.
Skin-restoring ingredients nourish skin, combat dullness, and—you guessed it—reduce the appearance of fine lines and wrinkles. Ceramides and peptides are also included in this category, along with retinol and niacinamide, two proven anti-aging powerhouses that "train" skin to look and feel younger.
Antioxidants defend skin against the visible effects of pollution and environmental damage, and help diminish the appearance of fine lines and wrinkles.
When shopping for an eye gel or eye cream for fine lines and wrinkles, be sure the formula includes a "cocktail" of ingredients from the groups listed above. Regardless of how effective any one anti-aging supserstar is, no single ingredient can provide the wrinkle-reducing results you're looking for.
Paula's Choice Skincare created RESIST Anti-Aging Eye Gel and RESIST Anti-Aging Eye Cream as an eye-wrinkle "power couple." They can be used as a pair: Gel in the morning for a lighter, less emollient texture under makeup, cream at night for balm-like, super-rich hydration. Or, if your skin prefers one texture over the other, it's fine to use just one, applied morning and evening. While these products for eye wrinkles look and feel vastly different, both are packed with antioxidants, skin replenishers, and skin restorers for optimal results. In addition, both products also contain a blend of ingredients to target other eye-area concerns like dark circles and puffiness.
If you're dealing with advanced signs of aging (including deep wrinkles and crow's feet), you may want to try our CLINICAL Ceramide-Enriched Firming Eye Cream. This ceramide-rich formula boasts four forms of brightening vitamin C, retinol for anti-aging, and two targeted peptides.
Last, it's imperative to keep in mind that because most eye creams don't provide sun protection, your morning eye-care routine should conclude with application of a broad-spectrum SPF product to guard against sun exposure—after all, that's what causes fine lines, wrinkles, dark spots, and uneven skin texture. Our award-winning RESIST Smoothing Primer Serum SPF 30 is a great choice, as it offers anti-aging benefits, sun protection, and a weightless, silky canvas under eye makeup. Or, go for a mineral-based moisturizer with sunscreen containing titanium dioxide and/or zinc oxide for instant brightening.
References for this information:
Aging Research Reviews, January 2015, pages 8–21
Journal of the American Academy of Dermatology, July 2014, pages 177–184
Oxidative Medicine and Cellular Longevity, July 2014, ePublication
Evidence-Based Complementary and Alternative Medicine, January 2013, ePublication
Dermatoendocrinology, July 2012, pages 253–258
Journal of Clinical and Aesthetic Dermatology, October 2012, pages 20–23; and March 2009, pages 38–43
British Journal of Dermatology, March 2010, pages 647–654
About the Experts
Paula Begoun is the best-selling author of 20 books about skincare and makeup. She is known worldwide as The Cosmetics Cop and creator of Paula's Choice Skincare. Paula's expertise has led to hundreds of appearances on national and international radio, print, and television including:



The Paula's Choice Research Team is dedicated to busting beauty myths and providing expert advice that solves your skincare frustrations so you can have the best skin of your life!