How to Find the Best Eye Cream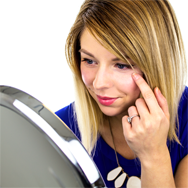 The eye area is one of the first places where you'll see signs of aging. So, it follows that many will start looking for an eye cream to address concerns like fine lines, wrinkles, loss of firmness, undereye darkness, and puffiness. We want to make sure you're using the best eye cream for your needs, so we put together a list of tips to make your search easier—and help you avoid disappointment.
Look for eye creams that contain a mix of the types of anti-aging ingredients that everyone's skin needs: antioxidants, skin-replenishing ingredients, and skin-restoring ingredients. Examples include glycerin, sodium hyaluronate, ceramides, non-fragrant plant extracts, butters and oils, vitamins, peptides, retinol, fatty acids, and triglycerides.

Any eye cream you use should be fragrance free. Whether natural (like essential oils) or synthetic, fragrance is a strong source of sensitizing and allergic reactions. It's also a big no-no for products you apply so close to the eye itself.

Keep expectations realistic: No eye cream is going to completely eliminate wrinkles, lift sagging skin, or erase puffiness and dark circles. A great eye cream will hydrate, smooth skin texture, and visibly firm, brighten, and diminish the look of lines, circles, some types of puffiness, and wrinkles—and that's exciting!

Don't buy an eye cream packaged in a jar. Jar packaging allows brilliant anti-aging ingredients, like retinol, plant oils, and antioxidants, to begin deteriorating the moment you open the jar; plus there's the hygiene issue each time you dip your finger (or spatula) into the jar.

For daytime, look for an eye cream that offers broad-spectrum sun protection and is rated SPF 30 or greater. If you can't find one you like, apply a thin layer of your regular eye cream, and follow with your daytime moisturizer with sunscreen, being sure it's fragrance free.

Many people like to use different products for morning and night. The ideal eye cream for normal skin might actually be an eye gel that provides lightweight hydration, relief from certain kinds of puffiness, and works well under sunscreen and makeup for daytime use. At night, a rich, emollient moisturizer with a balm-like texture can serve as an eye mask to deliver results while you sleep.

For advanced signs of aging, the best eye cream for crows feet is fortified with ingredients like brightening vitamin C, anti-aging retinol, and targeted peptides. If you need an eye cream for sensitive skin, look for ones containing soothing omega fatty acids and ceramides to strengthen skin's barrier.

Surprise: Not everyone needs an eye cream. If the moisturizer and/or serum you use are well formulated and fragrance free, you can use them around the eyes, too. The exception is if the facial moisturizer and serum you use aren't emollient or enriched enough for your eye area. Eye area skin that's drier, shows a loss of firmness, and shows dark circles requires a more luxurious, enhanced formula for optimum visible improvement—that's where the best eye cream excels.
References for this information:
Aging Research Reviews, January 2015, pages 8–21
Journal of the American Academy of Dermatology, July 2014, pages 177–184
Oxidative Medicine and Cellular Longevity, July 2014, ePublication
Dermatoendocrinology, July 2012, pages 253–258
British Journal of Dermatology, March 2010, pages 647–654

About the Experts
Paula Begoun is the best-selling author of 20 books about skincare and makeup. She is known worldwide as The Cosmetics Cop and creator of Paula's Choice Skincare. Paula's expertise has led to hundreds of appearances on national and international radio, print, and television including:



The Paula's Choice Research Team is dedicated to busting beauty myths and providing expert advice that solves your skincare frustrations so you can have the best skin of your life!