Skincare by Age?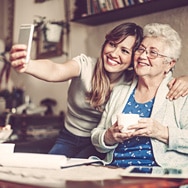 The best skincare tip we can give any woman in her 20s, 30s, 40s, 50s, and beyond is to forget how old you are because age is NOT a skin type. What you've probably read is that as we age our skin changes, so it should follow, logically, that what you use in your 20s or 30s won't work in the next decades of your life.
The "reasoning" for this "age is a skin type philosophy" is that just like your calorie needs differ by age, so should your skincare products. Another is the misguided logic that because of how our skin changes over the years, the products we use should also change.
Our personal favorite is one that talks about plants needing different nutrients and different amounts of water, and then goes on to compare that with aging skin—there is NO connection between the two. Any association with plants is just plain silly; a plant's nutrient and water needs are not about how old a plant is, but rather about the type of plant (e.g., drought-resistant, needs sun or shade, and so on) and what its environment is, such as desert or rain forest.
None of this so-called logic follows the facts, as revealed by the research.
Our calorie need is only in part based on age; it's determined primarily by how much you weigh and how active you are. You can be overweight and sedentary at any age, and that impacts how much you can eat to lose, maintain, or gain weight.
Skin does change as we age, but there is no research showing that preventive skincare differs from regular skincare and there's no research showing that what you need to apply topically differs by age. Even the research about oral supplements as we age is not conclusive, as a wide range of factors, such as diet, exercise, and health, determine if you need a supplement.
What's 100% true is that only your skin type and skin concerns should dictate what products you use. Some people in their 20s and 30s often have the exact same skincare needs as people in their 50s and 60s.
Regardless of their age, many women have dry, dull, rough, uneven, and blotchy skin. Others have oily skin with clogged pores and white bumps or have redness-prone skin. By the time you're 20, you skin has already been greatly impacted by environmental assault. How to combat the effects of environmental assault is the same, no matter how many candles are on your birthday cake.
If you've been good about protecting your skin from the sun with sunscreen and about not tanning, then age is not much of a consideration because it's unprotected exposure to UV light that robs skin of its beauty year after year.
When it comes to fighting visible signs of aging, you can't start too soon. The ingredients to do that are the same for everyone: antioxidants, skin-restoring ingredients, skin-brightening ingredients, and skin-replenishing ingredients. Everyone's skin is hungry for these important substances every day of your life, and the best skincare products provide a mix of those for beautiful results at every age.
References for this information:
Advances in Nutrition, January 2017, pages 17–26 and pages 27–39
Cochrane Data Base Systematic Review, June 2014, Issue 6
Advances in Nutrition, November 2012, pages 822–824
Food and Nutrition Board; Health and Medicine Division; National Academies of Sciences, Engineering, and Medicine, July 2016, ISBN-13: 978-0-309-44227-5
About the Experts
Paula Begoun is the best-selling author of 20 books about skincare and makeup. She is known worldwide as The Cosmetics Cop and creator of Paula's Choice Skincare. Paula's expertise has led to hundreds of appearances on national and international radio, print, and television including:



The Paula's Choice Research Team is dedicated to busting beauty myths and providing expert advice that solves your skincare frustrations so you can have the best skin of your life!