The Truth About Toxic Cosmetics Ingredients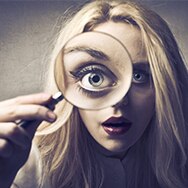 When shopping for makeup and skincare, we want products that are both effective and safe. That's why it's so alarming to read an article stating that certain cosmetic ingredients are potentially dangerous.
Several websites have called out a list of ingredients they deem "toxic," saying that using products that contain these ingredients can lead to a variety of health problems. Is that true? We examined the scientific research and consulted toxicologists familiar with the ingredients to debunk the myths and put your mind at ease about five common cosmetic ingredients.
Parabens
Parabens are a group of preservatives that have borne the brunt of toxic claims over the last decade or so. The hype stems from research suggesting that parabens can alter or disrupt how some biological systems work, leading to health problems.
Most of the studies cited to back this claim do not consider how parabens are used in cosmetic products. The studies that led to these negative statements examined extremely high concentrations of parabens, while much lower amounts (less than 1%) are used to preserve cosmetics.
In addition, multiple safety and regulatory boards around the world have stated that, as currently used in cosmetics, parabens are safe and do not pose a health risk. Parabens are among the most effective preservatives around and are much less likely to sensitize skin than several other preservatives that are often found in products advertised as "paraben-free."
Talc
Talc is a mineral ingredient used in powder makeup products and in products with absorbent properties. It's often blamed for triggering respiratory and reproductive health problems.
Most of the studies showing respiratory issues were done on talc miners, who inhaled large amounts of mineral particles over a lifetime of work. However, no definitive connection was made between talc and respiratory issues. In fact, most of the studies stated that the problems the miners faced were likely the result of inhaling other particles, like those from quartz.
The claims about reproductive health issues in women and the use of talc in personal-care products applied around the genitals are based on studies performed over the past 30 years. However, a review of those studies by researchers found no definitive link, concluding that the health issues could be the result of other factors, not necessarily talc.
PEG Compounds
PEG is an acronym for polyethylene glycol. PEG compounds are mixed with fatty acids and fatty alcohols to create ingredients that serve numerous functions in cosmetics, from thickening agents to emollients to stabilizers.
Those who say PEG compounds are harmful claim that they are contaminated with a harmful substance known as 1,4 dioxane, a manufacturing by-product classified by the U.S. Environmental Protection Agency as a possible human carcinogen. Studies show that the greatest risk is when it is inhaled in its pure form.
Even with that in mind, PEG compounds, as used in cosmetics, are formulated to greatly reduce or remove contaminants. A 2016 safety assessment from the Cosmetic Ingredient Review Expert Panel concluded that PEG compounds are safe in their current use and concentrations in cosmetics applications.
Silicones
Silicones, substances derived from the natural mineral silica, are used to give cosmetics a silky feel, as well as to impart emollience and to serve as moisture-binding agents.
One of the chief arguments against silicones is that they somehow "smother" skin, leading to clogged pores and acne breakouts, but that's not how silicones work. Instead, their unique molecular structure means that even though they are resistant to air (which is how they form a protective barrier on skin), they're also porous. That porosity allows skin to "breathe," so to speak, so your skin isn't being suffocated or clogged.
Numerous studies and research panels have found that silicones, as used in cosmetics, are perfectly safe to apply to skin and hair.
Sodium Laureth Sulfate
Sulfates get a lot of flak; sodium laureth sulfate is one among many sulfate-based detergent cleansing agents that can be derived from coconut.
Sodium laureth sulfate is generally considered one of the gentler and more effective ingredients for cleansing skin because of its high amount of fatty alcohols. Numerous industry experts have stated that sodium laureth sulfate is safe as used.
The problem is that its name sounds (and is) very close to sodium lauryl sulfate, but the two ingredients are not the same. Sodium lauryl sulfate is one of the more sensitizing, drying cleansing agents found in skincare products. In fact, some studies use it as a comparative baseline for determining sensitizing reactions to other ingredients.
Still, even though it can cause skin discomfort and should be avoided, sodium lauryl sulfate should not be considered "toxic." Studies have shown that, as used in cosmetics, neither sodium lauryl sulfate nor sodium laureth sulfate have any impact on human health.
References for this information:
Journal of Occupational & Environmental Medicine, July 2017, pages 659–664
Risk Analysis, May 2017, pages 918–919
Journal of Exposure Science and Environmental Epidemiology, May 2017, 320–325
Dayan, Nava. Handbook of Formulating Dermal Applications: A Definitive Practical Guide. Wiley, 2017
International Journal of Toxicology, July 2016, pages 60S–89S; July 2010, pages 151S–161S; and 2006, Supplement 2, pages 121–138
Frontiers in Pharmacology, 2016, page 132
Toxicological Research, June 2015, pages 105–136
Inhalation Toxicology, September 2009, pages 889–897
The Journal of Toxicological Sciences, May 2008, pages 141–153
Journal of Cosmetic Dermatology, June 2007, pages 23–31
About the Experts
Paula Begoun is the best-selling author of 20 books about skincare and makeup. She is known worldwide as The Cosmetics Cop and creator of Paula's Choice Skincare. Paula's expertise has led to hundreds of appearances on national and international radio, print, and television including:



The Paula's Choice Research Team is dedicated to busting beauty myths and providing expert advice that solves your skincare frustrations so you can have the best skin of your life!