The Best Natural Anti-Aging Ingredients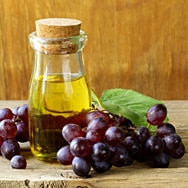 Just as there are good and bad synthetic ingredients, there are good and bad natural ingredients. At Paula's Choice Skincare, we love the benefit good natural ingredients can have for skin—and we want to help you avoid the ones that can harm skin.
Our formulary approach utilizes the best of nature and the best of synthetics to create high performance products that work as claimed.
One Size Doesn't Fit All
It's important to note there isn't a single "best" natural ingredient out there. Instead, there are dozens upon dozens (far too many to list!), and ongoing research reveals which can help prevent or diminish the visible signs of aging. Paula's Choice Skincare follows this research closely, and takes advantage of the gentlest proven natural ingredients for healthier, younger-looking skin.
We also avoid natural ingredients that can have an adverse impact on skin, and urge everyone to do the same when shopping for skincare. Although they're found in nature and smell wonderful, fragrance ingredients like rose oil, peppermint oil, and orange oil can sensitize and aggravate skin, both of which contribute to signs of aging. Witch hazel, despite its natural roots, has drying alcohol and skin-constricting tannins that can make oily skin worse and contribute to enlarged pores, despite the initial de-greasing effect.
Natural Anti-Aging All-Stars
When it comes to natural ingredients with potent anti-aging benefits, antioxidants are always a great place to start. There are numerous naturally-derived antioxidants to be found in skincare, including resveratrol, soy, green tea (and its more potent form, EGCG), and ubiquinone, which can come from plants and helps fight against the visible effects of pollution.
Antioxidant products rich in omega fatty acids, like passion fruit, almond oil, and flaxseed oil, can help smooth and visibly firm skin, and Vitamin C can go a long way to help brighten your complexion.
In addition, there are natural skin-replenishing ingredients (like glycerin, ceramides, and the previously-mentioned omega fatty acids). Some natural ingredients, like sea whip, licorice, willow bark, and chamomile, can have a calming effect on skin to help soothe redness—not to mention provide an antioxidant kick.
These examples only scratch the surface as far as the best ingredients for anti-aging, but they'll get you pointed in the right direction in your search for great natural skincare ingredients. And as far as best practices go, it's important to avoid fragranced products even if the scents are natural.
A final note: Just because an ingredient is synthetic does not make it bad for skin. There are plenty of synthetic ingredients (retinol is one, not to mention peptides) that have a wealth of research supporting their youth-reviving benefits for skin; don't let the word "synthetic" deter you when shopping for anti-aging skincare products.
The take-home message is this: The best skincare products to fight signs of aging and replenish skin include a blend of natural and synthetic ingredients that work in harmony for optimal anti-aging results. This synergy allows for better textures, more targeted delivery systems, and faster results.
References for this information:
Journal of Clinical Medicine, February 2016, ePublication
Journal of the American Academy of Dermatology, May 2015, page 28
Clinical Interventions in Aging, January 2015, pages 339-349

About the Experts
Paula Begoun is the best-selling author of 20 books about skincare and makeup. She is known worldwide as The Cosmetics Cop and creator of Paula's Choice Skincare. Paula's expertise has led to hundreds of appearances on national and international radio, print, and television including:



The Paula's Choice Research Team is dedicated to busting beauty myths and providing expert advice that solves your skincare frustrations so you can have the best skin of your life!