Superfoods for Skin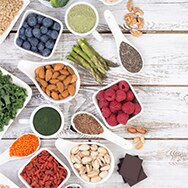 In the world of skin care, there is no single best ingredient or even best group of ingredients. Just like your body needs a variety of healthy foods to thrive, your skin needs a variety of beneficial ingredients to look its best. Superfoods are one of them; in fact, they're one of the secrets of how to get better skin.
If there's such a thing as beauty foods for skin, superfoods are it. Superfoods are nutritionally dense foods that supply skin with a broad mix of antioxidants. Some superfoods also supply essential fatty acids and vital replenishing ingredients to enrich and strengthen skin's surface. Going further, some superfoods do all of that and deliver soothing benefits.
Whether you're looking for foods for clear skin, foods for glowing skin, or just want skin that looks and feels its best, both eating and applying superfoods can help. After examining the research—which we always do before making any skin care recommendations—we've come up with a list of the top 10 superfoods for skin, all of which we use in our products.
Top 10 Superfoods for Healthy Skin
Before you dive into this list, know that these picks aren't the only superfoods for skin to consider. Just as there are lots of antioxidants that help skin, there are lots of superfoods that enhance skin's appearance. These superfoods are among the most well-researched:

Flax seed oil

Flax seed oil (also known as linseed oil) is a rich source of omega-3 fatty acids, which have a pronounced moisturizing and calming action on skin. We include flax seed oil with other omega fatty acids in our Omega+ Complex Moisturizer.

Chia seed oil

Chia is another rich source of omega-3 fatty acids, along with other replenishing fatty acids and potent antioxidants. It works to visibly reduce redness and help skin's surface become less sensitive. This superfood is present in our Omega+ Complex Serum.

Blueberries

Like all dark- and brightly colored berries (the lot of which count as superfoods) blueberries are a phenomenal source of antioxidants known as polyphenols, which have a notable ability to visibly calm skin. Skin is bombarded daily with things that can sensitize it, so anything you can do to defend against this damage leads to better skin. Find blueberries in our EARTH SOURCED Power Berry Serum.

Arugula

This leafy green's deep color is evidence of the antioxidants it contains, including the plant polyphenol ingredient quercetin. It's also a source of replenishing fatty acids like palmitic acid and brightening azelaic acid. Arugula leaf (Latin name Eruca sativa) is one of the numerous pollution-fighting antioxidants in our DEFENSE Nightly Reconditioning Moisturizer.

Kiwi

This fruit is a great source of lutein, an antioxidant proven to help shield skin from damaging blue light, including what's emitted from digital devices like computer screens and smart phones. It's also a rich source of classic antioxidant vitamin C and proven to protect skin from the visible effects of airborne pollutants. Kiwi's environmental advantage is why we added it to our DEFENSE Essential Glow Moisturizer SPF 30.

Oats

Oats are gentle powerhouses of soothing compounds that minimize signs of aggravated skin and ease uncomfortable dryness. Their soothing ability is why we include oat kernel extract (among other skin soothers) in our CLINICAL 1% Retinol Treatment.

Turmeric

This spice is a natural source of curcumin and its derivatives, ingredients that have potent antioxidant and calming abilities. A growing body of research has shown that topical application of curcumin-derived ingredients visibly improves numerous skin concerns. Find them in our RESIST Barrier Repair Moisturizer.

Olive oil

Not just for cooking or salad dressing, olive oil's fatty acid and antioxidant content can dramatically improve skin texture, tone, and resilience. You can't have glowing skin with a diet that lacks olive oil! It's also easy to find in skin care, including in our RESIST Advanced Replenishing Toner, which contains oleic acid, a chief fatty acid in olive oil.

Green tea

This popular beverage is among the most researched antioxidants, and also considered among the most effective for addressing signs of aging, including wrinkles and loss of firmness. One component in green tea, known as epigallocatechin gallate (EGCG), is especially impressive. We include EGCG in several products, including our EARTH SOURCED Purely Refreshing Toner.

Red grapes

All types of grapes are a good source of antioxidants for skin, but red grapes are a natural source of the exciting antioxidant resveratrol. Studies have shown that topical application of resveratrol helps protect skin's surface from aging elements, while also promoting an even skin tone. Find resveratrol in our RESIST Super-Light Wrinkle Defense SPF 30.

Learn more about natural skin care.

References for this information:
Phytotherapy Research, August 2016, pages 1,243–1,264
Journal of Food Science and Technology, August 2016, pages 3206–3214
International Journal of Molecular Sciences, August 2015, pages 18642–18663
Journal of the Science of Food and Agriculture, March 2015, pages 722–729
Journal of Food Science and Technology, September 2014, pages 16,33–1,653
Phytotherapy Research, September 2014, pages 1,359-1,366
Biomolecules and Therapeutics, January 2014, pages 35–40
Clinical, Cosmetic, and Investigational Dermatology, November 2012, pages 183–193
DermatoEndocrinology, July 2012, pages 298–307
Archives of Biochemistry and Biophysics, April 2011, pages 164–170
Nutrients, August 2010, pages 903–928
Skin Pharmacology and Physiology, September 2009, pages 299–304
Clinics in Dermatology, March-April 2009, pages 159–165
European Journal of Pharmacy and Biopharmaceutics, August 2008, pages 943–947

About the Experts
Paula Begoun is the best-selling author of 20 books about skincare and makeup. She is known worldwide as The Cosmetics Cop and creator of Paula's Choice Skincare. Paula's expertise has led to hundreds of appearances on national and international radio, print, and television including:



The Paula's Choice Research Team is dedicated to busting beauty myths and providing expert advice that solves your skincare frustrations so you can have the best skin of your life!