Best Serums for Combination to Oily Skin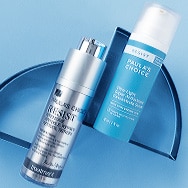 Serums have become an accepted part of any great skin care routine. That's because the best serums, regardless of your skin type, will provide potent concentrated ingredients to protect skin from environmental damage and signs of aging, along with weightless but maximum hydration. All this in a uniquely soothing lightweight formula that can be worn under any moisturizer or layered with your other treatment products. Serums can even be used on their own, which can work great for oily skin. In numerous ways, serums can be the answer to many skin care needs.
The difference between serums for combination to oily skin and serums for other skin types is the ultra-light formula, still with an amazing amount of deeply hydrating ingredients. Along with the most potent antioxidants and skin-restoring ingredients, these serums feel almost like water when applied on skin. Our serums for combination to oily skin easily absorb into skin and provide all those benefits with a beautifully silky feel, leaving a restored appearance that lasts throughout the day.
The Best Paula's Choice Serums for Combination to Oily Skin:
RESIST Ultra-Light Super Antioxidant Concentrate Serum has a water-light texture with a broad range of antioxidants and skin-restoring ingredients, including niacinamide and grape-derived resveratrol, that provide many benefits for combination to oily skin.
SKIN BALANCING Super Antioxidant Concentrate Serum has a soft, light feel that supplies skin with potent antioxidants and retinol to visibly improve the appearance of wrinkles and uneven skin tone.
RESIST Intensive Wrinkle-Repair Retinol Serum contains stabilized retinol along with vitamin-derived antioxidants to diminish pore size and improve signs of aging, including a visible lack of firmness.
You can add any of these serums to your routine and use them morning and evening to help balance combination to oily skin while supplying the vital anti-aging ingredients that even oily skin needs to look younger and feel healthier.
Research for this information:
Journal of the European Academy of Dermatology and Venereology, September 2017, pages 3–18
International Journal of Cosmetic Science, February 2015, pages 455–464
Oxidative Medicine and Cellular Longevity, volume 2013
Journal of the America Academy of Dermatology, November 2012, pages 1103–1024
Dermatoendocrinology, July 2012, pages 308–319
Archives of Biochemistry and Biophysics, April 2011, pages 164–170
Journal of Clinical Aesthetic Dermatology, January 2009, pages 36–40
Skin Research and Technology, August 2008, pages 376–380
Food and Chemical Toxicology, April 2008, pages 1298–1307
Clinical Interventions in Aging, December 2006, pages 327–348
Dermatologic Surgery, July 2005, pages 860–865

About the Experts
Paula Begoun is the best-selling author of 20 books about skincare and makeup. She is known worldwide as The Cosmetics Cop and creator of Paula's Choice Skincare. Paula's expertise has led to hundreds of appearances on national and international radio, print, and television including:



The Paula's Choice Research Team is dedicated to busting beauty myths and providing expert advice that solves your skincare frustrations so you can have the best skin of your life!