The Best Toners for Oily Skin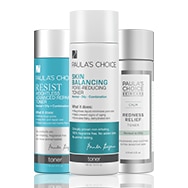 Face toners play one of the more vital roles in skin care, even though they don't often get the credit they deserve. In particular, oily skin toners offer a unique approach to replenishing skin with restorative and hydrating ingredients. What's special is they do so in a lightweight way without risk of clogging pores or leaving a greasy feel.
Here's everything you need to know in order to find the right toner for your oily skin.
Toner Benefits for Oily Skin
In the past, oily skin toners were typically harsh, astringent-like elixirs that stripped skin dry, but today's best toner formulas are all about giving back to skin, not taking away.
We now know from research that all skin types, including oily, need a range of ingredients to replenish vital substances in skin immediately after cleansing (this is true even if you use a gentle cleanser). A well-formulated toner steps in to instantly deliver a generous amount of those revitalizing ingredients skin needs to look and act healthy. This is as much the case for a toner designed for oily skin as it is for any other skin type; the main difference for oily skin toners is their lighter weight consistency.
The best toners for oily skin go a step further with ingredients that target common issues, such as enlarged pores—all without irritating skin or stripping it dry.
As an extra perk, face toners also help remove the last traces of makeup you may have missed while cleansing. If you have oily skin prone to breakouts, this is a significant benefit to help keep your pores debris-free and minimize the risk of bumpy skin.
Our Favorite Toners for Oily Skin
So how do you pick the right toner for your oily skin? At Paula's Choice Skincare, we understand the challenges oily skin presents. Our founder, Paula Begoun, created the line in large part because of her own experience with oily skin and breakouts. Because of that, all of our toners for oily skin are packed with research-backed, results-driven, non-irritating ingredients. Each provides weightless hydration to soften and smooth skin without a greasy feel or excess shine.
These are our favorite hard-working formulas:
RESIST Weightless Advanced Repairing Toner is ideal for anyone with oily skin who wants to target the signs of aging and enlarged pores. The antioxidant + peptide-spiked formula addresses wrinkles, while niacinamide goes to work to improve the appearance of skin tone and texture.
SKIN BALANCING Pore-Reducing Toner is optimal for anyone looking to tone down oily shine, while simultaneously recharging skin with replenishing ceramides for a refreshed look and feel. Its niacinamide-enriched formula also visibly minimizes pores for an ultra-smooth complexion.
CALM Redness Relief Toner for Normal to Oily Skin gently calms redness and soothes sensitive skin with sea whip extract and beta-glucan, while providing comforting hydration to eliminate signs of flakiness and dehydration—all without heavy emollients.
Oily Skin Toners to Avoid
If you're looking in your beauty cabinet right now and wondering if the oily skin toner you already own is a good or bad formula, here are the most important facts to know:
Treating skin as gently as possible is especially crucial for oily skin because irritation leads to increased oil production (learn more about how sensitizing ingredients hurt skin). Hint: Fragrance, including from essential oils, is a big no-no.
Skin-drying SD- or denatured alcohol, witch hazel, and menthol often show up in toners aimed at oily skin, but all of them are proven to irritate skin, making oily shine, enlarged pores, and acne breakouts worse. If you're using a toner with these ingredients, it's doing more harm than good.
Armed with the facts, you can now look forward to reaping the benefits and the uniquely refreshed, soothing feeling that a state-of-the-art skin toner can provide.
Learn more about oily skin.

Learn more about skin toners.
References for this information:
The Journal of Clinical and Aesthetic Dermatology, August 2017, pages 49-55
Biochimica et Biophysica Acta, May 2012, pages 1,410-1,419
Experimental Dermatology, October 2009, pages 821-832
About the Experts
Paula Begoun is the best-selling author of 20 books about skincare and makeup. She is known worldwide as The Cosmetics Cop and creator of Paula's Choice Skincare. Paula's expertise has led to hundreds of appearances on national and international radio, print, and television including:



The Paula's Choice Research Team is dedicated to busting beauty myths and providing expert advice that solves your skincare frustrations so you can have the best skin of your life!