Help for Oily Skin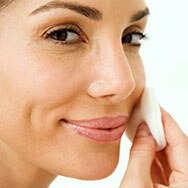 If you struggle with the daily annoyance of a face that resembles an oil slick (something our founder Paula has struggled with herself for years), you know how difficult it is to get oily skin under control. Adding to the frustration, whether you know it or not, is the fact that that many of the products claiming to get rid of oil actually make matters worse because they contain ingredients that aggravate skin and trigger more oily shine. We're here to help—armed with the research-backed facts for what really works.
Understanding Oily Skin
Oily skin is hard to control because it's something we're born with, kicking in sometime in our teen years or randomly as we age. Having oily skin is the same as being born with the predisposition for having thick hair or how tall you will be; you can't stop those things any more than you can stop oily skin. (1)
For those of us with super oily skin, it may be hard to believe a normal balanced oil flow from the pore does good things for skin. For example, it relieves dryness, maintains a healthy skin surface, and keeps skin pliable.
Oily skin obviously becomes maddening when too much oil is produced. This causes pores to become enlarged as they're stretched beyond capacity to handle the amounts of oil being generated. It gets worse as the pore lining thickens, which blocks oil from getting to skin's surface, resulting in blackheads and white bumps. (1)
One myth to bust: Oily skin does not age less than dry skin. Oily skin may look less wrinkled because it is often less dry, but the cause of wrinkles is not something oily skin can stop or change. (2)
Caring for Oily Skin
The first step in caring for oily skin is to assess your current skin care routine. Using products with drying or harsh ingredients may make your skin feel less oily, at least initially, but in the long run, using such ingredients only makes matters worse. Here's what you need to kick out of your skin care routine. (3)
Avoid harsh, drying ingredients because they actually trigger more oil. SD alcohol and denatured alcohol are common culprits. (4)
Products that make your skin tingle (such as menthol, mint, and eucalyptus) actually upset skin. Tingling is just one way your skin is telling you it is hurting, and that cumulative damage will end up causing more problems.
Products that contain pore-clogging or emollient ingredients can exacerbate oiliness. As a general rule, ingredients that keep bar products in solid form (such as bar soaps or stick foundations), or that are present in emollient lotions and creams are likely to clog pores and look greasy on your skin. Instead of using creams or thick formulas, consider using only liquids, weightless serums, fluid lotions, or feather light gels.
Step-by-Step Routine for Oily Skin
The following essential skin care guidelines will help you take control of your skin so you'll see less oil, pores that appear minimized, and fewer bumps.
1. Cleanse
Use a gentle, water-soluble cleanser for oily skin twice daily. Ideally, the cleanser should rinse without leaving a hint of residue, be fragrance free (fragrance is always a problem) and not contain drying cleansing ingredients. (Drying up skin doesn't help anything). For extra cleansing, please avoid skin-aggravating scrubs or cleansing brushes with stiff bristles. A soft washcloth or cleansing brush with ultra-soft bristles can be helpful—being rough on your skin is not. (5)
2. Tone
An alcohol-free toner for oily skin loaded with antioxidants and skin-replenishing ingredients is an incredibly important step for oily skin. Toners that contain these ingredients help skin renew and recharge, minimize the appearance of enlarged pores, and remove the last traces of makeup that can lead to clogged pores. For some this can be the only "moisturizer" they need for night time.
3. Exfoliate
Exfoliation is one of the most important skin care steps for oily skin. Oily skin tends to have an extra-thick coat of built-up dead skin on the surface, along with a thickened pore lining. Gently exfoliating is the only way to remove that build up and diminish clogged pores. It is also the best way to improve the look of stubborn, tiny, hard white bumps that occur primarily on your cheek bones but can show up in other areas too, even when related to milia-prone skin. (6, 7)
The best exfoliants for oily skin contain salicylic acid (BHA). Salicylic acid exfoliates not only the surface of your skin but also inside the pore lining, thus allowing oil to flow easily to the surface, so it doesn't get backed up and plug the pore. BHA is a completely non-abrasive, hydrating, skin soothing ingredient that helps skin naturally shed as it did when we were young before oily skin began taking its toll. (8)
4. A.M. Sun Protection
A sunscreen is essential for reducing the risk of early signs of aging (and skin cancer) and keeping everything about skin from getting worse. Unprotected exposure to UV light causes key components in sebum to oxidize, setting off a chain reaction of damage. If you've avoided sunscreens in the past because the ones you tried were too greasy or too occlusive, there are weightless, mattifying sunscreens for oily skin that will change your impression for good. (9)
5. P.M. Hydration
At night, choose a feather light but exceptionally effective hydrating and skin-renewing gel moisturizer for oily skin or serum for oily skin that is free of pore-clogging ingredients while giving your skin the essential antioxidants and skin-replenishing ingredients it needs to look as healthy and revived as possible.
6. Absorb Excess Oil
Try an oil-absorbing primer to help control oil and minimize the appearance of pores. A clay mask for oily skin may also offer temporary help. Both of these are optional but beneficial steps for anyone with oily skin. (10)
References for this information:
1. The Journal of Clinical and Aesthetic Dermatology, August 2017, pages 49-55

2. Skin Pharmacology and Applied Physiology, Volume 25, 2012, pages 227-235

3. Dermatologic Clinics, October 2000, pages 617-620

4. Journal of Dermatological Science, April 2015, pages 34-43

5. Indian Journal of Dermatology, January-February 2011, pages 2-6

6. The Journal of Clinical and Aesthetic Dermatology, May 2012, pages 32-40

7. International Journal of Cosmetic Science, October 2015, pages 519-525

8. Journal of Cosmetic Dermatology, January 2005, pages 44-45

9. Experimental Dermatology, September 2015, pages 651-654

10. International Geology Review, July 2010, pages 745-770
About the Experts
Paula Begoun is the best-selling author of 20 books about skincare and makeup. She is known worldwide as The Cosmetics Cop and creator of Paula's Choice Skincare. Paula's expertise has led to hundreds of appearances on national and international radio, print, and television including:



The Paula's Choice Research Team is dedicated to busting beauty myths and providing expert advice that solves your skincare frustrations so you can have the best skin of your life!