Winter Care for Oily, Combination Skin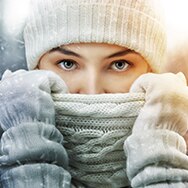 If you live in or are visiting a part of the world where winters are cold and snowy, then you know the lyric "Oh, the weather outside is frightful" can be all too true! The unwelcome mix of cold, dehydrating air and the skin-distressing dip in temperature takes a toll, and not only on dry skin; these conditions affect combination and oily skin, too!
Regardless of skin type, winter is the season when most of us need to adjust our skincare routines. But, if you have combination to oily skin, you worry (and rightly so) that using richer, emollient moisturizers will make your oily areas even more oily. No more worrying: Stopping winter's impact doesn't have to clog pores or make skin feel greasy, not if you know which types of products to use. We've got you covered, with just a few simple modifications to your current skincare routine.
How Winter Weather Affects Skin
When the temperature drops and cold winds whistle, that chilly air is dry, and that low humidity can be a disaster for skin! After all, it's the humidity that helps keep skin smooth and deters dryness and flaking.
In addition to the low humidity outdoors, there's also the assault indoors from dry, heated air. This combination—cold and dry outside and hot and dry inside—is just too much, even for those with oily skin. As a result, your oily or combination skin can begin looking and feeling dry, sensitive, red, dehydrated, and uncomfortable.
You can't control the weather, and turning off the heat indoors isn't an option. What you can do, and easily, to keep your skin comforted and hydrated is add specialized but weightless hydration-drenching products to trick your skin into thinking Spring is in the air.
How to Adapt Your Skincare Routine for Winter
Regardless of the season, if you have combination to oily skin, you want to avoid products that make skin feel coated and greasy, a mix that can cause clogged pores and bumps. To keep this from happening during winter, forget that typical recommendation to switch to richer cleansers and facial moisturizers—your skin will not be happy if you follow this misguided advice!
Managing combination to oily skin during the cold, dry winter months does not mean loading up on heavy-duty products; rather, you need to layer a series of lightweight products that provide smoothing, replenishing ingredients without making skin feel weighed down or oily.
At Paula's Choice Skincare, selecting one or two of our serums and boosters will give you the best results, without compromising your skin. These innovative lightweight formulas are packed with the types of ingredients your skin needs to look and feel smoother, softer, more even, and more radiant all year long.
It's important—year-round—for your combination to oily skincare routine to be gentle and nourishing, using such products as a water-soluble cleanser, a toner loaded with skin-replenishing ingredients, an AHA or BHA exfoliant (BHA is preferred for oily, clog-prone skin to help naturally shed that unwanted buildup of dead surface skin), a weightless daytime moisturizer with sunscreen, and a lightweight gel or lotion-textured nighttime moisturizer. Here's how to easily adapt your usual routine for winter to keep combination to oily skin balanced:
Morning and evening, cleanse with a gentle water-soluble cleanser.
Morning and evening, apply your skin-replenishing toner (no need to rinse).
Once or twice a day, apply a leave-on BHA exfoliant.
Morning and evening, apply Hyaluronic Acid Booster over dry areas, including around the eyes.
Morning and evening, apply RESIST Ultra-Light Super Antioxidant Concentrate Serum over dry areas, including around the eyes.
For daytime, apply your moisturizer or foundation with sunscreen and at night, apply SKIN BALANCING Invisible Finish Moisture Gel to dry areas, including around the eyes.
If you want to ramp up your beauty sleep and give your skin a super hydration boost overnight, apply our RADIANCE Renewal Mask to your face, neck, and eye area as the last step of your nighttime routine.
What to Avoid
Following the routine outlined above will absolutely get you through even the worst winter weather with balanced, smooth, hydrated skin. Even better, you won't be risking clogged pores or skin that feels over-moisturized. Equally important, however, is what to avoid, so we'll close with these pointers:
Unless skin is very oily, avoid the use of absorbent clay masks during cold winter weather. During the day, dab a mattifier over shine-prone areas, either under or over your foundation.
If skin is flaky, don't reach for your facial cleansing brush. Unless the bristles are cashmere-soft, you could end up making matters worse. Remove flaky skin by gently massaging the areas with a warm washcloth, and follow with a replenishing toner.
Don't forget your BHA exfoliant, which helps skin naturally shed the unwanted flaky surface skin.
Got clogged pores or bumpy skin? Avoid products that contain drying, sensitizing ingredients like denatured alcohol, eucalyptus, menthol, mint, and witch hazel. These will conspire to make winter's visible effects on skin more noticeable than ever.
Our 10% Niacinamide Booster can work wonders to reduce the appearance of large pores and uneven skin tone, while also helping skin become better at holding on to hydration. (Take that, Jack Frost!)
Learn more about combination skin.
References for this information:
Journal of the European Academy of Dermatology and Venereology, August 2016, pages 1285–1294
Journal of Cosmetic Dermatology, March 2013, pages 3–11
The Journal of Clinical and Aesthetic Dermatology, August 2012, pages 29–39
International Journal of Nursing Studies, February 2009, pages 172–180
http://lpi.oregonstate.edu/mic/micronutrients-health/skin-health/nutrient-index/essential-fatty-acids
About the Experts
Paula Begoun is the best-selling author of 20 books about skincare and makeup. She is known worldwide as The Cosmetics Cop and creator of Paula's Choice Skincare. Paula's expertise has led to hundreds of appearances on national and international radio, print, and television including:



The Paula's Choice Research Team is dedicated to busting beauty myths and providing expert advice that solves your skincare frustrations so you can have the best skin of your life!