How Omega Fatty Acids Help Skin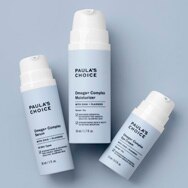 Omega fatty acids like those found in fish oil are well known for their remarkable nutritional benefits when consumed as part of a healthy diet—but you might not know about the amazing benefits they have when applied to skin.
The research about omega's healthy fatty acids for skin is fascinating; in fact, it inspired us to formulate highly specialized products to deliver these important ingredients—and their benefits—to skin: RESIST Omega+ Complex Serum and Omega+ Complex Moisturizer. Adding one or both of these omega fatty acid-packed products to your skin care routine can supplement and enhance the results you get from your other products for visibly better skin.
What are Omega Fatty Acids?
Omega fatty acids are valuable fats, for your diet and your skin. There are 11 omega fatty acids of which two (omega-3 and omega-6) are considered essential fatty acids because the body cannot make them on its own. Among the omegas, the most vital for skin are:
Omega-3—Found in foods such as fish oil, flax seed (linseed) oil, walnut oil, chia oil, and certain species of algae.
Omega-6—Abundant in many plant oils, linoleic acid, and passion fruit oil.
Omega-9—Plentiful in flax seed (linseed) oil and soybean, canola, peanut, and sunflower oils.
Omega-3 and 6 fatty acids are not only essential to consume orally, but when applied to skin, research has shown they play a role in maintaining your skin's healthy appearance, among many other benefits.
How Do Omega Fatty Acids Benefit Skin?
Omega fatty acids are truly remarkable ingredients for skin. They serve as the essential building blocks of skin's surface layers, creating a smoother, more even, younger-looking, and healthier complexion, no matter your age or skin type. And if the idea of putting fish oil on skin sounds a bit gross, don't worry—the plant-derived omega-3 fatty acids are just as remarkable for skin!
Here are some of the things topical application of omega fatty acids can do for your skin:
Reinforce and smooth skin's surface.
Increase hydration without feeling heavy, and help keep skin hydrated.
Calm signs of external stressors, including redness and sensitivity.
Eliminate signs of flaky, dehydrated-looking skin.
Visibly strengthen skin against signs of environmental damage.
Deliver antioxidants for anti-aging results.
All of these benefits mean that applying omega fatty acids to skin leads to visible rewards you'll love, without bothering with fish oil for skin (keep that for your diet)!
Omegas have a natural affinity for skin, and are especially beneficial when combined with other skin-loving ingredients like ceramides, cholesterol, and glycerin. This formulary approach is exactly what we do with our RESIST Omega+ Complex Serum and Omega+ Complex Moisturizer, both with the same exclusive blends of omega fatty acids.
How to Add an Omega Product to Your Skin Care Routine
Whether you're using a basic skin care routine or prefer something more advanced, our
RESIST Omega+ Complex Serum
and
Omega+ Complex Moisturizer
are easy to incorporate. You can apply one or both once or twice daily, after cleansing, toning, and exfoliating, and then follow with a sunscreen during the day.
Do you need omegas from two products? It depends on your skin's needs. If you have dry, dehydrated skin showing signs of stress (think random sensitivity, red patches, and flaky areas) doubling up on omegas is a wise move. You can apply our RESIST Omega+ Complex Serum to your face, neck, and chest and then follow with the partner moisturizer.
The most significant difference between the Omega Serum and Moisturizer is texture: the Omega+ Complex Serum is a thin lotion while Omega+ Complex Moisturizer has a whipped cream texture. Both the Serum and Moisturizer contain the same key Omega Complex, but the Serum contains a greater concentration. The Moisturizer adds amino acids, some non-fragrant plant oils, and soothing antioxidants while the Serum kicks in vitamins C and E, a higher amount of glycerin, and the addition of plum oil for its omega-9 benefits (the Moisturizer relies more on oleic acid for omega-9). The products are designed to layer and are ideal for dry, dehydrated skin.
You may be wondering whether or not you still need a moisturizer if you add the RESIST Omega+ Complex Serum to your skin care routine. The answer is maybe; it all depends on your skin type and the other products you're using. RESIST Omega+ Complex Serum hydrates with its lightweight lotion texture, but if your skin is dry to very dry or if you have combination skin with notably dry cheeks, you'll want to follow with a moisturizer at night. Of course, applying a broad-spectrum sunscreen appropriate for your skin type is essential every morning!
What if you're already using one of our serums? Do you need the Omega+ Complex Serum, too? The ingredients and the benefits from both are a plus, but they also have a synergistic effect; that is, when combined, they enhance the benefits. So, there's no reason not to layer them both morning and/or evening (we do love layering), or you can apply one in the morning and the other at night, along with any booster or targeted solutions you need. You'll need to experiment to see what works best for you. Alternating is fine, too! For example, apply one or both Omega products every other day, and on the other days you can apply a different serum and moisturizer combination.
RESIST Omega+ Complex Serum and Omega+ Complex Moisturizer can also be applied around your eyes, either instead of, or underneath your eye cream. Both products also provide anti-aging, smoothing, and hydrating benefits to your eye area (and their abilities are brilliant for the neck and chest, too!) The impressive calming properties of omegas make them gentle enough even for eczema-prone and rosacea-prone skin.
We're excited for you to see the results from applying omega fatty acids. Omega-3 benefits along with partner omegas 6 and 9 will help you have younger, hydrated, and healthier-looking skin. Omegas give your skin essential nutrition, from the outside in.
References for this information:
Marine Drugs, August 2018, ePublication
Biochimica et Biophysica Acta, September 2017, pages 1,679-1,689
Journal of Clinical Medicine, February 2016, ePublication
Brazilian Archive of Biology and Technology, January-February 2012, pages 127–134
Experimental Dermatology, July 2011, pages 537–543
Journal of Agricultural and Food Chemistry, October 2010, pages 112–118
Clinics in Dermatology, July-August 2010, pages 440–451
Annals of Dermatology, May 2010, pages 143–148
https://lpi.oregonstate.edu/mic/health-disease/skin-health/essential-fatty-acids#functions

About the Experts
Paula Begoun is the best-selling author of 20 books about skincare and makeup. She is known worldwide as The Cosmetics Cop and creator of Paula's Choice Skincare. Paula's expertise has led to hundreds of appearances on national and international radio, print, and television including:



The Paula's Choice Research Team is dedicated to busting beauty myths and providing expert advice that solves your skincare frustrations so you can have the best skin of your life!