How Paula's Choice Essential Skincare Routines Work
How Paula's Choice Essential Skincare Routines Work
Our Essential Routines quickly take care of your skin and keep it in top condition with three easy steps, morning and night.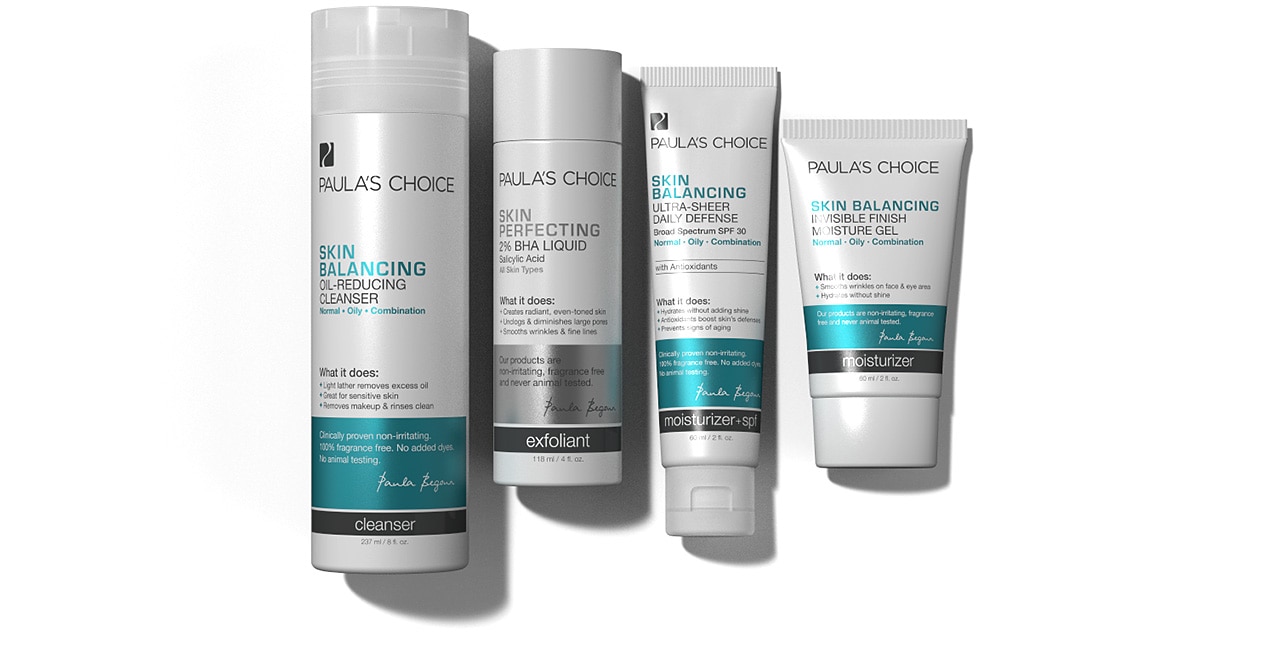 Essential vs. Advanced
The Essential Routine is simplified to address skin's core needs (the minimum to keep it healthy, smooth, and protected), whereas the Advanced Routine includes a broader combination of products to target more complex needs.
Which Essential Kit is Right for You?
ANTI-AGING
What About Additional Skin Concerns?
With the basics covered, the Essential Routine can easily be added on to if you want to address a specific concern. All of our products are designed to work synergistically within a routine. For example:
Dive Deeper
Here at Paula's Choice Skincare, an Essential Skincare Routine consists of three steps, each designed to treat thecore needs of any skin type—the absolute minimum your skin needs to keep it healthy, smooth, and protected, day and night. This approach is all about streamlining and simplicity: Essential Skincare Routines.
What is an Essential Skincare Routine?
Here at Paula's Choice Skincare, an Essential Skincare Routine consists of three steps, each designed to treat the core needs of any skin type—the absolute minimum your skin needs to keep it healthy, smooth, and protected, day and night. This approach is all about streamlining and simplicity: Essential Skincare Routines are ideal for those with minimal skin concerns or for those who just prefer using the least number of products possible.
Regardless of your skin type, your Essential Skincare Routine includes a cleanser, exfoliant, sunscreen for daytime, and a nighttime moisturizer. These core products meet all the basic needs of your skin; anything less and you would be cheating and hurting the health and appearance of your skin in the short term and long term.
How an Essential Skincare Routine Differs from an Advanced Skincare Routine
Our Advanced Skincare Routines go beyond the Essential Routines to include a skin-replenishing toner, an antioxidant-packed anti-aging serum, and an additional, more potent AHA or BHA leave-on exfoliant formulated for use at least once per week. This combination of products addresses skin type and concerns such as enlarged pores, uneven skin tone, the appearance of wrinkles, dull, dehydrated skin, and other advanced signs of aging.
Keep in mind that you can start with an Essential Skincare Routine and see how your skin responds before deciding if an Advanced Routine will better serve your needs. Some of our customers add a Targeted Solution product to their Essential Routines if they have only one additional concern, such as dullness. This can be an easy way to ramp up your Essential Skincare Routine without adding several more products.
Summing up, think of the Essential Skincare Routine as the main course and the Advanced Skincare Routine being that plus an appetizer and dessert for an all-inclusive "meal" when your skin "hungers" for more!
Your Essential Skincare Routine Step-by-Step
OK, so you've determined an Essential Skincare Routine is right for you. Here's how each step works:
Step 1: Cleanser
A gentle, water-soluble cleanser is essential for all skin types and is the important start of your AM and PM skincare routine. Those with normal to oily or combination skin will want to use a lightweight foaming or gel cleanser that leaves the skin feeling refreshed without a dry or tight sensation.
Those with normal to dry or very dry skin will want to use a more emollient, creamy cleanser that effectively cleanses while leaving skin feeling soft and revitalized without a hint of dryness or tightness.
Paula's Choice Skincare cleansers do all of that and help remove makeup, without exposing skin to sensitizing fragrance ingredients.
Step 2: A Leave-On AHA or BHA Exfoliant
This step is unique to Paula's Choice, and needs a bit more explanation—especially if you're used to using face scrubs.
An AHA or BHA exfoliant has multiple benefits for skin that go beyond what any scrub or stiff- bristled cleaning brush can offer. Scrubs and rough cleansing brushes cause micro-tears in skin and that ongoing damage is not healthy for skin.
On the other hand, well-formulated AHA and BHA leave-on exfoliants help skin gently, imperceptibly, and naturally shed skin just like it did when we were younger. These types of exfoliants help remove the buildup of dead surface skin which contributes to dull, rough, flaky skin, uneven skin tone, clogged pores, and signs of aging. AHA or BHA exfoliants are truly multi-tasking skincare heroes that are the game-changing part of your Essential Skincare Routine.
In terms of how often to apply your exfoliant, many find that the best results come from applying the AHA or BHA twice daily, morning and night while others find once a day at night is all they need. Experiment to determine the frequency of application that works best for you.
Wondering if you should choose an AHA or BHA exfoliant? We break it down for you here.
Step 3: The Daytime (AM) or Nighttime (PM) Moisturizer
For daytime, your moisturizer must contain a broad-spectrum sunscreen rated SPF 30 or greater, something your nighttime formula doesn't need which is why they are different. However, both should contain a comprehensive mix of antioxidants, skin-replenishing ingredients, and skin-restoring ingredients. These fundamental critical ingredients found in every Paula's Choice Skincare moisturizer work to intervene and interrupt environmental damage, improve the appearance of signs of aging and uneven skin tone, soften and alleviate dry skin, calm redness, and enhance your skin's radiance and feeling of firmness.
Choose your daytime and nighttime moisturizer based on your skin type. If you have normal to oily or combination skin, select from our lighter, weightless gel, sheer lotion, or fluid-textured products; if you have normal to dry or very dry skin, one of our enriched lotions or creams would be best.
Is a Three-Step Routine All You Need?
A Paula's Choice Essential Skincare Routine focuses on meeting the basic needs of a particular skin type, ensuring that it's protected from ongoing damage. Each routine also provides restorative benefits to help skin stay healthy-looking as well as look and feel remarkably younger.
However, as we mentioned above, any Essential Skincare Routine won't be enough to address more complex or stubborn skincare concerns many people struggle with. If you have advanced sun damage from unprotected sun exposure, breakouts, clogged or enlarged pores, more noticeable signs of aging, or persistent dry skin, among other concerns, our Essential Skincare Routine won't be enough.
For concerns such as those, you'll need to consider adding a skin-replenishing toner, one or more of our boosters, a serum, and a targeted solution. You may also want to think about using a once-a-week higher concentration AHA or BHA exfoliant, a makeup remover for stubborn makeup removal, and a skin-lightening or skin-brightening product.
For more information on how to incorporate Paula's Choice Skincare products into your personal routine, you can schedule a free one-on-one consultation with one of our Client Services representatives here.
References for This Information
Science, February 2015, issue 6224, pages 842-847
Journal of the American Academy of Dermatology, July 2006, issue 1, pages 1-19 and June 2005, Issue 6, pages 959-962
Journal of Investigative Dermatology, December 2010, issue 12, pages 2719-2726
Clinical Cosmetic Investigational Dermatology, November 2010, issue 3, pages 135-142
Clinical Dermatology, September-October 2009, issue 5, pages 495-501
About the Experts
Paula Begoun is the best-selling author of 20 books about skincare and makeup. She is known worldwide as The Cosmetics Cop and creator of Paula's Choice Skincare. Paula's expertise has led to hundreds of appearances on national and international radio, print, and television including:



The Paula's Choice Research Team is dedicated to busting beauty myths and providing expert advice that solves your skincare frustrations so you can have the best skin of your life!