How the C15 Super Booster Works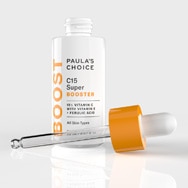 Vitamin C is an amazing ingredient for skin. It's antioxidant, brightening, and visible firming abilities are well supported by published research, especially for ascorbic acid, known as pure vitamin C. That's why we chose ascorbic acid as the lead ingredient for our Paula's Choice Skincare C15 Super Booster, a customer favorite for all skin types, all ages.
C15 Super Booster blends 15% vitamin C with other potent antioxidants that not only benefit your skin, but also help keep the vitamin C stable. Although ascorbic acid is impressive, it's also the most vulnerable form of vitamin C. It can quickly lose its effectiveness if the proper formulary and packaging steps aren't taken. We take the steps necessary to overcome this issue so you can be sure you're getting a wonderfully effective product.
We detail how vitamin C helps skin elsewhere on this site, so now we'll delve right in to how C15 Super Booster works:
Dispensed via a dropper tip applicator (with a special air-restrictive stopper inside the bottle), this water-light fluid is formulated to quickly absorb into skin's surface. Once absorbed, the vitamin C, other antioxidants, and replenishing ingredients work to help undo the visible effects of environmental damage. Vitamin C is considered among the best antioxidants for this purpose.
Left unchecked, this damage keeps building, leading to skin that appears dull, uneven, wrinkled, and generally unhealthy. C15 Super Booster steps in to revive radiance while visibly firming and brightening skin. Not bad for just a few drops applied as part of your daily skincare routine!
It's hard to put into words all of the great things C15 Super Booster does for skin. In addition to the benefits mentioned above, this booster seems to have an impressive ability to make skin look better in every possible way. From our own experience and customer feedback, we've seen skin that looks younger. Fresher. More vibrant. More … everything good!
Knowing how vitamin C works to improve skin is nice, but seeing the results on your skin is even better. We're thrilled to be able to deliver its benefits—and those of its supporting ingredients—to you in a booster that can also be used with any other product in your skincare routine.
References for this information:
Clinical, Cosmetic, and Investigational Dermatology, September 2015, pages 463–470
Biochemical and Biophysical Research Communications, January 2013, pages 579–584
Journal of the America Academy of Dermatology, November 2012, pages 1103–1024
Journal of Drugs in Dermatology, January 2012, pages 51–56
Skin Research and Technology, August 2008, pages 376–380

About the Experts
Paula Begoun is the best-selling author of 20 books about skincare and makeup. She is known worldwide as The Cosmetics Cop and creator of Paula's Choice Skincare. Paula's expertise has led to hundreds of appearances on national and international radio, print, and television including:



The Paula's Choice Research Team is dedicated to busting beauty myths and providing expert advice that solves your skincare frustrations so you can have the best skin of your life!