How to Get the Most Out of Your Beauty Sleep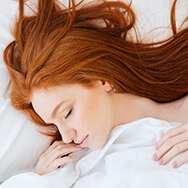 Studies show that getting an adequate amount of shut-eye each night helps skin appear more vibrant and healthy. But, as many of us know, getting enough sleep isn't the only secret to great-looking skin, especially over the long term. This is where state-of-the-art skincare products with research-proven ingredients come to the rescue.
How can you maximize your beauty routine while you sleep so you wake up to radiantly smooth, glowing skin every morning? It's more attainable than you think!
What is "Tired-Looking" Skin?
Dull, dehydrated-looking skin is a hallmark of being sleep deprived. It's also something many of us struggle with, even if we are getting enough sleep!
Compounding this issue is a visibly uneven skin tone, stealing the spotlight from what otherwise could be a radiant, healthy-looking complexion.
Add to those issues noticeable fine lines and wrinkles, and you're stuck with tired-looking skin robbed of its naturally luminous appearance.
What if you had a reset button that could address all of these issues—while you sleep? Well, just a few adjustments to your nightly skincare routine could be the solution you're looking for.
The Beauty Sleep Power Couple
The Paula's Choice Skincare power couple for achieving the skin of your dreams is our RESIST Brightening Essence and RADIANCE Renewal Mask, and we are proud to say the reviews from our customers have been wonderful!
The RESIST Brightening Essence multi-brightening complex (licorice extract, arbutin, vitamin C, acetyl glucosamine, niacinamide, along with peptides) revitalizes a dull, uneven skin tone, transforming it into a youthful-looking smooth, radiant complexion. It also contains two forms of skin-drenching hyaluronic acid to help skin look supple, dewy, and revived.
The RADIANCE Renewal Mask, our "sleeping mask," is formulated with skin-restoring and skin-brightening ingredients to further enhance and perfect a brighter more radiant skin tone, a softer reflective surface texture, and an even more hydrated plumpness, for an overall polished and clarified glow. The silky lotion formula also includes antioxidant-rich plant oils and soothing extracts to improve the appearance of fine lines and wrinkles, so you wake up to younger-looking, well-rested skin.
Plus, leaving these concentrated ingredients on skin overnight, you give them the time they need to go to work deeply, where skin needs it most.
Both of these products are beneficial on their own, but using the essence and the mask together is a match made in heaven. The formulas work synergistically with each other to increase and enhance the benefits each delivers to your skin.
How to Use an Essence and Sleeping Mask for Maximum Beauty Sleep
To get the most out of your new sleeping beauty routine, start with a clean canvas by using your cleanser, toner, and exfoliant, in that order, every night. These steps pave the way for the ingredients in the essence and the mask to work more effectively and absorb unobtrusively into skin.
Next, apply a few drops of the RESIST Brightening Essence onto the face, neck, and chest. The silky, fluid formula glides like a breeze over skin and absorbs down to a non-greasy finish.
Finish off with the RADIANCE Renewal Mask at least once a week, or pamper yourself with it nightly for results that are even more noticeable. Dispense a generous amount and smooth it over the entire face, including around the eyes, as the last step in your evening skincare routine.
Give it a minute to absorb and … voilá … your skin is now prepped for the best beauty sleep of your life, and the glowing skin of your dreams!
References for this information:
Phytochemistry Letters, September 2015, issue 13, pages 35–40
Fitoterapia, 2013, issue 90 pages 160–184
BMJ, 2010, pages 1–5
Journal of Agricultural Food and Chemistry, 2006, issue 7, pages 2558–2562
About the Experts
Paula Begoun is the best-selling author of 20 books about skincare and makeup. She is known worldwide as The Cosmetics Cop and creator of Paula's Choice Skincare. Paula's expertise has led to hundreds of appearances on national and international radio, print, and television including:



The Paula's Choice Research Team is dedicated to busting beauty myths and providing expert advice that solves your skincare frustrations so you can have the best skin of your life!