Beauty Boost: What's a Booster & Which One is Right for Me?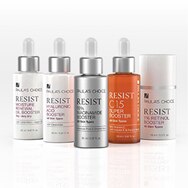 Every great skincare routine should include a few essential steps: cleanser, toner, leave-on AHA or BHA exfoliant, daytime moisturizer with sunscreen, and nighttime moisturizer. Beyond those basics for all skin types, your products should address your specific skin concerns—and that's where boosters come in. Boosters specialize, ramping up the benefits of the best anti-aging ingredients.
What Are Skincare Boosters? (What They Do, and Who They're For)
A booster is a targeted skincare product that focuses on the unique capabilities of a particular ingredient when used at a higher concentration. Boosters are meant to tackle specific skin concerns like enlarged pores, dehydration, dullness, discoloration, and so on. They work alongside your other skincare products to help you further customize your routine so you can quickly achieve the exact results you're looking for.
If you're someone with a range of skincare concerns, don't worry—it's fine to use more than one skin-booster. All of Paula's Choice Skincare boosters are formulated to complement each other, and also to work with our leave-on AHA or BHA exfoliants and other anti-aging products (including serums and moisturizers with retinol).
Paula's Choice Skincare Anti-Aging Boosters
RESIST 10% Niacinamide Booster
Targets: Large pores, discolorations.
RESIST C15 Super Booster
Targets: Red or brown marks, wrinkles, visible loss of firmness.
Our potent 15% vitamin C booster effectively combats several visible signs of aging. It increases radiance, visibly firms, evens out skin tone—and can also be used around the eyes to address crow's-feet.
RESIST Moisture Renewal Oil Booster
Targets: Dryness, dullness, dehydration, rough texture.
This blend of nine non-fragrant plant oils, combined with skin-restoring and skin-replenishing ingredients, relieves dry, tight, and/or dehydrated skin. Its fluid oil texture soothes temperamental, red skin—even skin prone to rosacea. It's an ideal spot treatment for dehydrated areas, even around the eyes, and can also be used to enhance your moisturizer during dry seasons.
RESIST Hyaluronic Acid Booster
Targets: Fine lines, wrinkles, dehydration.
Moisture-boosting hyaluronic acid holds 1,000 times its weight in water, and combines with restoring ingredients to visibly plump dry, dehydrated skin, softening the appearance of fine lines and wrinkles. Its gel texture glides on to immediately replenish moisture.
RESIST 1% Retinol Booster
Targets: Fine lines, deep wrinkles, uneven skin tone, clogged pores.
1% stabilized pure retinol and antioxidants create an anti-aging superstar booster for all skin types. This water-based, weightless fluid glides on easily and absorbs quickly. It's formulated to visibly firm and dramatically improve skin tone while enhancing skin's most youthful-looking qualities.
How and When to Apply Boosters
Our boosters can be applied once or twice daily, or whenever your skin needs something extra. Some people like to mix their boosters in a serum or moisturizer; others apply boosters first, and then follow with those products. There's no hard-and-fast rule to follow, since skin-boosters are about customization. We suggest you experiment to see what works best for you, and adjust the amount and frequency of use depending on your skin's response.
Where do boosters fit into your routine? Our easy-to-remember rule of thumb is to cleanse, tone, exfoliate with a leave on AHA or BHA product, then apply the rest of your skincare products, in order from thinnest to thickest texture, always finishing with broad-spectrum sun protection during the day.
References for this information:
Journal of Drugs in Dermatology, March 2015, pages 271–280
Clinical Interventions in Aging, January 2015, pages 339–349
Dermatology, May 2014, pages 314–325
International Journal of Pharmacy, January 2013, pages 192–201
Journal of the America Academy of Dermatology, November 2012, pages 1,103–1,024
Journal of Clinical and Aesthetic Dermatology, October 2012, pages 20–23; and March 2009, pages 38–43
Journal of Photochemistry and Photobiology, August 2009, pages 130–135
Journal of Agricultural Food and Chemistry, 2006, issue 7, pages 2558–2562

Do you want to see more articles like this?
Get exclusive beauty advice delivered twice a month. Unsubscribe at any time.
About the Experts
Paula Begoun is the best-selling author of 20 books about skincare and makeup. She is known worldwide as The Cosmetics Cop and creator of Paula's Choice Skincare. Paula's expertise has led to hundreds of appearances on national and international radio, print, and television including:



The Paula's Choice Research Team is dedicated to busting beauty myths and providing expert advice that solves your skincare frustrations so you can have the best skin of your life!