How to Care for Red, Sensitive Skin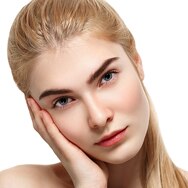 Persistently red, flushed-looking, sensitive skin is often due to a mysterious, challenging skin disorder. For most people, it begins as a swath of pink across the cheeks, which can either come and go or stick around. Gradually, the redness becomes visibly more intense, sometimes accompanied by bumps or extreme sensitivity and flaking.
Addressing these concerns isn't easy, but following the steps below will get you closer to the beautiful, calm skin you want. First of all, it's incredibly important to start calming, hydrating, and nourishing your skin—now. Doing nothing or just the bare minimum means the redness and sensitivity are likely to worsen, and we don't want you to go through that scenario!
Skincare for Redness-Prone Skin
There are many theories about what causes this kind of redness and sensitivity, but how to calm your skin and diminish the appearance of flushing, even for those with rosacea, is well established.
It's critical to assemble the most gentle skincare routine possible so as not to aggravate matters. Also vitally important is to keep skin drenched in skin type-appropriate hydration and skin-defending, soothing antioxidants. Both of our Paula's Choice Skincare CALM collections, for normal to dry and for normal to combination/oily skin, are formulated with those elements, making them ideal for those with redness-prone, sensitive skin, even suitable for rosacea.
And, don't forget the sunscreen! Unprotected sun exposure makes everyone's skin worse, especially those with sensitive skin and even those with rosacea. Sunscreen products whose only active ingredients are titanium dioxide and/or zinc oxide are incredibly gentle and the least likely to cause sensitivity. Our CALM collections include two mineral-based sunscreens that also deliver hydration and gentle anti-aging ingredients!
More Tips for Redness-Prone Skin
Regardless of the cause, there are plenty of factors that can make redness and rosacea-prone skin worse! Sun exposure, wind, and heat (especially from saunas and Jacuzzis), spicy foods, alcohol, and caffeine are all well-known triggers. Less well-known triggers include the havoc that results from some skincare ingredients and products.
All skincare products should be fragrance ­free and dye­ free. "Fragrance ­free" means avoiding fragrant plant oils, too, which, surprisingly, and disturbingly, often show up in products targeted for those with redness-prone, sensitive skin. For example, despite its calming aroma and its reputation for relaxing you, lavender oil is a definite no-­no! We discuss this further here.
You also must avoid scrubs, harsh cleansing brushes, and aggravating ingredients, including alcohol (SD­ or denatured), menthol, mint, citrus, and lavender.
Not all plants or natural ingredients are bad for sensitive, redness-prone skin; the trick is to know which ones are worth using! As a quick primer, some of our favorite soothing plant ingredients are borage, calendula, chamomile, curcumin, evening primrose, ginger root, licorice, and willow herb.
Redness Be Gone!
Although there's no simple, works-­for-­everyone solution for persistent redness, you can take action to help control their visible signs. Our research-based suggestions can bring some improvement, but if you don't get the results you hope for, the next step is to visit your dermatologist to find out what else you can do for your reddened, sensitive skin. Your physician will be able to recommend an appropriate course of action and then, as long as you keep your skincare routine gentle, gentle, gentle, with beautifully formulated products, you have a great chance at keeping redness under control. And you'll be taking brilliant care of your skin at the same time!
Learn more about sensitive skin.
References for this information:
Journal of Drugs in Dermatology, December 2014, pages 101–107
Experimental Dermatology, November 2013, pages 752–753
Future Microbiology, February 2013, pages 209–222
Skin Therapy Letter, December 2012, pages 1–4
Annals of Dermatology, May 2012, pages 126–135
Journal of Investigative Dermatology, Symposium Proceedings, December 2011, pages 16–23
Cosmetic Dermatology, 2nd Edition, McGraw Hill Medical, 2009, Chapter 16
About the Experts
Paula Begoun is the best-selling author of 20 books about skincare and makeup. She is known worldwide as The Cosmetics Cop and creator of Paula's Choice Skincare. Paula's expertise has led to hundreds of appearances on national and international radio, print, and television including:



The Paula's Choice Research Team is dedicated to busting beauty myths and providing expert advice that solves your skincare frustrations so you can have the best skin of your life!