7 Best Products for Sensitive Skin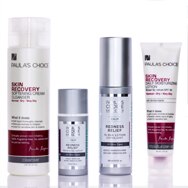 Even if you don't think you have "sensitive" skin, what's happening where you can't see it is an entirely different story. Slowly but surely and often hidden from view, harsh skincare ingredients, pollution, unprotected sun exposure, and other environmental factors can wreak havoc on your skin.
Over time the silent impact of these hostile skin attackers cause untold problems including dry rough skin, redness, enlarged pores, uneven skin tone, a loss of firmness, and make skin looker older and tired.
The best way to combat all this and get your skin back to normal vibrant health is to only use gentle, soothing skin care products and a sunscreen with SPF 30 or greater. Without question this is something we should all be doing.
Now is the time to get the best skin of your life and it starts by knowing which products will embrace your skin with soothing properties. Below are the research-supported recommendations to get your skin looking its best and staying that way.
Top Skin Assaulters
Unprotected sun exposure is at the top of the list for aggravating skin, hence daily SPF is a must! Red, peeling skin and uneven skin tone are clear indications that skin has been affected, but other less obvious environmental factors may be at play, including air pollution or arid conditions.
Perhaps the least obvious, yet most common, skin assaulter is fragrance (whether synthetic or natural) in your personal care products. While many people want products that smell good, the way most fragrance ingredients impart scent is through a volatile reaction, which can cause, you guessed it, skin sensitivity. Harsh scrubs and hot water will also take an unwanted toll on having the beautiful skin you want.
All these factors deplete skin and the impact is more than just redness or discomfort. It can thwart skin's ability to replenish and renew itself, lessens resiliency, impedes hydration, causes dullness, and overall makes skin less able to be healthy and radiant. For those with oily skin, these kinds of assaults on skin can also spur more oily shine and enlarged pores.
Paula's Choice Favorites for Soothing Skin
So what can you do to calm skin and ensure a soothing skincare routine? The key is using gentle, fragrance-free skincare products and broad-spectrum sun protection every day. We're proud to say that every product from Paula's Choice Skincare is formulated to be non-irritating and without added fragrance (natural or synthetic). All of these products are formulated to nurture skin back to a healthy state in the gentlest way possible; they are even gentle enough for eczema-prone skin. Here are some of our staffer favorites (and Paula's) to help improve the look and feel of skin as soon as you start using them:
For more Paula's Choice products geared to sensitive skin and specific for your skin type, see our entire CALM Redness Relief collection.
Learn more about sensitive skin.
References for this information:
Food and Chemical Toxicology, February 2008, issue 2, pages 446 – 475
Journal of the American Academy of Dermatology, June 2005, issue 6, pages 937 – 958
About the Experts
Paula Begoun is the best-selling author of 20 books about skincare and makeup. She is known worldwide as The Cosmetics Cop and creator of Paula's Choice Skincare. Paula's expertise has led to hundreds of appearances on national and international radio, print, and television including:



The Paula's Choice Research Team is dedicated to busting beauty myths and providing expert advice that solves your skincare frustrations so you can have the best skin of your life!