Skin-Soothing Ingredients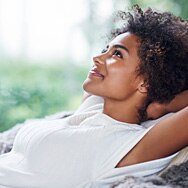 When it comes to getting and keeping healthier, younger-looking skin, we often discuss three groups of ingredients: antioxidants, skin-restoring ingredients, and skin-replenishing ingredients. Along with daily sun protection, each gives skin what it needs to visibly improve in numerous ways. But there's one more group of ingredients that benefit skin, especially extra-sensitive or redness-prone skin: skin-soothing ingredients.
What Are Skin-Soothing Ingredients?
Skin-soothing ingredients are a special group of ingredients that work to visibly calm signs of irritation or sensitivity when applied to skin. They're often derived from plants, and the best of them deliver antioxidant benefits, too. You might think this group of ingredients in only for sensitive or redness-prone skin, but research has shown soothing ingredients are wonderful for all skin types. That's why Paula's Choice Skincare uses them in our toners, serums, moisturizers, and targeted solutions.
How Soothing Ingredients Work
Think of skin-soothing ingredients as the level-headed friend who always keeps her cool when the heat is on. Skin-soothing agents work to diminish signs of irritation, including redness and blotchiness from environmental influences. They do this by gently quieting sensitizing factors in skin's surface, stopping the sources of distress before they make skin look as if it's misbehaving.
There's more to love: The manner in which skin-soothing agents calm skin also helps reduce signs of aging. Essentially, the more you can keep aging skin in a Zen-like state, the happier it will be—and the younger it will look!
The Best Skin-Soothing Ingredients
There are quite a few soothing ingredients used in skincare products, almost too many to list, but don't let that deter you—we selected some of our favorites. Here are some of the best soothing ingredients, supported by stacks of published skincare research, all of which we use in several Paula's Choice Skincare products.
These ingredients can be used by all skin types—even breakout-prone and extra-sensitive and reddened skin. They're even gentle enough for rosacea-prone skin!
Learn more about sensitive skin.
References for this information:
International Journal of Cosmetic Science, February 2015, pages 455–464
Journal of Drugs in Dermatology, January 2015, pages 43–48
Current Pharmaceutical Biotechnology, volume 15, 2014, pages 173–181
Fitoterapia, October 2013, pages 160–184
Advances in Dermatology and Allergology, June 2013, pages 170–177
Pharmacognosy Review, volume 5, July-December 2011
BMC Complementary and Alternative Medicine, March 2011, ePublication
Phytomedicine, May 2011, pages 557–560
Biochemical Pharmacology, February 2008, pages 787–809

About the Experts
Paula Begoun is the best-selling author of 20 books about skincare and makeup. She is known worldwide as The Cosmetics Cop and creator of Paula's Choice Skincare. Paula's expertise has led to hundreds of appearances on national and international radio, print, and television including:



The Paula's Choice Research Team is dedicated to busting beauty myths and providing expert advice that solves your skincare frustrations so you can have the best skin of your life!