Sunscreen Tips & Tricks: Solutions for Sunscreen Problems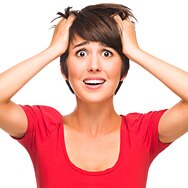 Sunscreen is the indisputable #1 product that all of us should use to protect our skin from multiple signs of aging plus more serious concerns like skin cancers. Sunscreens' protection capability isn't in question; the problems can stem from how they look and feel on our skin or, in some cases, how they wear throughout the day.
There are solutions to each bothersome sunscreen problem, and we're going to share what's worked for us (name a sunscreen frustration and we've probably experienced it, too!).
Sunscreen Sweats Off, Gets in Eyes
Problem: Sunscreen sweats off during your workout, often getting in your eyes.
Solution: Look for sunscreens that contain only the mineral actives titanium dioxide and/or zinc oxide, such as Paula's Choice Skincare RESIST Super Light Daily Defense SPF 30. Mineral sunscreens are considered non-irritating and unlikely to sting or burn if they drip into your eyes when you're sweating. And, don't forget to add a sweatband, too!
Sunscreen Feels Heavy
Problem: Sunscreen feels heavy under makeup.
Solution: This happens either because you're using a thicker "body" or "beach" sunscreen on your face or because your daytime moisturizer isn't right for your skin type. A great facial moisturizer with sunscreen will work beautifully under makeup. Look for those labeled "broad spectrum" and rated SPF 30 or greater. If you have oily skin, choose a thin lotion with a matte finish; normal or combination skin, use lotion or lightweight cream textures; dry skin, use a richer lotion or cream.
Sunscreen Takes Too Long to Apply
Problem: Sunscreen takes too long to apply.
Solution: Switch from a sunscreen cream or lotion to a spray—just mist evenly, blend, and go! Another option is to expose less skin during long days outdoors. Consider lightweight, sun-protective clothing from brands like Coolibar or Sun Precautions. With less exposed skin to cover (and re-cover) with sunscreen, you'll save time and still keep skin shielded from the sun's damaging rays.
Sunscreen Makes Me Break Out
Problem: Sunscreen always seems to trigger breakouts.
Solution: This is perhaps the most frustrating sunscreen problem because there's no fast or easy solution. It takes experimentation—sometimes a lot of it—to find a facial sunscreen that won't cause or trigger breakouts for you. But we do have some helpful tips:
Look for facial sunscreens that have the thinnest textures. Sheer, thin textures are least likely to lead to breakouts.
Experiment with sunscreens that contain a blend of synthetic actives (like octisalate and octinoxate) and mineral actives such as zinc oxide. This combination may prove the right balance for breakout-prone skin—and you won't be skimping on great protection!
Make sure you're cleansing thoroughly each night to ensure all of your sunscreen and makeup are removed. Try double cleansing and see if that makes a difference.
Sunscreen Leaves a White Cast
Problem: Sunscreen leaves a white cast on skin, even when thoroughly blended.
Solution: Look for mineral sunscreens that have a slight tint to offset the white cast. If you can't find one whose tint you love, try applying your mineral sunscreen as the last step in your daytime routine and top it with a loose or pressed powder to offset the white cast.
The Right Way to Wear Sunscreen Under Makeup
Problem: Sunscreen interferes with smooth makeup application.
Solution: This is almost always due to either applying a water-resistant "beach" sunscreen to your face or not waiting long enough for your sunscreen to absorb before applying your makeup. Using the wrong facial moisturizer for your skin type might also be to blame. If you're sure your facial moisturizer is right for your skin type, try waiting 3–5 minutes after applying before putting on your makeup. Or switch to a special primer that offers broad-spectrum sun protection and apply that under a foundation or face powder with sunscreen.
References for this information:
Journal of Athletic Training, September 2016, pages 696–700
JAMA Dermatology, August 2016, pages 920–927
Acta-dermato Venereologica, March 2014, pages 152–156
British Journal of Dermatology, March 2011, pages 1–7
Dermatologic Clinics, January 2006, pages 75–79

About the Experts
Paula Begoun is the best-selling author of 20 books about skincare and makeup. She is known worldwide as The Cosmetics Cop and creator of Paula's Choice Skincare. Paula's expertise has led to hundreds of appearances on national and international radio, print, and television including:



The Paula's Choice Research Team is dedicated to busting beauty myths and providing expert advice that solves your skincare frustrations so you can have the best skin of your life!