Images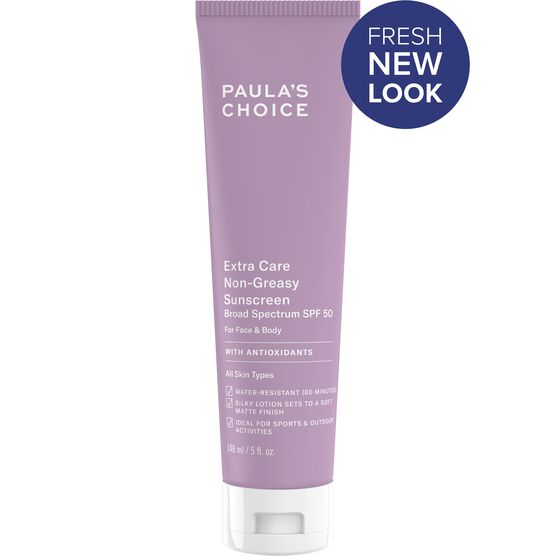 This water-resistant, antioxidant-rich body sunscreen offers broad-spectrum sun protection without a thick, oily feel or greasy appearance.
EXTRA CARE Non-Greasy Sunscreen SPF 50
Details
https://www.paulaschoice.com/extra-care-non-greasy-sunscreen-spf-50/232-2320.html
This water-resistant, antioxidant-rich body sunscreen offers broad-spectrum sun protection without a thick, oily feel or greasy appearance.
Feels light and weightless on skin
Silky texture with a smooth matte finish
Ideal for sports & outdoor activities
Additional Information
Why is it different?
EXTRA CARE Non-Greasy Sunscreen SPF 50 has a light, silky texture and soft finish that doesn't look or feel like a traditional sunscreen, yet provides a high level of broad-spectrum protection plus age-fighting antioxidants.
What does it do?
This antioxidant-rich sunscreen may be used on the face and body. The very water-resistant formula is ideal for outdoor activities any time of year! The SPF 50 is a significant benefit as it decreases the risk of skin cancer and early skin aging caused by the sun if used as directed with other sun protection measures.
How to use
Use this as that last step in your AM skincare routine for your face or body. Do not apply any other skincare product over it. Apply liberally at least 15 minutes before sun exposure. This sunscreen is water-resistant and can be used for up to 80 minutes while swimming and/or perspiring before needing to be reapplied.
Show details
Research
Biochimie, Sep-Oct 2016, volumes 128-129, pages 163-173

Clinical Cosmetic Investigative Dermatology, September 2015, issue 8, pages 471-477

The Journal of Clinical and Aesthetic Dermatology, January 2013, issue 1, pages 16-26

Indian Journal of Dermatology, 2008, volume 53, issue 4, pages 163-166

Journal of Clinical Interventions in Aging, December 2006, issue 4, pages 327-348

Indian Dermatology Online Journal, April-June 2013, issue 2, pages 143-146

Dermatologic Therapy, September-October 2007, issue 5, pages 314-21
Ingredients
Product Ingredients
Active Ingredients: Homosalate 10%, Oxybenzone 6%, Octisalate 5%, Avobenzone 3%, Octocrylene 2%.
Other Ingredients: Water (Aqua), Butylene Glycol (hydration/texture-enhancing), PEG-8 (texture-enhancing), Polyethylene (texture-enhancing), Silica (absorbent), Dimethicone (hydration), Picea Excelsa Wood Extract (skin-soothing), Sodium Ascorbyl Phosphate (vitamin C/antioxidant), Retinyl Palmitate (vitamin A/ antioxidant/skin replenishing), Tocopherol (vitamin E/antioxidant), Tocopheryl Acetate (vitamin E/antioxidant), Titanium Dioxide (texture-enhancing), Aloe Barbadensis Leaf Juice (hydration/skin-soothing), Bentonite (absorbent), Methyl Glucose Sesquistearate (texture-enhancing), Acrylates/C10-30 Alkyl Acrylate Crosspolymer (texture-enhancing), Sodium Polyacrylate (texture-enhancing), Kaolin (absorbent), Ethylhexylglycerin (preservative), Disodium EDTA (stabilizer), Sodium Hydroxide (pH adjuster), Phenoxyethanol (preservatives), Chlorphenesin (preservative).
Ratings & Reviews
Effective protection (28)
Rubs in well (25)
Not greasy (19)
Sweatproof (18)
Waterproof (14)
Greasy (10)
Stings eyes (8)
Runs easily (4)
Doesn't rub in well (3)
Irritates skin (3)
Daily use (24)
Beach (16)
Sports (14)
Water sports (10)
Sensitive skin (7)
Reviewer Profile:
Budget shopper (16), Brand buyer (11), Beauty conscious (7), Survivalist / minimalist (5)

Skin Type:
Combination (11), Dry (3)
Reviewed by 279 customers
Lightweight
Non-Greasy
Protects skin
Stays on after swimming
I loved this product. Purchased it to use in Costa Rica and I did not get sun burned even once. I even forgot to re-apply after swimming a few times and it still saved me from being burned. I have very fair skin and burn easily. It is alcohol free so good for use if you have a spray tan.
Skin Type:
Combination
Age:
18-29
Lightweight
Moisturizes
Softens Skin
Soothes Skin
Daily Use
Fine Lines/Wrinkles
I rely on this every summer as I spend a lot of weekends on the beach. I have acquired zero new freckles and that in itself is a miracle. I put a generous amount of this on my face and neck wait a moment and then apply a little BB cream SPF 30 and bronzer. I have fair skin prone to freckling and this stuff does the trick the
Skin Type:
Normal
Age:
45-59
Lightweight
Moisturizes
Non-Greasy
Softens Skin
I buy several tubes of this every year for a beach trip, and end up using less than I expect. My spouse is *very* picky about his sunscreen, because most are so thick and feel awful, and he prefers this now to even the sunscreen sprays. Absolutely the only sunscreen I buy.
Skin Type:
Combination
Age:
30-44
Moisturizes
Non-Greasy
Smells Great
I use this when I know I'm going to be out in the sun on a hot day for a while. It's my high spf beach/vacation/outdoor event sunscreen. I love it. I don't break out at all and I'm never sunburned. My husband even googled this product and ordered his own bottle since he bikes outdoors a lot. Keep making this please!
Love the price! And it's fine for use on my arms, etc., but it caused breakouts on me and my daughter when we used it on our faces, and it stung our eyes as well. Most PC products are wonderful for my whole family, but this one not so much. If you have sensitive skin or eyes, I'd skip it. And there are other body sunscreens out there that are just as effective and comparable in price, so I won't be reordering this one.
Skin Type:
Combination
Age:
45-59
Lightweight
Non-Greasy
Softens Skin
Soothes Skin
Finally - a sunscreen that doesn't feel greasy or slimy on the skin. This stuff is PERFECT for Colorado where it's dry, the sun is strong, and skin protection is a double-must. I put this on arms, neck, and chest every morning so I don't have to think twice about protection when I run errands and have the sun streaming through my windows. Absolutely the best sunscreen on the market.
Service and delivery comments:
Great as always.
Lightweight
Moisturizes
Non-Greasy
I really really like this sunscreen. It's a challenge to find sunscreens that do not irritate my eyes or my eczema-prone face. I normally use PC's Moisture Boost SPF-30 for my daily facial moisturizer, but this is my go-to sunscreen for other areas, and it's also great for travel since it's all I need - for body AND face - and is not greasy or irritating. The greasiness of many other brands of sunscreen can be an issue if I wear my long hair down - ick! - My hair then sticks to my neck and shoulders. In short, if your skin and eyes are sensitive, try this sunscreen!
Service and delivery comments:
I've always received my PC products quickly!
Skin Type:
Combination
Age:
45-59
I purchased this for a trip to the Caribbean. My boyfriend and I slathered it on our bodies (not our faces) regularly, mostly sat in the shade and would spend at most, maybe an hour in the sun at a time. We didn't burn, or at least didn't get the classic sunburn, but after we got home, we started peeling really badly like we did get burned. Three weeks later we're both still peeling a lot. So while we avoided immediate sunburn, I think that there was damage done and this sunscreen didn't work as advertised or expected.
Skin Type:
Combination
Age:
30-44
I have sensitive skin, especially on my face. I typically get a tingling, tight or burning sensations with many sunscreens I've tried. But this one does not cause any skin reaction. Just soft, moisturized skin even on my face!
Same for my son's eczema. He's has very pale skin that burns easily and this sunscreen works well to protect him without causing an eczema flare up.
My husband works outdoors and really loves it too.

I just wish I could order some more. It's been out of stock for a little while.
Skin Type:
Combination
Age:
30-44
Lightweight
Moisturizes
Non-Greasy
Non-staining so far
Smells Great
Softens Skin
Soothes Skin
Have to order often, small tube
I like to slather this on myself, my husband, and my soon to be 10 months old(once I run out of these gifts: (really small-will leave him chalky-Neutrogena Pure & Free Baby Sunscreen, SPF 50, and (thick and dry glob-Acure Baby'S Day Out Kit - 3 - 3 Ct). I can see myself using this on my puggle(Pug+Beagle). It is not that pricey(if you reapply and compare it to the other sizes) but it is smallish I wish it would be in an 8 ounce tube with the same price so I would not have to order it often. We live in Texas so it is sunscreen all year long. I used many brands and sprays and lotions such as: Neutrogena, NO-AD, Burt's Bees, Coppertone, Hawaiian Tropic(has the best fragrance added?), Bullfrog, they are either too thick, leaving a feeling of I-have-been-shrinked-wrapped, or not as good and light as Paula's Choice. Once I rub this sunscreen lotion on my sensitive skin I can feel the difference. I like it that it is not overly perfumed like all the other brands. If I want to wear a fragrance this sunscreen will not compete.
Service and delivery comments:
Like all Paula's orders it arrives within 3 days or so of delivery.
Skin Type:
Combination
Age:
30-44