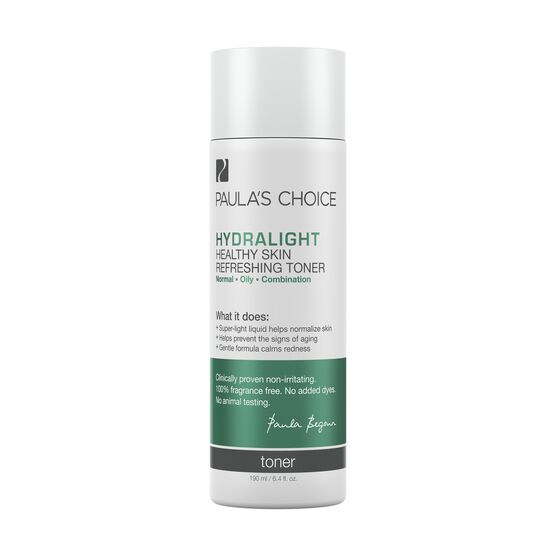 This super-light, antioxidant-rich formula helps normalize skin, improving skin function and reducing irritation while removing last traces of makeup.
Hydralight Healthy Skin Refreshing Toner
https://www.paulaschoice.com/hydralight-healthy-skin-refreshing-toner/131-1310.html
Our unique ultra-light liquid helps to restore and refresh skin while providing antioxidants that protect against environmental damage.
Gentle enough for sensitive skin
Calms, balances & fortifies
Use twice daily after cleansing
Skin Types:
Combination Skin, Oily Skin
Why is it different?
This 100% irritant-free toner leaves even the most sensitive skin calmed, revitalized and free of traces of makeup left after cleansing. With its lightweight formula, it can also help to balance combination or oily skin while delivering just the right amount of hydration.
What does it do?
Powerful anti-irritants like willow herb extract soothe redness and inflammation. Green tea and grape seed extracts act as natural antioxidants to fortify skin's protective barrier against daily environmental stress like pollution.
How to use
After cleansing, apply toner to a cotton pad and gently stroke over face and neck. Do not rinse. Follow with the rest of your morning or evening skincare routine. For daytime, finish with a broad-spectrum sunscreen rated SPF 30 or greater.
Show details
Research

Archives of Dermatological Research, March 2010, pages 71–83;
Cancer Prevention Research, February 2010, pages 170–178;
Skin Pharmacology and Physiology, September 2009, pages 299–304;
Phytotherapy Research, September 2009, pages 1,197–1,204;
Skin Research and Technology, August 2009, pages 338–345;
Dermatologic Surgery, July 2009, pages 1,057–1,065;
Experimental Dermatology, June 2009, pages 522–526;
Clinics in Dermatology, November-December 2008, pages 614–626;
Journal of Drugs in Dermatology, July 2008, pages S7–S12;
Dermatologic Therapy, September-October 2007, pages 322–329;
American Journal of Clinical Dermatology, May 2004, pages 327–337;
Dermatologic Therapy, January 2004, pages 16–25;
Exogenous Dermatology, June 2004, pages 154–160; and
Journal of Agricultural Food Chemistry, October 1999, pages 3,954–3,962.
Ingredients
Product Ingredients
Water, Camellia Oleifera (Green Tea) Leaf Extract (antioxidant), Epilobium Angustifolium (Willow Herb) Extract (soothing), Vitis Vinifera (Grape) Seed Extract (antioxidant), Sodium Hyaluronate, Glycerin (skin-restoring), Methyl Gluceth-20 (humectant), Sodium PCA (skin-restoring), Allantoin (soothing), Butylene Glycol (water-binding agent), Caprylyl Glycol, Hexylene Glycol (preservatives), Bisabolol, Panthenol (soothing), Polysorbate-20 (emulsifier), PEG-90M (stabilizer), Sodium Chloride, Sodium Citrate, Citric Acid, Potassium Phosphate (pH adjusters), Phenoxyethanol (preservative).
Ratings & Reviews
I was so sad when they discontinued this line and so glad it's back.
Sarah
New York
My favorite toner after all these years!
I've been wanting to try this toner for long time, but for some reason thought it would be too "basic" for my acne-prone, sensitive, pore-tastic face. I had been using the Skin Recovery toner but didn't feel it was a good fit for my skin. Finally decided to try this and in a matter of days my skin has been clearing up (along with use of the anti-acne system I got the same day) and starting to look so much healthier. This toner adds moisture but not too much for the oily areas, and makes my skin look and feel more plump. I had no idea this was going to be discontinued but please don't do it! Ive tried almost all the other toners from PC and hands down I will repurchase this every time I run out.
Ellie
NYC
I'm so glad PC brought this amazingly gentle toner back. As someone with extreme combo skin, this has been my go-to toner for years for when the weather gets warmer and I don't want/need as much moisture as the Skin Recovery toner has (my other must-have). The watery-like fluid helps calm my rosacea and helps prepare my skin for exfoliant, serum, moisturizer, etc. When it was discontinued (?), I tried the Redness Relief normal/oily toner, but it didn't come close to the Hydralight toner. I honestly look forward to the refreshing, smooth, and clean feeling I get from this toner
saffronia
Denver, CO
Thank you PC for bringing this toner back. I have been using this toner for 15 years and there is nothing like it. I use it on a cotton ball after washing my face and it takes off the last traces of makeup and any cleanser residue. It doesn't dry my skin out or leave it feeling greasy. I love having a lightweight option to treat my skin to antioxidents.
Hydralight Fan
California
This toner is amazing! I have sensitive, combination skin, that is dry in some areas and more oily in others. This toner has not caused any irritations or breakouts and it balances my skin nicely and is refreshing and moisturizing without being greasy or too heavy, and it also doesn't cause tightness in the areas that are dry like some other toners I have used. I love that it is fragrance free and includes natural and safe ingredients. Please don't stop making! In fact, it would be great if you could make the Hydralight cleanser and toner in travel size!!!
Fran A
Ottawa, CA
This product helped my rosacea!
Wow! I wish I knew about this product sooner! I have spent my whole 20's and 30's dealing with rosacea and sensitive skin. Plus I have spent a ton of money on products that made my skin worse which caused more trips to the dermatologist. Love, LOVE this product! I have been using it for four months and the results are amazing. It has reduced a great amount of my rosacea and I don't use ANY of the prescriptions my doctor gave me. My husband commented on the change he's seen in my skin and said, "Wow, that stuff does work." I feel for the first time in my life my rosacea is MANAGED without costing a small fortune. Thank you Paula! If only I could go back and tell my younger self to use Paula's Choice.
Lynn
Chicago, IL
Such a brilliant toner! It truly is a shame that it is being discontinued! It's simplicity is what I love most. This toner calmed my reddened skin and improved the clarity of my skin tone. A brilliant line is being discontinued, which I do not understand.
Richard
California
I don't have much of an opinion of this product but I bought two bottles of it. It doesn't really feel like it does anything but it's just a toner. I'm used to the kind that sting and irritate my face so this product probably just feels like what a toner feels like. Which is like nothing. It removes my makeup residue (if I have any) after washing and preps my skin for the rest of my routine. I've only been using it for a month. I don't feel like a toner is really a product that is supposed to do anything great or miraculous for your skin... but if you're used to using products that irritate you... your skin will just be feeling normal and balanced after using this. Don't expect to "feel" it working, because it's not supposed to feel like anything. Hope that all makes sense.
Kay
LA
I am so pleasantly surprised with this toner. Unfortunately my cupboards, drawers, and bathroom closets (yes I'm serious) are filled with the result of an endless frustration filled world wide search for the perfect toner. All of the toners I've wasted money on are too harsh, riddled with skin irritating ingredients, and basically just a blend of fancy words that are actually different types of alcohols in disguise, so you can see that I was a little nervous to try yet another toner. But then a ray of light busted through the clouds of cosmetic lies and landed on this wonderful liquid. For reference: I am a 23 year old female with combination/normal skin that is prone to breakouts (mostly hormonal) with an oily but not always T-zone I use this toner in the morning after washing and sometimes at night if I've worn makeup that day, with a cotton pad. And I will just tell you, it is the best dang toner I've ever used. It's silky soft and oh so gentle on the skin. This toner moisturizes in a way that makes your skin feel like YOUR skin. It makes my skin feel soft and comfortable, it also really does soothe the redness I tend to have due to breakouts. It's the only moisture that I need and dries nicely. I don't feel like I've used a toner after it dries, it's not sticky or greasy and it doesn't affect my makeup application whatsoever. My skin feels clean and balanced in an effective gentle way after using this toner. The only negative thing I can say is that it has a dull burning sensation that goes away in a few minutes when I swipe it across my eyelids. So I just don't use it on my eyelids anymore. Problem solved! I wish I could send all of my friends this toner that's how good it is.
Ronnie
Fayetteville NC
I was surprised to find out my skin needs this. My skin began feeling dehydrated and flaky. I decided (after assuming that a toner was just an unnecessary step to my routine) that i would try a sample. LOVED IT! !!!!! I bought the full size and my skin looks great!!! My skin feels hydrated, less tight, and less irritated.
tanyalagana
sacramento, ca