Images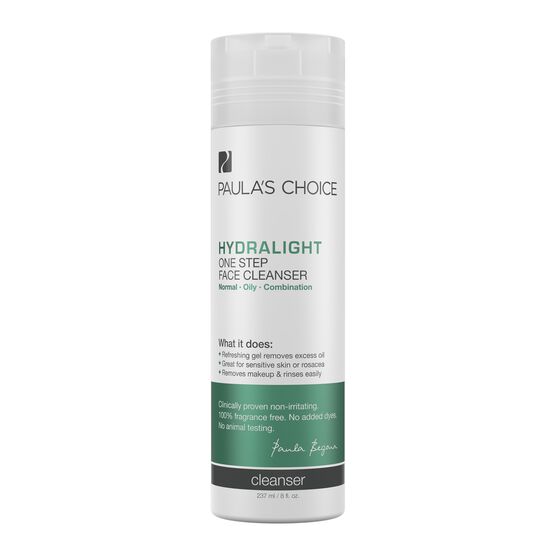 A unique gel cleanser that easily removes excess oil, impurities, and makeup while leaving skin feeling refreshed and smooth.
HYDRALIGHT One Step Face Cleanser
Details
https://www.paulaschoice.com/hydralight-one-step-face-cleanser/110-1100.html
A unique gel cleanser that easily removes excess oil, impurities, and makeup while leaving skin feeling refreshed and smooth.
Mild cleansing promotes healthy, luminous skin
Lightweight but concentrated gel formula
Use as the first step in your AM/PM skincare routine
Skin Types:
Extra Sensitive Skin, Combination Skin
Additional Information
Why is it different?
HYDRALIGHT One Step Face Cleanser is an exceptionally gentle gel cleanser that effectively removes impurities and makeup while delivering a refreshed, refined complexion without dryness or residue. Even the most sensitive skin types can use this carefully formulated cleanser.
What does it do?
Skin replenishing ingredients along with mild, but effective cleansing agents preserve skin's vital moisture barrier leaving skin free from impurities. Skin will feel refreshed and comfortably clean.
How to use
Wet face and apply a small amount of cleanser to your face and eye area with vigorous, yet gentle, circular motions. Rinse well. To remove heavy makeup, repeat or use with a clean, wet washcloth.
Show details
Research
Biochemistry and Pharmacology, June 2007, pages 1,786-1,795

Skin Pharmacology and Physiology, June 2007, pages 124-135

Contact Dermatitis, June 2006, pages 303-312

Skin Research and Technology, February 2005, pages 53–60

Dermatologic Therapy, January 2004, pages 16–25

Cutis, December 2001, Supplemental, pages 12–19

Skin Research and Technology, July 2001, pages 49–55

Contact Dermatitis, June 1999, pages 310–315
Ingredients
Product Ingredients
Water, Glycerin (skin-replenishing ingredient), Sodium Laureth Sulfate (gentle cleansing agent), Sodium PCA (skin-replenishing ingredient), Sodium Lactate, Glycine, Fructose, Urea, Niacinamide, Inositol (water-binding agents), Sodium Benzoate (preservative), Lactic Acid (water-binding agent), Allantoin (soothing agent), Sodium Hyaluronate (skin-replenishing ingredient), PEG-7 Glyceryl Cocoate (texture enhancer), Sodium Hydroxymethylglycinate (stabilizer), Sodium Methyl Cocoyl Taurate (gentle cleansing agent), Xanthan Gum (texture enhancer), Triethanolamine (pH balancer), Carbomer (texture enhancer), Benzophenone-3 (stabilizer),Methylparaben, Propylparaben (preservatives).
Ratings & Reviews
Gentle (37)
Leaves clean feel (32)
Not greasy (31)
Balances skin (22)
Improves skin texture (20)
Doesn't remove makeup (8)
Irritates skin (7)
Dries out skin (5)
Bad smell (3)
Doesn't work (3)
Daily use (44)
Sensitive skin (40)
Combination skin (25)
Acne-prone skin (19)
Oily skin (16)
Reviewer Profile:
Brand buyer (18), Budget shopper (18), Survivalist / minimalist (10), Beauty conscious (8), Beauty expert (3)

Skin Type:
Combination (14), Oily (4)
Reviewed by 245 customers
Doesn't fully remove makeup
Tried a sample size of this and it felt great and seemed to work well (especially with removing makeup, which is important for me as I do not use makeu remover prior to face washing). I find I only use this in the morning, and need something different at night to wash my face that removes makeup - I do not wear waterproof makeup, standard face washes usually do the job. This cleanser is gentle and light, but perhaps too light for me.
Lightweight
Softens Skin
Soothes Skin
i've tried several different cleansers, but this one by far works the best for my skin. I'm left with clean but soft skin that doesn't feel stripped or dry. I can use this year round, where in the past I've rotated per season.
Skin Type:
Combination
Age:
30-44
I'm on my second bottle and have been loving it. But, I noticed the second ingredient is sodium laureth sulfate. Isn't this a harmul irritant for skin? I'm just confused. Been trying to find an article by Paula's Choice about this ingredient but haven't found much.
Skin Type:
Combination
Age:
18-29
Lightweight
Non-Greasy
Soothes Skin
Daily Use
Redness/ Blotchiness
Sensitive Skin
I have very sensitive, combination skin, plus I'm on Retin-A, and Hydralight One Step Face Cleanser works perfectly for me. Since most skin care products cause some form of redness on my face, my morning routine consists only of shaving, cleansing using this product, liberally applying Hydralight Shine-Free Mineral Complex SPF 30, then a thin layer of a Neutrogena tinted, waterproof mineral-based SPF 50. This gel cleanser has no trouble removing the sunscreens at the end of the day, also removes excess oil without drying and causes no redness or irritation!

Please do not discontinue this product line again. I will never use anything else!
Service and delivery comments:
Super fast delivery as usual!
Skin Type:
Combination
Age:
45-59
I was very excited to try this product. It had great reviews, even from people with sensitive, rosacea prone skin. It got one more start compared to the calming cleanser I use.
It felt ok while washing my face. But immediate after my skin dried up. Then it was red.
I have very sensitive skin and rosacea. It reacts very quickly to irritating products. I have had a very difficult time finding simple cruelty free products that calm my skin and keep the redness at bay.
I'm going back to my other cleanser in the PC calming section.
Skin Type:
Combination
Age:
45-59
Lightweight
Non-Greasy
Soothes Skin
Daily Use
Redness/ Blotchiness
Sensitive Skin
BEST CLEANSER EVER... Thank goodness you brought this product back!!! I LOVE HYDRALIGHT because it totally washes away the oil (without being harsh or irritating), it's fragrance free, and it doesn't cause me to break out. PLEASE, PLEASE, PLEASE... NEVER discontinue HYDRALIGHT One Step Face Cleanser!!!!!!! My face was a total MESS without it!!! I actually have scars, on both my face and jawline/neck area, from breaking out so horribly, because HYDRALIGHT cleanser was no longer available. FYI: I'm a 46 year old woman, who, due to very sensitive skin, has never worn foundation/makeup (except for concealer, on occasion). I believe I started using HYDRALIGHT cleanser ~ 1999, and continued to use it, until it was discontinued. Thank goodness Paula decided to make this product available again, and I'm now back to using the HYDRALIGHT cleanser I've loved all these years (~18 years). I have extremely oily, congested, sensitive, acne-prone skin (inflamed pimples, blackheads, whiteheads, hormonal cysts that intermittently pop up, etc...) However, even with all of my unfortunate skin issues, HYDRALIGHT cleanser became my "lifesaver", and over the years, it really helped to "manage" my skin, keeping things "under control". During the time that HYDRALIGHT was discontinued, and no longer available, I spent an absolute FORTUNE, on a TON of other cleansers, desperately trying to find something suitable, and/or similar, to HYDRALIGHT. However, NOTHING even came close, and my skin looked horrendous... Red, irritated, tons of acne, etc... I was really starting to "freak out"!!! Please know that I am so VERY THANKFUL that Paula listened to her customers, and brought this wonderful cleanser back!!! THANK YOU SO MUCH!!! I seriously cannot live without this cleanser... It's the ONLY cleanser on the market that doesn't cause my skin to "freak out". I've been stockpiling this cleanser, as I NEVER want to be without it, ever again!!!
Service and delivery comments:
Excellent!!!
I use this after first using a cleansing balm for removing my makeup and sunscreen. It works fantastically! The only cleanser I've found without a strong scent, which does not irritate my skin or leave a residue.
Skin Type:
Combination
Age:
18-29
Bad Smell
Irritates Skin
Not Effective
This cleanser contains sodium laureth sulfate and thats very bad for skin, this ingredient should never be used on skin, it dried my skin and made it itchy and also gave me little bumps all over my face, so disappointed bc i really trusted this brand!!!!
Faithful to the EarthSourced Cleanser for years but decided to try this for the hotter weather months in combination with the Resist 2% BHA once every other day. Like many others have said, it really did not do much to remove make-up, and yet it completely stripped my skin barrier and I got irritated bumps all along my cheeks and jawline. The Sodium Laureth Sulfate is listed rather high in the product list so if you have any suspected skin sensitivities beware. After switching to Cerave my skin is much better.
Skin Type:
Combination
Age:
30-44
This is the only Paula's cleanser I can really use - my skin is ultra sensitive, tending simultaneously toward very dehydrated and easily congested, and the products I use have everything to do with exacerbating or fighting those tendencies. It's a tricky balancing act. I have tried to like any of the other cleansers and had to give up after my skin resisted my efforts to be flexible. All the drier skin formulas leave my skin and especially my pores feeling less than clean; all the oily-combo skin cleansers leave my skin unbalanced, parched, or with a tight residue feeling. Hydralight leaves my skin feeling clean, refreshed, and not the slightest bit dried out or irritated. I've noticed that many Hydralight items are coming back and I am encouraged that Paula's Choice listens to customer feedback: now we need the TONER returned! My experience with Paula's toners have been similar as with cleansers: Hydralight fits the bill. There is a significant portion of loyal Paula's customers who will or cannot make the switchover to the Calm for Oily line, or the Resist for Oily or Skin Balancing lines. Please bring back the full Hydralight line -- we are really only missing the toner now! Please also continue to offer the Hydralight products that have been reintroduced and don't discontinue them again! Thank you.