Clear - Landing page
Smile! Your
Acne

is Gone!

Unclog pores, reduce breakouts, and calm redness for good :)
Get your two-week $13 trial kit today and enjoy free shipping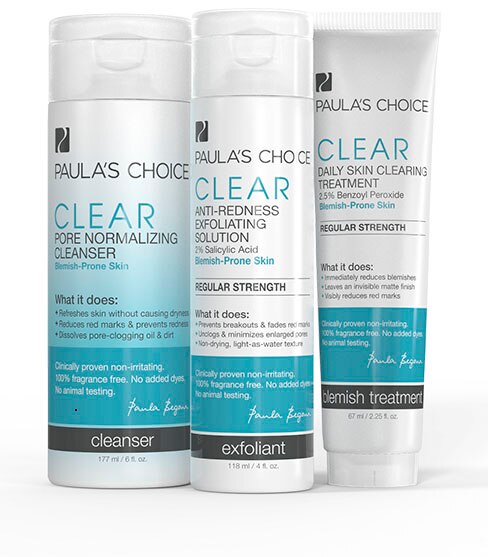 Clear Acne Kit
This collection of expertly-formulated products
has everything you need to finally get rid of acne.
Pore Normalizing Cleanser
Removes excess oil, dead skin cells and makeup.
Non-irritating formula will not leave skin dry or irritated.
Silky gel texture is gentle & refreshing, yet tough on breakouts.
2% BHA Anti-Redness Exfoliating Solution
Immediately works to reduce blackheads, white bumps and acne.
Contains none of the harsh ingredients found in many acne treatments.
Water-light formula works all day long without leaving a trace of residue.
Daily Skin Clearing Treatment
2.5% Benzoyl Peroxide
Fast acting formula works instantly to fight acne-causing bacteria.
Soothing anti-irritants to help skin heal and reduce red marks.
Super-light lotion can be worn easily under makeup without shine.
3 easy steps to crystal clear confidence
Customer Reviews
Finally!
"I have tried everything: Proactiv (both the old and new products), Burt's Bees acne treatments, even homemade options, and nothing has worked. I'm 25 and have stress-induced acne, which has worsened A LOT over the year. When I started using Paula's Choice, for about a week and a half, my skin didn't get any better and I noticed some new breakouts. However, I've been using the kit morning/night and after 3 and a half weeks, there's a HUGE difference. For once in my life, my skin is clear!"
–Anna C.

It's a gamechanger!
"Tried proactiv, acne.org, sulfacet, over the counter BP and BHA products, Acnedote...Everything aggravated my 11 year old daughter's acne, overdrying and irritating her skin. After being schooled by the Paula's Choice team, I learned BHA needs to have the proper PH level and stable packaging to be effective. Could this detail make a difference? Heck YEAH! My daughter's breakouts have cleared up 90% after using this for 3 weeks. Her skin looks healthy and glowing, not irritated."
–Julie M.

I've finally found something that works!
"I am so excited about these products! I have been struggling with adult acne prone skin for 20 years. This system works wonders! My skin has never looked or felt so good. My pores were visibly congested when I started 2 weeks ago. Now they are crystal clear. I have almost no blackheads and the wicked breakout that I had was clear in a matter of several days. I have finally found fabulous products and I will stick with them!"
–Amy W.

Simply, it works
"I started with the trial kit first and had such great results, I bought this kit. I use it up to three times a day and have no dryness. My skin feels softer than it has in a long time and is at least 80% more clear. As time goes on, my skin is only improving so I hope to get to 100%. I never write reviews but felt I had to share. This is a truly great product. Every other acne treatment product I've tried has either not worked or has left my dry, sensitive skin, red and flaking. Thanks PC!!"
–Anonymous