Images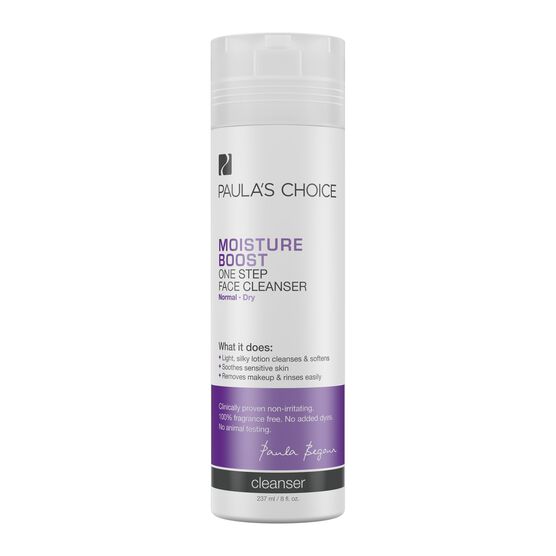 This lotion cleanser quickly and gently lifts away impurities and makeup, leaving skin feeling refreshed but not tight or dry.
MOISTURE BOOST One Step Face Cleanser
Details
https://www.paulaschoice.com/moisture-boost-one-step-face-cleanser/100-1000.html
This lotion cleanser quickly and gently lifts away impurities and makeup, leaving skin feeling refreshed but not tight or dry.
Skin-softening formula effectively removes makeup
Leaves skin beautifully soft yet thoroughly cleansed
Hydrating lotion formula
Use as the first step in your AM/PM skincare routine
Skin Types:
Dry/Very Dry Skin
Additional Information
Why is it different?
MOISTURE BOOST One Step Face Cleanser offers the ease of an effective water-soluble cleanser with the feeling of a milky cleansing lotion. This lightly lathering formula feels supremely silky but quickly removes all makeup including eye makeup. It rinses easily leaving skin beautifully soft without a trace of dryness.
What does it do?
Unique cushioning ingredients combined with extremely gentle but effective cleansing agents clean skin while preserving skin's vital moisture barrier. Skin will feel pampered, soft, and comfortably clean.
How to use
Wet face and apply a small amount of cleanser to your face and eye area with vigorous, yet gentle, circular motions. Rinse well. To remove heavy makeup, repeat or use with a clean, wet washcloth.
Show details
Research
Biochemistry and Pharmacology, June 2007, pages 1,786-1,795

Contact Dermatitis, June 2006, pages 303-312

British Journal of Dermatology, July 2005, pages 124-131

Skin Research and Technology, February 2005, pages 53–60

Dermatologic Therapy, January 2004, pages 16–25

Cutis, December 2001, Supplemental, pages 12–19

Skin Research and Technology, July 2001, pages 49–55

Contact Dermatitis, June 1999, pages 310–315
Ingredients
Product Ingredients
Water, Sodium Laureth Sulfate (gentle cleansing agent), Glycol Stearate (moisturizing texture enhancer), Methyl Gluceth-20 (skin-conditioning agent), Glyceryl Stearate (texture enhancer), Chamomilla Recutita (Matricaria) Flower Extract (soothing agent), Aloe Barbadensis Leaf Juice (water-binding agent), Cocamidopropyl Betaine (very mild cleansing/lather agent), Sodium Cocoyl Glutamate, Disodium Cocoyl Glutamate (cleansing agents), Sodium Hyaluronate, Sodium PCA (skin-replenishing ingredient), Hydroxyethylcellulose (texture enhancer), Caprylyl Glycol, Hexylene Glycol (preservatives), Propylene Glycol (texture enhancer), Citric Acid (pH balancer), Phytic Acid (chelating agent to soften hard water), Phenoxyethanol (preservative).
Ratings & Reviews
Gentle (35)
Leaves clean feel (31)
Not greasy (23)
Moisturizing (21)
Balances skin (16)
Daily use (30)
Sensitive skin (28)
Dry skin (21)
Combination skin (14)
All skin types (8)
Reviewer Profile:
Budget shopper (21), Brand buyer (12), Beauty conscious (8)

Skin Type:
Combination (5), Dry (4)
Reviewed by 211 customers
Lightweight
Non-Greasy
Soothes Skin
This cleanser is perfect for my acne prone skin. Most cleansers dry my skin out but this does not and cleans well. My only complaint is that the cap clogs up. I wish this had a pump instead or bottom of bottle dispenser.
The product cleans the skin well and the skin feels smooth after using it. However, it's not so suitable for dry skin as it really dries skin compared to some other creamy-textured cleansers for dry skin. Even a generous amount of a moisturizer doesn't help and the skin feels tight
Aww man, this is such a bummer. I love Paula's Choice products, and I love most of the Moisture Boost items. For some reason, this made my skin SO dry!! It did not irritate or make my skin sensitive at all, but my skin felt so tight after using this, which is the exact opposite of what I wanted. I had to return this and go back to my trusty Resist Hydrating Cleanser, which was much more moisturizing for my skin. I also wish this product had a pump, which it does not. :(
Lightweight
Moisturizes
Non-Greasy
Smells Great
Softens Skin
Soothes Skin
Daily Use
Redness/ Blotchiness
Sensitive Skin
This cleanser feels so luxurious. Your skin is left soft and clean not greasy or dry. It's just the perfect cleanser for anyone with the exception of maybe really really dry skin. I can use this cleanser no matter what state my skin is in weather it be oily, dry, dehydrated or sensitive it is just perfect every time. It cleans and softens the skin so beautiful without any residue left behind and the texture feels like pure silk. I can't live without so glad you brought it back please never change or discontinue this product! I would be lost as my skin Loves this
Skin Type:
Combination
Age:
30-44
Lightweight
Moisturizes
Softens Skin
Soothes Skin
I am on my second large bottle of this stuff and it is amazing. I've tried the two resist cleansers which are pricer but my skin definitely prefers the light texture of this cleanser. I use this daily morning and night and even when I use a PC mineral based daytime sunscreen/moisturizer, this stuff takes it right off. I swirl it around in my palms with a couple drops of water and then apply it to my dry face. I splash it off with water and then dry. I follow it with one of my many PC toners and exfoliants.
Service and delivery comments:
Delivery is fast and reliable.
Skin Type:
Combination
Age:
30-44
Lightweight
Moisturizes
Non-Greasy
Softens Skin
Soothes Skin
Daily Use
Fine Lines/Wrinkles
Sensitive Skin
I have used this cleanser for years. I purchased a Clarisonic two years ago and this is the perfect cleanser to use with it. Paula discontinued this cleanser for a short time and I had to purchase Cerave and did not like it. The Cerave did not remove my eye makeup very well and did not work that well with my Clarisonic. I was so glad she decided to add this cleanser back to her line! I don't stray from this cleanser and hope she does not ever decide to discontinue this one again!
Service and delivery comments:
Delivery is always super fast!
Skin Type:
Combination
Age:
45-59
Gentle
Leaves Clean Feel
Moisturizing
Comments about MOISTURE BOOST Cleanser - 16 oz:
I really love this cleanser and it does remove my most of my make-up. I have to go over my eye area twice to get all my mascara off but I don't mind the extra step. It is a great cleanser for me because I can use it on my super-sensitive eye area with no burning or irritation. I work 10 hour night shifts in a busy level 1 trauma hospital. When I come home from work, this cleanser feels so rich and soothing to my tired face. I buy the bigger size and it lasts me for 4 months.
Balances Skin
Gentle
Improves Skin Texture
Leaves Clean Feel
Moisturizing
Not Greasy
Combination Skin
Daily Use
Dry Skin
Oily Skin
Comments about MOISTURE BOOST Cleanser - 16 oz:
This is one of my standby cleansers that I know will not dry out or irritate my skin. Recently, some of my old favorites have been making my skin tingle despite having no issue with the small amount of fragrance before. This one cleans my skin and leaves it feeling supple rather than tight and itchy like all gel cleansers do. It took me about a week to get used to the smell, and I'm glad I kept usingit instead of returning it right away.
Acne-Prone Skin
Combination Skin
Dry Skin
Sensitive Skin
Comments about MOISTURE BOOST Cleanser - 16 oz:
My skin is acne prone/combo and is really sensitive to cleaners. The wrong cleanser will dry out my skin for days after just one wash. This is the perfect cleanser for me. My skin is clean without feeling dry or irritated. My only complaint is that I would like the bottle with a pump or where the cleanser dispenses from the bottom of the bottle.