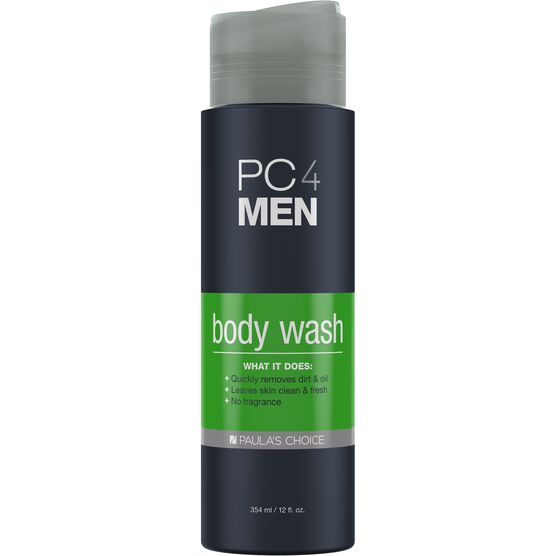 Bar soap can be drying and make skin rough and uncomfortable. Instead, this gel body wash thoroughly cleanses and refreshes every inch of you, and can even be used on your hair.
PC4MEN Body Wash
https://www.paulaschoice.com/pc4men-body-wash/876-8760.html
Bar soap can be drying and make skin rough and uncomfortable. Instead, this gel body wash thoroughly cleanses and refreshes every inch of you, and can even be used on your hair.
Gets rid of dirt, oil, and sweat without drying skin
Makes a great shampoo
Rinses clean and isn't slippery
Softens skin and hair
Fragrance-free
Skin Types:
All Skin Types
Why is it different?
This unscented, soap-free, gel cleanser offers the versatility of a shampoo and body wash—all in one. The skin-softening formula works great for all skin types and also perfectly on your hair. It cleanses away dirt and oil for softer, smoother, refreshed skin and hair.
What does it do?
Cleanses away dirt and oil and leaves skin soft, smooth, and perfectly clean. The lightweight gel offers a cushiony lather that rinses cleanly away, taking with it the day's dirt, sweat, and grime.
How to use
Apply to skin or hair, then create a lather and rinse.
Show details
Research
Indian Journal of Dermatology, 2008, issue 4, pages 163-166

Indian Journal of Dermatology, May-June 2015, issue 3, pages 248–254

Journal of Cosmetic Science, July-August 2011, pages 361-370

International Journal of Trichology, 2015, issue 1, pages 2-15
Ingredients
Product Ingredients
Water (Aqua), Ammonium Laureth Sulfate (cleansing), Sodium Laureth Sulfate (cleansing), Sodium Chloride (stabilizer), Cocamidopropyl Betaine (cleansing), Panthenol (vitamin B5/skin replenishing), Aloe Barbadensis Leaf Juice Powder (hydration/skin-soothing), Hydrolyzed Soy Protein (conditioning agent), Polyquaternium-10 (conditioning/detangling agent), Disodium EDTA (stabilizer), Citric Acid (pH adjuster), Sorbic Acid (preservative).
Ratings & Reviews
This product works well as a body wash.
Tommy Tester
Seattle
I use this as both a body wash and shampoo. My skin/scalp are sensitive to perfumes, and this is the only fragrance free option I have found. I have started using this because the packaging is so much better than the other PC body wash. Doesn't make my dry/very dry skin worse.
SJ
North Dakota
Good body wash, not good for long hair
Ok, I am a woman with long hair and I bought this product because I found the ingredients to be similar to the Body and Hair shampoo that I LOVE, and thought I would buy the same product for cheaper. It is NOT an identical product. It is an excellent body gel, however, it does not wash my hair well at, I have to use a separate shampoo. Excellent Body wash, I actually like it more than the Body&Hair Shampoo.
Maria
Toronto, Canada
Excellent body wash and shampoo
I just bought this and have used it as a shampoo and body wash. It is perfect for my sensitive skin that can be oily and for my hair as well. Love it.
Diane
Virginia
Excellent Shampoo & Body Wash!
It's truly the first product I found that works well as both shampoo and body wash. Please make a bigger bottle version of this product.
Ed
DC Metro
Bought for husband but I'm using it too.
I purchased for my husband and I decided to try it. I washed my hair and it was so soft. It calmed the frizz down. I have been a long time PC user of the All Over Body and Hair but I will be adding this to the mix as well. Husband likes it as well.
Bevin
Saskatoon, SK
perfume free option for husband and wife
This is a nice foaming body wash, that has no scent. I didn't try it yet as a shampoo, just on my skin. I usually like scented shower gels but if I use a scented body lotion I will use this body wash. I bought it for my hubby but we can both use it for sure.
Susanne
Colorado
I'M TOTALLY IMPRESSED BY PC4 MEN BODYWASH. FIRST OF ALL THE CONTAINER IT COMES IN IS BEAUTIFUL. IT LOOKS SO COOL ON MY BATHROOM SHELF. THE SHAMPOO ISN'T RUNNY AND COMES OUT LIKE A GEL, UNLIKE THE OTHER BODYWASH PAULA HAS. IT IS SO CONCENTRATED, YOU ONLY NEED A VERY SMALL AMOUNT AND IT GIVES TONS OF LATHER. THERE'S A BALANCE TO THIS BODYWASH, IT GIVES MORE MOISTURE, WITHOUT OVER MOSITURIZING. YOU COME OUT OF THE SHOWER TOTALLY REFRESHED. I LIKE THIS BODYWASH VERY MUCH, AND THIS IS PAULA'S BEST WASH
RICHARD THE SECOND
PHILADELPHIA, PA
Hair and Body Shampoo in different packaging/marketing
This is identical to Paula's Choice Hair and Body Shampoo, even though that's not mentioned and even though the ingredient listings are different. This version has far superior packaging. I have purchased dozens of bottles of this stuff over the years because it's better than other products marketed as dual hair/body washes. Most work well in one regard or the other, but not both. In that regard, this product excels, slightly, as a shampoo, in my opinion. Although the marketing claims that this is moisturizing, I find it to be the opposite; in winter, I can't really use this without getting uncomfortably dry skin. There's no glycerin or any oils to moisturize -- like there are in similar drugstore bodywashes. This leaves behind clean skin (after rinsing), but there is no trace of moisture or residue (and I wish there was!). Even though I have oily skin, I don't like feeling like my skin is stripped of all moisture (this product comes dangerously close). The texture is fantastic -- somewhere between a liquid and a gel. On my hair, this is perfection: it cleans without over-drying and gets rid of frizziness, too; it even adds some body and shine. This rivals any shampoo I have ever used. I love that this is fragrance free, too. While I am not allergic to fragrance (in small doses), I despise what cosmetic chemists have decided what "clean" is supposed to smell like -- which is 1. fabric softener if you are a woman and 2. a cheap bottle of cologne from 1950 if you are a man. Both smells are repulsive to me, and it's shocking how hard it is to find something with minimal to no fragrance. When I travel I use this for everything: hair, body, face wash, I even use it to clean my glasses and/or dirty clothing. It works perfectly for all of those things. This truly is a multi-tasking wonder. For me, this is an insanely expensive product because I am wasteful and use too much, which isn't necessary; I wish this came in a liter sized container, which would be far more economical and less wasteful for me. Overall, one of my favorite Paula's Choice products, which I am sure I will continue to use and recommend.
Dustin
North Carolina