Images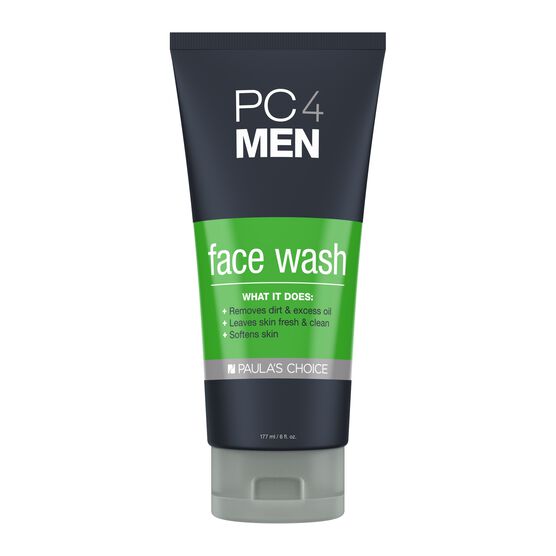 Ditch the drying bar soap. This gentle, hard-working gel formula cleanses skin without making it tight or dry.
PC4MEN Face Wash
Details
https://www.paulaschoice.com/pc4men-face-wash/870-8700.html
Ditch the drying bar soap. This gentle, hard-working gel formula cleanses skin without making it tight or dry.
Thorough, but gentle cleansing
Quickly washes away dirt and excess oil
Refreshing gel texture with a soft lather
The first step in your AM/PM routine
Skin Types:
All Skin Types
Additional Information
Why is it different?
PC4MEN Face Wash bucks the trend of over-fragranced, hard-on-skin face washes and offers men a mild, fragrance-free alternative that's still tough on dirt and excess oil, but skin-softening for a tender touch.
What does it do?
Easily removes dirt and excess oil, and then rinses clean. Whether used before or after shaving, this lathering wash helps soothe sensitive skin, visibly lessening redness and rough skin. All of the good and none of the bad.
How to use
Wet face and apply a small amount of cleanser to your face and eye area with vigorous, yet gentle, circular motions. Rinse well.
Show details
Research
Dermatology Clinics
, April 2016, issue 2, pages 133-145
Skin Research and Technology, May 2016, issue 2, pages 196-202

Skin Research and Technology, February 2001, issue 1, pages 49–55

Indian Journal of Dermatology, January-February 2011, issue 1, pages 2-6

International Journal of Cosmetic Science, August 2013, issue 4, pages 337-345

International Journal of Toxicology, September-October 2013, supplement 5, pages S22-48

International Journal of Cosmetic Science, February 2000, issue 1, pages 21-52
Ingredients
Product Ingredients
Water (Aqua), Decyl Glucoside (cleansing), Glycerin (hydration/skin replenishing), Sodium Cocoamphoacetate (cleansing), Lauryl Glucoside (cleansing), Xanthan Gum (texture-enhancing), Coco-Glucoside (cleansing), Glucose (hydration), Sodium Cocoyl Glutamate (cleansing), Sodium Lauryl Glucose Carboxylate (cleansing), Glyceryl Oleate (texture-enhancing), Aloe Barbadensis Leaf Juice (hydration/skin-soothing), Carrageenan (texture-enhancing), Sodium Phytate (stabilizer), Citric Acid (pH adjuster), Ethylhexylglycerin (texture-enhancing), Phenoxyethanol (preservative), Potassium Sorbate (preservative).
Ratings & Reviews
Comments about PC4MEN Face Wash - 6 oz:
This is an ordinary cleanser but it's great that it is fragrance-free and non-irritating.

Unfortunately, it's not very effective.

It doesn't dissolve dead skin or zinc oxide sunscreen very well, so you end up washing a second time. I deduct one star for that.

I deduct a second star for its price. Beautypedia recommends other 5-star cleansers for half the price and do a better job of removing physical sunscreen. This one just doesn't cut it.
Non-Greasy
Softens Skin
Soothes Skin
Daily Use
Enlarged Pores
Fine Lines/Wrinkles
Redness/ Blotchiness
Sensitive Skin
Comments about PC4MEN Face Wash - 6 oz:
My husband is not a skincare expert like I am, but he does follow a basic routine. He just turned 40, and I have been with him since he was 30. I have noticed he needs to amp up his skincare game if he wants to keep looking so much younger than he is, but he doesn't want more than three steps, so I had better make them count. He already uses the 2%BHA liquid and moisture boost sunscreen and has seen a real difference (his face doesn't feel oily in the morning and it looks more hydrated and his wrinkles and pores are diminished and it doesn't feel like sandpaper anymore), so he wanted to try something else. I had him on the CeraVe foaming cleanser, which he liked, but he LOVES this one, and he doesn't get excited about things like skincare. I've seen such a difference since he has used PC. He wants to age gracefully, but has always looked young and likes that. I can see an increase in radiance and smoothness, he doesn't get random breakouts anymore, and it feels softer. Cleanser seems like such an insignificant thing because you rinse it right off, but it really is so important. I will never get him anything else.
Skin Type:
Normal
Age:
30-44
Lightweight
Non-Greasy
Softens Skin
Soothes Skin
Daily Use
Enlarged Pores
Fine Lines/Wrinkles
Redness/ Blotchiness
Sensitive Skin
Comments about PC4MEN Face Wash - 6 oz:
Honestly, it's pretty important to me to use stuff that are packaged with "MEN" on the label. The simple fact is I'm not likely to keep it on the counter, in the shower or anywhere handy for use-- if something looks girly. I definitely wouldn't use it in front of my girlfriend or even my friends for that matter. Smell is also very important to me. I am very paranoid I smell like a girl when using "beauty" or grooming skincare products. I like to use a body wash that has a short lasting "boyfriend just out the shower" smell and hit himself with a few sprays Versace cologue in the AM, done. So, I don't need my face wash or anything else to give off any conflicting aromas. So this smell free cleanser is optimal for me. My basic view towards skincare for myself is: I want the best skin possible in the smallest amount of time. I like products and systems that are "all in one" and easy to use. I don't need to know what makes them work or how to pronounce every ingredient or even care why I need to wear sunblock everyday. I have no problem with Paula telling me what to do, giving me products that are acceptable for this use and going on about my day! GOOD NEWS: THIS WHOLE LINE HAS WHAT PAULA WANTS YOU TO USE TO KEEP SKIN HEALTHY AND MEETS ALL MY NEEDS FOR PERFORMANCE!!! This product and the entire men's line is perfect for me. It's also nice knowing that more information about the ingredients are easily available on the website if I so choose to want to get into more details. I also like the products are not tested on animals and are environmentally friendly. Although, those aren't a deciding selling point for me, it's the icing on the cake to feel guilt-free about using one brand of products consistantly in the long term. I also like the option that if I do ever wish to do more with my skin that there are other products in the brand I could add without changing my core routine! (For example: spot treatment or booster products) From A-Z, I do not have one single complaint!!! Great job @PaulasChoice and keep it up.

PS: Some guys might want to improve their skin but might feel kind of hesitant to actually make the effort to shop for grooming products. I think this would make a great gift, HINT HINT! Not just bc the products are good but also gives him "approval" to use grooming products if a girl buys them. I would never buy a girlfriend anything like that bc it could imply unhappiness with her appearance... I don't think the same attitude would be an issue at all for the reverse situation!
Skin Type:
Combination
Age:
18-29
Comments about PC4MEN Face Wash - 6 oz:
Argghhh.. That lid doesn't close just like the other reviewer commented! And the spout seems too wide in circumference but shallow in the lip. It's a hassle that the product flows out too quickly first and then smears all over the opened surface that requires an extra step to wipe clean. I'll transfer the gel to another bottle that pours well and doesn't leak.The cleanser itself cleans away oil and makeup without leaving residue. Not drying either. Just perfect for summer!
Comments about PC4MEN Face Wash - 6 oz:
I'm in my 30s and had just come to accept that I simply had bad skin. Pimples, blemishes and a dull appearance would have to remain a way of life. This was before I discovered that the well known skincare brand that I'd been using for too many years was exposing my skin to harmful ingredients that meant my skin was constantly fighting an uphill battle. Then I found PC4MEN! After just a few weeks using the Facewash and Daytime Protect, my skin is finally bright and blemish free. THANK YOU PAULA!
Comments about PC4MEN Face Wash - 6 oz:
This deserves five stars for being a great, non-drying cleanser that actually does it's job. I hope this formulation never changes,as hunting for HG products is a terrible process of trial and error. I say don't mess with perfection! Though this is the same as the earth sourced gel...this packaging is more appealing.
Comments about PC4MEN Face Wash - 6 oz:
My husband really likes this face wash but is unhappy with the flip top as it doesn't latch (never has) and subsequently when travelling, the product leaked all over his shaving kit. In the shower he has to turn it upside down to keep it from leaking. Has anyone else had this issue? Perhaps just one defective tube?
Comments about PC4MEN Face Wash - 6 oz:
Note that this is the Earth Sourced Cleanser packaged differently. That said, it works well for my husband's oily skin, which has looked great since I turned him on to Paula's various BHA product. No more shine at all, and he no longer looks oily. He uses Basis soap a lot, but this gel is better, and the sample sizes are much more convenient than a bar of soap for travel. It's a little too drying for my combination skin, though. Definitely not for dryer complexions.
Comments about PC4MEN Face Wash - 6 oz:
This is basically the Earth Sourced Cleanser. I like it. It's mild and effective, and not drying - even in the winter when my skin can get a little more dry/sensitive. I like all her cleansers but this is a good all-rounder. It's not special though - some of her other cleansers are more elegant.
Comments about PC4MEN Face Wash - 6 oz:
I really want to love this cleanser. It is fragrance free and rinses completely. While initially it cleanses my sensitive/acne skin well, the most frustrating attribute of this cleanser is that it's not thick. I find the gel rinses away too easily and I end up just rubbing my skin, causing irritation. It merely disappears too quickly. I end up using more product which is really frustrating. I'll be searching for another cleanser.