Images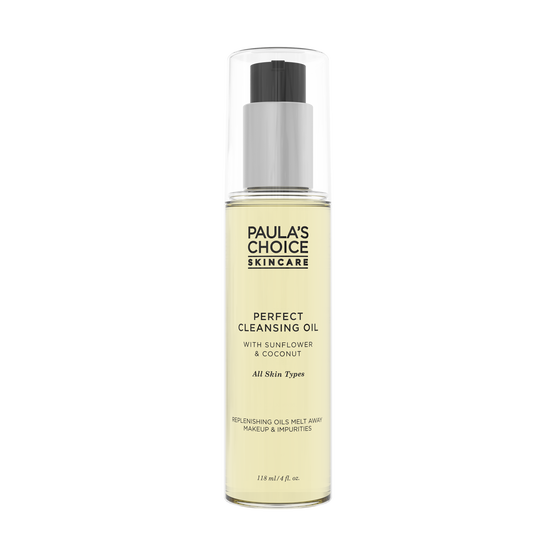 This skin-replenishing blend of plant oils rapidly dissolves makeup and whisks away impurities, while leaving skin soft and smooth—with no greasy residue.
Perfect Cleansing Oil
Details
https://www.paulaschoice.com/perfect-cleansing-oil/314-3140.html
This skin-replenishing blend of plant oils rapidly dissolves makeup and whisks away impurities, while leaving skin soft and smooth—with no greasy residue.
Effortlessly removes makeup (even waterproof)
Sunflower & coconut oils hydrate & nourish skin
Creates a milky emulsion when mixed with water
Use as the first step in your AM/PM skincare routine
Skin Types:
All Skin Types
Additional Information
Why is it different?
Infused with five plant oils specifically chosen for their ability to break down makeup and facial debris, this luxe-feeling cleansing oil nurtures skin's moisture balance. The fragrance-free formula is gentle, yet works incredibly fast, leaving nothing but silky, clean skin.
What does it do?
Sunflower, coconut, meadowfoam, jojoba and grape seed oils come together to simultaneously cleanse and replenish skin's barrier. This innovative mix forms a milky emulsion when mixed with water, to remove stubborn impurities and even the most tenacious makeup.
How to use
Apply a small amount of cleanser (1-2 pumps) to wet or dry skin with gentle circular motions. Rinse well. To remove heavy makeup, repeat or use with a clean, wet washcloth.
Show details
Research
CyTA – Journal of Food ,Volume 15, Issue 1, 2017

Nutrition and Metabolic Insights , August 2016, pages 59-64

Journal of Italian Dermatology and Venereology , December 2013, pages 687-691

Skin Pharmacology and Physiology , June 2010, pages 290-297

Cutis , March 2005 Supplement, pages 17-21

Ingredients
Product Ingredients
Caprylic/Capric Triglyceride (emollient/texture enhancer), Helianthus Annuus (Sunflower) Seed Oil (hydration/non-fragrant plant oil), MIPA-Laureth Sulfate (cleansing agent), Laureth-3 (emulsifier), Laureth-7 Citrate (cleansing agent), Triethylhexanoin (hydration), Cocos Nucifera (Coconut) Oil, Limnanthes Alba (Meadowfoam) Seed Oil, Simmondsia Chinensis (Jojoba) Seed Oil, Vitis Vinifera (Grape) Seed Oil (non-fragrant plant oils), Butyrospermum Parkii (Shea) Butter (emollient), Tocopherol (vitamin E/antioxidant), Phenoxyethanol (preservative), Ethylhexylglycerin (hydration).
Ratings & Reviews
Softens skin (25)
Lightweight (21)
Moisturizes (16)
Non-greasy (14)
Soothes skin (11)
Irritates skin (9)
Not effective (6)
Daily use (21)
Sensitive skin (10)
Fine lines/wrinkles (7)
Redness/ blotchiness (5)
Enlarged pores (4)
Reviewer Profile:
Beauty conscious (19), Survivalist / minimalist (9), Beauty expert (6)

Skin Type:
Combination (21), Dry (13), Normal (3)
I love my PC make-up remover followed with PC Moisture Boost cleanser, but I decided to add this cleansing oil to my regimen. I was about to purchase it, but I then received a surprise nice sized sample packet with one of my purchases shortly after this cleansing oil was launched. WOW.... this product stung my eyes badly, and the whites of my eyes turned red immediately. None of my other PC cleansing nor skin care products have burned my eyes prior to this product. I went back to my non-irritating PC make-up remover plus Moisture Boost cleanser which are gentle and work well too.
I am a big PC fan and have been for many years. But this one is a dud. The oil is thicker than many similar cleansing oils, which is not pleasant, and it has a faint but definite smell. It is just okay at removing makeup, but leaves eye makeup residue that has to be removed by another method. But worst of all, this oil stings my eyes which means that I cannot and will not use it. Paula, please reformulate to a thinner, odorless product that has no harsh ingredients that sting the eyes. I much prefer the Bobbi Brown oil which PC rates poorly because of lavender oil (that I can't smell), but that is thinner, gentle on the eyes, and removes all eye makeup effortlessly.
Skin Type:
Combination
Age:
60+
Moisturizes
Softens Skin
Soothes Skin
Formula felt really nice but did not remove my regular mascara. Can not give this a good review because I bought this cleanser as a first step to remove my makeup.
Service and delivery comments:
Fast delivery
Lightweight
Moisturizes
Non-Greasy
Softens Skin
Soothes Skin
Daily Use
Enlarged Pores
Fine Lines/Wrinkles
Redness/ Blotchiness
Sensitive Skin
Uneven Skin Tone
I was skeptical about how an oil applied to combination skin with Rosacea would not cause breakouts and work to cleanse skin. It just seems totally counterintuitive to put oil on my skin even if I am rinsing it off. I am not even sure what made me order this to try it! Well, I am so glad that I did. It is the best cleanser I have ever used! It removes all of my make-up, is gentle, leaves it soft and is not irritating at all. Since I am aging and begin to get fine lines any bit of dryness makes those lines more apparent. This cleanser with fabulous for those areas of my skin as well as the oily areas. It us as if the oil works to pull the oil off of my skin without drying it out and triggering more oil production. My husband has very dry flaky skin has also starting using it and loves it as well because he has seem a difference in his skin. We both love and use Paula's Choice and have had some hits and misses with figuring out which products worked best for us. This one was a home run.
Service and delivery comments:
Great service and delivery time.
Skin Type:
Combination
Age:
45-59
I'm not sure if it works to soothe or clear skin. I've had a lot of texture lately and am wondering if I should stop using this as they may be related! Mostly though, my eyes burn like crazy!! I keep using it and just living with it, but I feel like it's getting worse. I'm so surprised because it's fairly natural and I can't identify the ingredient that causes it.
Lightweight
Non-Greasy
Soothes Skin
Daily Use
Enlarged Pores
Fine Lines/Wrinkles
Redness/ Blotchiness
Sensitive Skin
Uneven Skin Tone
I have been a loyal PC customer for over 5 years now. I never though they would come out with a cleansing oil, but I am very glad they did! This cleansing oil is a bit expensive, there are some other cleansing oils at a cheaper price, but this one is really, really good. It rinses very smoothly (the main thing I absolutely love about it) and has almost no scent. You can smell the product I guess, but absolutely no fragrancy, chemical smell comes from this product. I am also very happy that this has no mineral oil. I just want a cleansing balm version of it too!
Service and delivery comments:
PC delivery is always very prompt! If I order products, I almost always get them within a week.
Lightweight
Moisturizes
Softens Skin
Soothes Skin
Daily Use
Fine Lines/Wrinkles
Redness/ Blotchiness
Sensitive Skin
I use this cleansing oil at night to remove my makeup. I have very dry and sensitive skin and prefer cleansing oils but most of them have fragrant oils added like lemon essence which I find to be irritating. Paula's is fragrance free and soothing. I do use a separate eye makeup remover most days which I've always done so I can't comment on how well the oil removes eyeliner and mascara. I use the dry skin Resist cleanser in the morning ( which I also love ).
Service and delivery comments:
Always reliable service and delivery.
I found this cleanser to actually be too drying. It does work great to get off my stubborn Benefit mascara but i have to rush to tone and moisturize after cause my skin feels dry and stripped. (not so with my favorite Hydralight which feels soft and toned immediately after rinsing). For me, this is a very expensive cleanser for little benefit.
Skin Type:
Combination
Age:
30-44
Elegant product
Lightweight
Moisturizes
Non-comodogenic
Non-Greasy
Softens Skin
Soothes Skin
Surprisingly effective
Fine Lines/Wrinkles
Gentle but Effective
Moisturizing
Sensitive Skin
I have complicated skin. My forehead is slightly oily and prone to break out; my nose is also somewhat oily and prone to blackheads; my cheeks are dry; my chin and over-lip are sometimes a bit dry but can have very small breakouts. To top it all off, everything is sensitive, especially my nose and my neck and somewhat, my chin and over-lip area. Oh, and I have allergies to everything! "Combination skin" does not cover it! So I was extremely wary about trying this - not only using an oil cleanser on my break-out-prone areas, but just the concept that oil could clean anything! And with all the reviews that said this product caused eye stinging and irritation - with my hypersensitive reactions - I was anticipating the same problems. But I found that this cleanser does work rather elegantly, with no skin irritation at all, and softens/moisturizes my dry, winterized cheeks. I do use a bit of the Resist Perfectly Balanced Foaming Cleanser afterwards, just on my nose and forehead. During the summer months, I may find I need to drop this and just use the Resist PBFC. But for the dry winter months, this cleanser feels wonderful!
Skin Type:
Combination
Age:
60+
I used this nightly for 10 days to remove my make-up instead of Cetaphil. Then, per my routine, followed up with the balanced foaming skin cleanser and other Paula's Choice products. Unfortunately, it caused me to gradually break out in pimples. Went back to Cetaphil and my skin is clearing. On the plus side, it felt good to use in this dry winter weather and it softened my skin upon using it, but something in it irritated my skin. I've made my own cleansing oil before (3 ingredients) with success. This is not the "Perfect Cleansing Oil" for all.
Skin Type:
Combination
Age:
45-59