Images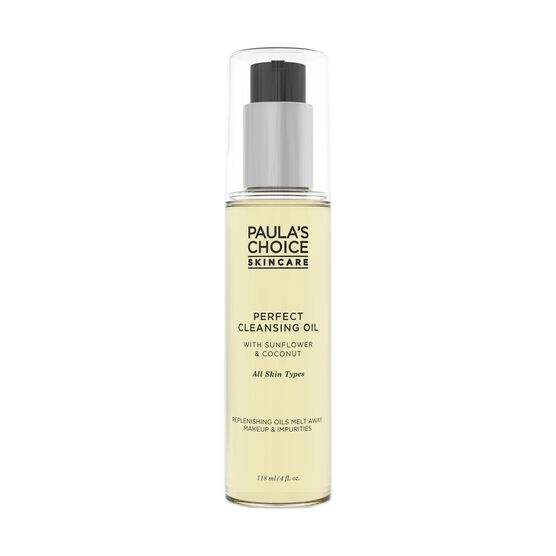 This skin-replenishing blend of plant oils rapidly dissolves makeup and whisks away impurities, while leaving skin soft and smooth—with no greasy residue.
Perfect Cleansing Oil
Details
https://www.paulaschoice.com/perfect-cleansing-oil/314-3140.html
This skin-replenishing blend of plant oils rapidly dissolves makeup and whisks away impurities, while leaving skin soft and smooth—with no greasy residue.
Effortlessly removes makeup (even waterproof)
Sunflower & coconut oils hydrate & nourish skin
Creates a milky emulsion when mixed with water
Use as the first step in your AM/PM skincare routine
Skin Types:
All Skin Types
Additional Information
Why is it different?
Infused with five plant oils specifically chosen for their ability to break down makeup and facial debris, this luxe-feeling cleansing oil nurtures skin's moisture balance. The fragrance-free formula is gentle, yet works incredibly fast, leaving nothing but silky, clean skin.
What does it do?
Sunflower, coconut, meadowfoam, jojoba and grape seed oils come together to simultaneously cleanse and replenish skin's barrier. This innovative mix forms a milky emulsion when mixed with water, to remove stubborn impurities and even the most tenacious makeup.
How to use
Apply a small amount of cleanser (1-2 pumps) to wet or dry skin with gentle circular motions. Rinse well. To remove heavy makeup, repeat or use with a clean, wet washcloth.
Show details
Research
CyTA – Journal of Food ,Volume 15, Issue 1, 2017

Nutrition and Metabolic Insights , August 2016, pages 59-64

Journal of Italian Dermatology and Venereology , December 2013, pages 687-691

Skin Pharmacology and Physiology , June 2010, pages 290-297

Cutis , March 2005 Supplement, pages 17-21

Ingredients
Product Ingredients
Caprylic/Capric Triglyceride (emollient/texture enhancer), Helianthus Annuus (Sunflower) Seed Oil (hydration/non-fragrant plant oil), MIPA-Laureth Sulfate (cleansing agent), Laureth-3 (emulsifier), Laureth-7 Citrate (cleansing agent), Triethylhexanoin (hydration), Cocos Nucifera (Coconut) Oil, Limnanthes Alba (Meadowfoam) Seed Oil, Simmondsia Chinensis (Jojoba) Seed Oil, Vitis Vinifera (Grape) Seed Oil (non-fragrant plant oils), Butyrospermum Parkii (Shea) Butter (emollient), Tocopherol (vitamin E/antioxidant), Phenoxyethanol (preservative), Ethylhexylglycerin (hydration).
Ratings & Reviews
Softens skin (30)
Lightweight (29)
Moisturizes (19)
Non-greasy (18)
Soothes skin (14)
Irritates skin (11)
Not effective (7)
Greasy (3)
Daily use (27)
Sensitive skin (11)
Fine lines/wrinkles (7)
Redness/ blotchiness (6)
Enlarged pores (4)
Reviewer Profile:
Beauty conscious (26), Survivalist / minimalist (10), Beauty expert (6)

Skin Type:
Combination (28), Dry (14), Normal (4)
Irritates Skin
Not Effective
I gave this product a good, long try. I used about 3/4 of the bottle and wanted to love it, but after taking a break from it and startinf it again I am pretty sure it Is the culprit for my increased breakouts. Also, I typically only wear a light, tinted moisturizer daily. Even after washing and rinsing 2-3 times in a row with it, when I would dry my face I would find my makeup on the towel so I knew it wasn't fully removing it.
Skin Type:
Combination
Age:
30-44
Lightweight
Moisturizes
Non-Greasy
Softens Skin
Soothes Skin
Daily Use
Redness/ Blotchiness
Sensitive Skin
If I hadn't used an expensive, plant based organic line years ago that had a daily oil that stopped shine, I would have been questioning using an oil cleanser on combination skin that leans towards the oily side. It sounds weird, I know, but it works great and I had to try this when it came out. My skin is usually oily, with small patches of dryness that get are more noticible in the winter. Oh, and I have breakouts occassionally too. And my skin is sensitive and goes crazy when the seasons change. I use this cleaner in the morning and evening and it has softened my skin, getting rid of the dry patches. No noticable increase or decrease in oil production, so that's a plus! I have always been wary of cleansers that claim to remove mascara, so I have not tried it for that purpose. It is a lovely all over cleanser that washes off easily and leaves no residue behind.
Skin Type:
Combination
Age:
45-59
I am totally shocked at reviews that this stings eyes. I remove my face makeup with this. If it has gotten near my eyes from removing concealer, it doesn't burn at all. I use this primarily as a double cleanse at night. Usually, I put two pumps in my hands and then spread it around my face. I add water and all makeup gets washed down the drain. Then, I use my cleanser for the second cleanse along with a soft washcloth. I really like this oil. I have combination, sensitive skin. This oil has never given me a bump, stung, left a film, etc. It is very nice. I use Paula's Choice makeup remover on cotton to remove eye makeup. But eye stinging? Not at all.
Service and delivery comments:
Fast as usual
Skin Type:
Combination
Age:
30-44
Lightweight
Moisturizes
Softens Skin
I love this cleaner. My skin is so soft and even though I think the cleanser is greasy my skin does NOT feel greasy at all. It removes my makeup nicely.
Wonderful product!
Skin Type:
Combination
Age:
45-59
Lightweight
Softens Skin
Soothes Skin
This product feels nice on the skin and does pretty well at removing makeup (I sometimes have to go in twice with it for stubborn eye makeup) but it BURNS my eyes so badly. It doesn't burn immediately, but after I rinse it off, my eyes will sting and water for about 20 mins. I would not purchase again for that reason only.
Skin Type:
Combination
Age:
18-29
I bought this to remove eye makeup. However, it burns my eyes so it isn't good for that purpose. I use a Paula's Choice cleanser that I love, but sadly this oil will be a one and done.
Skin Type:
Combination
Age:
45-59
Lightweight
Non-Greasy
Softens Skin
I use only in my morning shower. Leaves my skin smooth and hydrated, not at all tight feeling. Also does not irritate my sensitive skin. Some cleansers leave my skin with red splotches but not this one. I have oily skin, and this doesn't break me out. Will purchase again for AM cleanser.
The Perfect Cleansing Oil cleans my face well, except that it burns my eyes intensely. The burning frequently lasts til the next day. Therefore, I cannot use or recommend this cleanser.
Skin Type:
Normal
Age:
30-44
I cannot use without extreme dryness and irritation following. I love the feel and effectiveness, so I'm seriously disappointed!
Skin Type:
Combination
Age:
45-59
Lightweight
Moisturizes
Non-Greasy
Softens Skin
Soothes Skin
The Paula's Choice Perfect Cleansing Oil is a fragrance free face cleanser and makeup remover that does a great job removing makeup, oil, and impurities from your face. The directions say to use it on a dry face if you are removing makeup and use on a wet face if you are cleansing a makeup-free face. I must admit that this is one of the first oil cleansers I've used that actually removes every trace of makeup without leaving a filmy feeling on my face. The other nice thing is that this leaves skin feeling soft and hydrated. The other nice thing is the price tag- a little goes a long way so one bottle will last you quite a while.