Images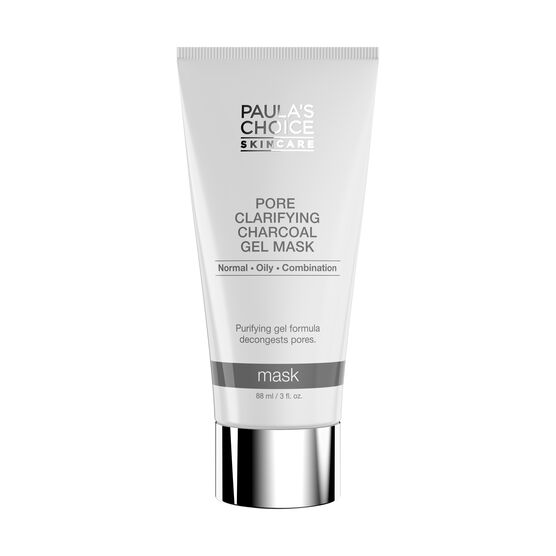 Balance oily skin and decongest pores with charcoal and natural clays suspended in a soothing gel mask for a refreshed, shine-free complexion.
Pore Clarifying Charcoal Gel Mask
Details
https://www.paulaschoice.com/pore-clarifying-charcoal-gel-mask/265-2650.html
Balance oily skin and decongest pores with charcoal and natural clays suspended in a soothing gel mask for a refreshed, shine-free complexion.
Charcoal draws out pore-congesting debris
Absorbent clays mattify oily shine
Refreshing gel formula balances hydration
Use on cleansed skin as often as desired
Skin Types:
Oily Skin, Combination Skin
Concerns:
Enlarged Pores, Oily Skin, Combination Skin
Additional Information
Why is it different?
This unique charcoal gel attracts oil and skin impurities like a magnet so they can be rinsed away, leaving pores less congested and visibly minimized. Skin looks matte and feels refreshingly balanced—never tight or dry.
What does it do?
The blend of porous charcoal, natural clays (kaolin and bentonite), and tapioca starch absorb skin's surface oil on contact. Willow bark and soothing agents calm skin, while skin-replenishing glycerin adds a touch of hydration for a balanced complexion.
How to use
Apply a generous layer all over the face and let dry for 10-15 minutes. Rinse thoroughly with water. May be used as often as needed.
Show details
Research
Iranian Journal of Public Health
, September 2017, pages 1,176-1,183
General Physiology and Biophysics, September 2013, pages 347-359
International Journal of Toxicology, September-October 2013, pages 22S-48S
International Geology Review, July 2010, pages 745-770
Food and Chemical Toxicology, August 2009, issue 8, pages 2142-2149
Chemosphere, August 2005, pages 1,129-1,140
International Journal of Cosmetic Science, June 2003, pages 113-125
Ingredients
Product Ingredients
Water (Aqua), Tapioca Starch (absorbent), Glycerin (skin-replenishing), Decyl Glucoside (gentle surfactant), Sodium Lauroyl Sarcosinate (gentle surfactant), Butylene Glycol (hydration), Cocamidopropyl Betaine (texture enhancer), Ammonium Acryloyldimethyltaurate/VP Copolymer (film-forming agent), Bentonite (absorbent), Kaolin (absorbent), Charcoal Powder (absorbent), Boerhavia Diffusa Root Extract (skin-soothing), Bisabolol (skin-soothing), Epilobium Angustifolium Flower/Leaf/Stem Extract (skin-soothing), Lactic Acid (hydration), Xanthan Gum (texture enhancer), Isopropyl Titanium Triisostearate (texture enhancer), C12-15 Alkyl Benzoate (emollient), Iron Oxides (CI 77499) (mineral-based coloring agent), Phenoxyethanol (preservatives), Caprylyl Glycol (hydration), Ethylhexylglycerin (hydration), Hexylene Glycol (texture enhancer).
Ratings & Reviews
Lightweight (9)
Non-greasy (7)
Softens skin (7)
Soothes skin (5)
Reviewer Profile:
Beauty conscious (9), Survivalist / minimalist (4)

Skin Type:
Combination (12)
I chose a sample of it at the last purchase from the PG store, I really did not expect to like this mask.
I have tried it once so far and the result was very beautiful. It's actually cleaned my pores not too much put like any Exfoliation mask i ever used.. I liked.
But my skin did not bear to put it more than 10 minutes, I felt a simple sting after I washed it .. this annoyance was only for a few minutes

But I liked it .. I think after the first experience I can say that for me as a result I find it better than Clinique Pore Refining Solutions Charcoal Mask, Which I have been using for several months now.
Service and delivery comments:
I choose three samples for try and arrived in excellent condition
Skin Type:
Combination
Age:
30-44
Irritates Skin
Not Effective
I received this product as a BONUS sample on one of my orders. I suppose I'm glad I didn't pay actual money on this. I was really disappointed. I was looking to try a hydrating mask that would help with my pores. NOPE. My skin was actually doing exceptionally well recently (in large part because of the OTHER Paula's Choice products in my skincare routine).
Immediately after I tried this mask (I didn't even keep it on for the full time bc it felt weird), my current blemishes felt irritated. And the next morning, woke up to FIVE new breakouts. Would not recommend to anyone with acne prone skin I guess (which I have)
Service and delivery comments:
delivery was great, as always with PC
Skin Type:
Combination
Age:
18-29
Enlarged Pores
Redness/ Blotchiness
I have combination skin that's more dry, yet lately I've been having acne troubles and an oily T-zone, so I tried a sample-size of this mask that I recieved. I don't know how this mask did it, but after one use of the sample, some of my acne is less noticable and there is no trace of oiliness! The only reason I gave it 4/5 stars is because my skin is more on the dry side, the mask kind of sucked the moisture out of it, and even after I applied moisturizer, my skin feels tight and slightly uncomfortable.
Skin Type:
Combination
Age:
18-29
I was the one on Facebook whining about how I'm supposed to know whether to buy the new charcoal mask or the less new, clay mask. Well, since switching to this one, my nose pores are visibly diminishing. There's barely a sign of blackheads or pore 'congestion' (I think the latter is an accumulating consequence of falling asleep with my make-up on.). I'll miss the subtle beige colour of the clay mask (not as scary if someone sees me), but this one is lighter than Paula's old black mask. I just wish that it went on more easily. It is hard to make a consistent thick enough layer. On the other hand, it is much easier to remove than the old black mask (was it charcoal too?).
Skin Type:
Combination
Age:
45-59
Not Effective
Too watery, and thin
I didn't like this product because it was too thin and did not apply well. While the gel concept is interesting, it make the mask difficult to apply and to layer.
Honestly the best mask I've ever used to target my clogged pores and I've tried a huge number of brands like origins and glamglow and nothing have given me results like this. At first when I put it on it was a very lightweight texture and I spread it on thinly and it started stinging and itching a little. After 15 minutes I removed and what I love about this mask is that you can use water and with circular motions it will lather and turn foamy and rinse off super easily unlike many other clay charcoal pore purifying masks where I found really hard to completely get rid of all residue.
Anyways when I saw the results afterward I was shocked beyond belief. My pores were shrunken so small and many of blackheads disappeared or were super tiny and barely noticeable on my face. It's been one week of using this and my pores are still unclogged and are super small. I love this mask like guys if you suffer from blackheads trust me I'm a 19 year old girl and my face is infested with them and this helped so much and I've tried from drugstore to high end nothing has helped so much. Worth every penny and my new secret weapon :")
Skin Type:
Combination
Age:
18-29
Non-Greasy
Softens Skin
Soothes Skin
I have large pores and sporadic breakouts of white bumps. I have been using Paula's products over the years - just about every one that targets larges pores - and unfortunately have not seen improvement in that area. That's not to say that I haven't seen improvement in the texture, look and feel of my skin because I have, but nothing seems to improve the size of my pores or the bumps. i have been using the mask daily for 5 weeks and I haven't seen a difference yet. The mask is soothing and feels good on the skin. It is easy to rinse off and leaves my skin feeling soft. I will continue to use in the hope that it just takes time.
Skin Type:
Combination
Age:
60+
I love this product! I got a sample with a previous order and I will be purchasing the full size! Best mask I have ever tried to enlarged pores!
Lightweight
Moisturizes
Non-Greasy
Softens Skin
Soothes Skin
The old formula burned and became uncomfortably tight as it dried, even before it had been on the skin for 10 minutes. This formula feels refreshing and soothing with no tightness or burning. I thought it subtly improved the overall appearance of my skin. I am looking forward to using it again.
Service and delivery comments:
Delivery was prompt.
Skin Type:
Normal
Age:
30-44
My least favorite mask of theirs. It applies unevenly to my skin. It seems to cling to some areas and clump more together when I try to spread it on. I've tried adding more and using less and still same result. So random parts get the product when I use it. I love the hydrating masks, and the other clay mask work great just this one I won't repurchase. I just feel if it applies better and more even I would enjoy it.
Skin Type:
Combination
Age:
18-29