Images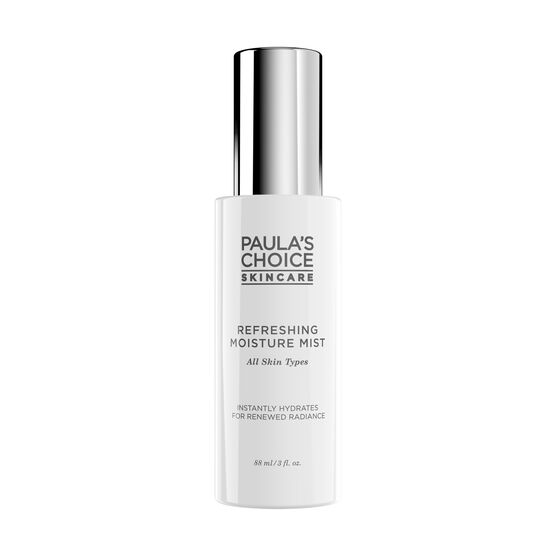 Spritz it on anytime, anywhere to revive tired skin. Use it for instant hydration and a healthy-looking glow. Can even be applied over makeup.
Refreshing Moisture Mist
Details
https://www.paulaschoice.com/refreshing-moisture-mist/215-2150.html
Spray it on day or night to revive tired skin and refresh your makeup. Skin-restoring peptides combine with plant-based antioxidants for a healthy-looking glow.
Comforting mist
Instantly refreshes makeup day or night
Skin Types:
All Skin Types
Additional Information
Why is it different?
Skin loving Moisture Mist blends water-loving humectants with plant-based antioxidants and water-binding collagen amino acids to revive and revitalize your complexion. Works instantly on clean skin, can multi-task as your daytime toner, and during the day it can refresh makeup.
What does it do?
Wonderful light texture instantly refreshes and visibly hydrates clean skin. Its nutrient-rich, alcohol-free formula fortifies skin with replenishing glycerin, sodium hyaluronate, peptides, plus plant-derived antioxidants to reduce the visible effects of pollution and environmental stressors.
How to use
Hold at arm's length from face, close eyes, hold your breath for a second, and mist. Use this as the toner step in your daily skin care routine. During the day, you can also mist it over foundation to refresh and revitalize your appearance. Do not apply directly on top of sunscreen. At night, you can use the Moisture Mist over clean skin to enhance hydration and added anti-aging protection. You can also use it over your evening-out makeup to add a dewy radiant glow.
Show details
Research
Journal of Photochemistry and Photobiology
, July 2017, pages 42-51
Food Chemistry, April 2017, pages 496-507; The Journal of Dermatological Treatment, August 2016, pages 1-7
International Journal of Cosmetic Science, August 2016, ePublication; Journal of Cosmetic Dermatology, July 2014, pages 277-287
Journal of Clinical and Aesthetic Dermatology, October 2012, pages 20-23
International Journal of Cosmetic Science, October 2009, pages 327-345
British Journal of Dermatology, March 2007, pages 492-498
Molecular Pharmacology, February 2007, pages 588-601
Ingredients
Product Ingredients
Water (Aqua), Butylene Glycol (hydration), Hydroxyethyl Urea (hydration), Glycerin (skin replenishing), Dipotassium Phosphate (pH adjuster), Punica Granatum Extract (antioxidant), Collagen Amino Acids (skin replenishing), Palmitoyl Tripeptide-8 (skin restoring), Sodium Hyaluronate (skin replenishing), Euterpe Oleracea Fruit Extract (antioxidant), Tripleurospermum Maritimum Extract (skin soothing), Adenosine (skin restoring), Panthenol (hydration), Ethylhexylglycerin (hydration), Disodium EDTA (chelating agent), Propylene Glycol (hydration), Phosphoric Acid (pH adjuster), Dextran (texture enhancer), Sodium Hydroxide (pH adjuster), Phenoxyethanol (preservative), Potassium Sorbate (preservative).
Ratings & Reviews
Lightweight (16)
Moisturizes (12)
Softens skin (11)
Soothes skin (11)
Non-greasy (9)
Daily use (15)
Sensitive skin (8)
Reviewer Profile:
Beauty conscious (12), Beauty expert (7)

Skin Type:
Combination (13), Dry (4), Normal (3)
Lightweight
Moisturizes
Softens Skin
Soothes Skin
Daily Use
Redness/ Blotchiness
Sensitive Skin
I love this product to refresh or tone my skin. I find that spraying this product directly on to my face is the best way to apply it. I don't like to apply expensive toners with cotton because the cotton absorbs some of the product thus wasting it. However, the sprayer is HORRIBLE. I had to transfer the product into a $1 travel bottle that will mist my face instead of squirt me. Come on Paula's Choice Team, you such make amazing products. I paid $25 for this great product and the packaging is garbage. I believe that you all could certainly update the packaging on to make it better. I probably won't be repurchasing until then.
Skin Type:
Combination
Age:
18-29
Lightweight
Moisturizes
Non-Greasy
Softens Skin
Soothes Skin
I spray onto a cotton round and use as a toner. I love it. I don't know if it is moisturizing exactly but it's certainly not drying. I use it on the days where I have a little bit of flaking after a night of too much Retin A. Weightless, with a little bit more slip than the Resist Weightless toner, which I use regularly as well. Nice for travel with the spray bottle packaging. Better than Clinique's Moisture Spray in my opinon --
Skin Type:
Combination
Age:
30-44
YOU CAN'T REALLY SPRAY THIS PRODUCT, IT MORE LIKE SQUIRTS OUT AT YOU. UPON APPLICATION IT BURNS, BUT THE BURNING SENSATION GOES AWAY. DOES IT MOISTURIZE, WELL KINDA OF NOT ALOT AND IT DEFINITELY DOES NOT SOOTH AT ALL. I WILL STICK TO MY ALOE VERA GEL.
Service and delivery comments:
EXCELLENT AS ALWAYS
Skin Type:
Combination
Age:
60+
I do not really think this is very soothing on skin. I sometimes feel a little tingling or irritation when I spray this. Does not feel calming. The tingling goes away but everytime I use this it does not feel calming to my skin. It tingles. I really regret buying this. I love other PC products but not this one.
Skin Type:
Combination
Age:
30-44
Lightweight
Moisturizes
Non-Greasy
Smells Great
Softens Skin
Soothes Skin
I love how instantly refreshing this feels especially after applying my makeup and for those times when I need extra moisture. The only con is the sprayer. If that changes I would give it 5 stars.
Skin Type:
Combination
Age:
45-59
I really like this for a light moisture however the sprayer is awful. I wanted to use this a mister but it does not mist at all. After I spray it on I have to spread with my fingers, which is not a big deal but it would never work for a makeup refresher which is one of the reasons I wanted this. Please get better packaging for this!
Skin Type:
Combination
Age:
45-59
This is not a mist. I was very disappointed. It is like a spray on your face that you'd get from a spay bottle bought at the dollar store. It didn't feel light and refreshing like I was hoping. It blasts large droplets of water on my face. It does not look or feel good. It don't understand how this got through testing and to market.
Skin Type:
Combination
Age:
45-59
Super excited to get this, and while the formulation is very good the bottle is horrible. It does not give you a fine mist. It's messy and the applicator is cheap. Very disappointed. Was going to return but transferred it to a different bottle that works. Will not order again until bottle is fixed
Service and delivery comments:
One of the major reasons I do not order from Paulas choice is the time it takes to get my order. Sometimes over a week.
Skin Type:
Combination
Age:
30-44
Lightweight
Moisturizes
Smells Great
Softens Skin
Soothes Skin
I love the actual product. It hydrates and feels great. I just don't like the sprayer. It's not a mist, it sprays in big clumps on the face. Fix that, and it will be perfect!
Lightweight
Softens Skin
Soothes Skin
This is a wonderful non-irritating mist. I use it as a final spritz at night before bed. However, I also spritz some on my Beautyblender in the morning to moisten the sponge before applying foundation. It is very gentle and soothing.
Service and delivery comments:
Great
Skin Type:
Combination
Age:
30-44