Images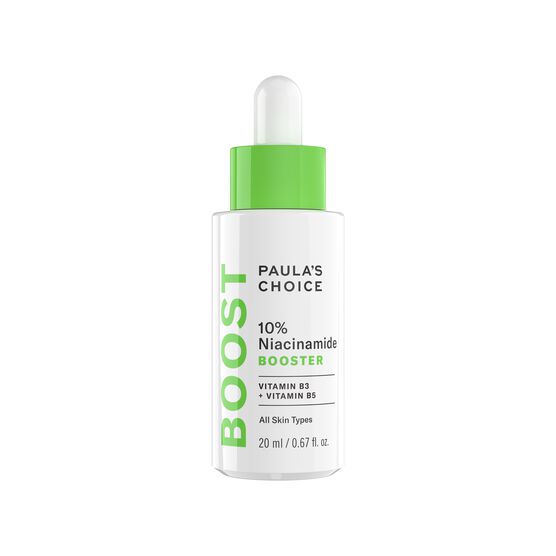 This concentrated 10% niacinamide serum booster dramatically improves uneven skin tone and refines the appearance of pore size, skin texture and fine lines.
RESIST 10% Niacinamide Booster
Details
https://www.paulaschoice.com/resist-10pct-niacinamide-booster/798-7980.html
This concentrated 10% niacinamide serum booster dramatically improves uneven skin tone and refines the appearance of pore size, skin texture and fine lines.
Promotes a brighter, younger-looking appearance
Niacinamide (vitamin B3) visibly minimizes pore size
Sheer, ultra-light liquid formula
Use alone or add to your moisturizer or serum
Skin Types:
All Skin Types
Concerns:
Anti-Aging, Enlarged Pores
Additional Information
Why is it different?
RESIST 10% Niacinamide Booster is the first concentrated 10% niacinamide formula blended with natural calming and superior hydrating ingredients to address the frustrating combination of enlarged pores plus visible signs of aging, such as: uneven skin tone, lack of radiance, rough surface skin texture, redness, and dryness. The results after only a few days will impress you.
What does it do?
Niacinamide is a form of vitamin B3, which research has proven can reduce the appearance of enlarged pores, uneven skin tone, wrinkles, and dry skin. The light-as-water texture is designed to dramatically enhance your skincare while also providing soothing agents to promote visibly calm skin. Antioxidants and skin-replenishing ingredients make this product a multi-tasking must-have solution for all skin types.
How to use
Dispense 2-3 drops into the palm of your hand and then apply to your face. Add a couple more drops if you will also be applying to your neck and chest. During the day, finish with a moisturizer with SPF 30 or greater. Can be applied under the eye area, avoiding the eye itself.
Show details
Research
Journal of Investigative Dermatology
, May 2017, page S116
International Journal of Pharmaceutics, March 2017, pages 158-162; and January 2013, Pages 192-201
Facial Plastic Surgery Clinics of North America, May 2016 , pages 145-152
Phytotherapy Research, August 2015, pages 1117-22
Clinical, Cosmetic, and Investigational Dermatology, July 2015, pages 405-412
Journal of Drugs in Dermatology, September 2014, pages 1021-5
Skin Pharmacology and Physiology, June 2014, pages 311-315
Phytotherapy Research, February 2014, pages 159-66
Journal of Cosmetic Dermatology, June 2013, pages 96-102; and April 2004, pages 88-93
Indian Dermatology Online Journal, April-June 2013, pages 143-146
Journal of Cutaneous and Aesthetic Surgery, January-March 2013, pages 4-11
Dermato-Endocrinology, July 2012, pages 253-8
Journal of Cosmetic and Laser Therapy, January 2006, pages 96-101
International Journal of Cosmetic Science, February 2000, pages 21-52
Biofactors, 1999, volume 9, pages 371-8
Ingredients
Product Ingredients
Water (Aqua), Niacinamide (vitamin B3, skin-restoring ), Acetyl Glucosamine (skin replenishing/antioxidant), Ascorbyl Glucoside (vitamin C/antioxidant), Butylene Glycol (hydration), Phospholipids (skin replenishing), Sodium Hyaluronate (hydration/skin replenishing), Allantoin (skin-soothing), Boerhavia Diffusa Root Extract (skin-soothing), Glycerin (hydration/skin replenishing), Dipotassium Glycyrrhizate (skin-soothing), Glycyrrhiza Glabra Root Extract (licorice extract/skin-soothing), Ubiquinone (antioxidant), Epigallocatechin Gallate (antioxidant), Beta-Glucan (skin-soothing/antioxidant), Panthenol (skin replenishing), Carnosine (antioxidant), Genistein (antioxidant), Citric Acid (pH balancing), Sodium Citrate (pH balancing), Sodium Hydroxide (pH balancing), Xanthan Gum (texture-enhancing), Disodium EDTA (stabilizer), Ethylhexylglycerin (preservative), Phenoxyethanol (preservative).
Ratings & Reviews
Lightweight (173)
Non-greasy (140)
Softens skin (83)
Soothes skin (68)
Moisturizes (26)
Not effective (39)
Irritates skin (30)
Greasy (7)
Pricey / poor value (3)
Daily use (142)
Enlarged pores (131)
Uneven skin tone (92)
Fine lines/wrinkles (73)
Sensitive skin (69)
Reviewer Profile:
Beauty conscious (109), Beauty expert (45), Survivalist / minimalist (32), Skin care professional (12)

Skin Type:
Combination (121), Oily (47), Normal (23), Dry (17)
Reviewed by 214 customers
Irritates Skin
Not Effective
I had such high hopes for this product. I purchased it to treat enlarged pores and uneven skin tone. Initially it did appear to reduce pore size, and I thought it was great. However, within a short time that benefit seemed to disappear and the product was causing my skin to become very dry, peely, flaky, and splotchy red. I had to stop using the product and I returned it. I later learned that niacinamide can have these very effects on sensitive skin, which I have. I wish it was made more clear before I purchased it that many with sensitive skin can have a bad reaction. It's been 10 days since I'm stopped using the product and my skin has still not fully recovered. The red splotchiness still remains.
Skin Type:
Combination
Age:
45-59
Redness/ Blotchiness
Uneven Skin Tone
The first couple of times I used this I would mix it with RESIST Super Antioxidant Serum and RESIST Brightening Essence. My skin did NOT like this combo. I got some of the worst cystic breakouts I've had in a long long time and my skin looked flushed and irritated for days. It was horrible. I took a break from the product and have now used it together with my non-active cleanser, toner and moisturiser (all from the skin recovery line) for some days. The results are great! So far I'm especially seeing good effects on skin tone - it's looks more "alive" and young, it's even, clear and my redness has diminished. The major reason why I decided to try niacinamide is because it's said to be good for red skin and rosacea and so far this product is doing a great job on that department! I haven't seen a difference in pore size yet but I will give it some more time

So. This product can be amazing but I would be careful to mix it with other active ingredients.
I occasionally break out - mainly on my chin or forehead and always right before I get my period. My skin will fluctuate too depending on if I travel and the environment I'm in. When I initially purchased this product, I tried to use it every day (if I could remember) but stopped after seeing no difference. I then spoke to my dermatologist and told her this was one of the products I tried and she recommended that I try using it again on a daily basis as it has good ingredients for your skin and she is a fan of Paula's Choice products. I have been using it daily since that meeting (around four months now), but again have seen zero difference in my skin unfortunately. I also use PC anti aging resist moisturizer, the PC gentle make up remover and one of the PC AHA exfoliant once a week.

I'll continue to use this serum in the mornings, but for me it hasn't made any noticeable difference.
Service and delivery comments:
Delivery's always great and arrives pretty quickly.
Skin Type:
Normal
Age:
30-44
Enlarged Pores
Fine Lines/Wrinkles
Uneven Skin Tone
I feel like I've tried just about everything for my enlarged pores, but nothing seemed to ever work. But with the RESIST 10% Niacinamide Booster, I saw results in 2 days. I thought maybe I was being a bit over optimistic & just "thought" I saw results (because I really wanted them) but each day my skin just kept getting better and better. I can barely see the pores on my forehead now (which is quite large before), and the ones on my cheeks have diminished considerably.
I also have acne prone skin & this has not bothered or caused acne what so ever.
I combine the RESIST 10% Niacinamide Booster with the Skin Balancing Pore-Reducing Toner, 2% BHA Liquid, and CLEAR Regular Strength Daily Skin Clearing Treatment with 2.5% Benzoyl Peroxide.

So happy I found this product (and brand).
Service and delivery comments:
Fast delivery to Canada!
Skin Type:
Combination
Age:
18-29
I am on my 3rd bottle of nicianamide. I put a few drops in my palm and apply with fingertip to the sides of my nose and chin first then with the remaining apply to cheeks under eyes and on my forehead. I have pores that clog on my nose and chin so I think if they are smaller they will clog less.

I think it helps some so I keep using it just in the morning. I have used it for so long, I forget how it was before I started. The bottle last a long time.
Skin Type:
Combination
Age:
45-59
Lightweight
Non-Greasy
Shrinks Huge, Enlarged Pores
Softens Skin
Daily Use
Enlarged Pores
Sensitive Skin
This product is A-M-A-Z-I-N-G!!! I have been struggling to shrink the very large pores next to my nose (in a swath along my cheeks, which was about 2.5cm/1" wide) and at the bottom corners of my nose, and the quite large pores on my nose. BHA kept blackheads and acne away, but the pores were still WAY too huge; makeup LOVED to highlight the pores, rather than disguising them .

After I had only used this 10% Niacinamide for 3 or 4 nights (in a row), my electrolysis technician, peering at my face through her lighted magnifier, said that I only had large pores between my eyebrows!!!

When I returned home, I peered at my face in the mirror, and was stunned, happily; she was correct!!! (It was Winter Holiday Break, and I hadn't peered closely at my face for a while, since I wasn't going out or having visitors over.) After decades of trying to shrink my nose, cheek, and chin pores, after only a few days use of the 10% Niacinamide, they had shrunk so much that they almost disappeared!!!

To top it off, I have discovered another awesome quality of the 10% Niacinamide: my EXTREMELY sensitive skin (Rosacea, plus Central Sensitivity Disorder) has been absolutely FINE with nightly use of the Niacinamide

Now to remember to use this product between my eyebrows, as well
Skin Type:
Combination
Age:
45-59
Had high hopes but this product is just such a let-down. After the first application my pores appeared to be a tiny bit smaller but definitely not shrunken. After a couple of uses my pores become more congested. Couldn't use it more than a month to see any visible results.
Skin Type:
Combination
Age:
30-44
Lightweight
Non-Greasy
Softens Skin
Have seen an immediate response from my skin since I have begun using this product. I mix it with my moisturizer in the morning and evening. Have seen a measurable shrinkage in my pores. Not too harsh on my skin. Use in combination with Brightness Essence.
Skin Type:
Normal
Age:
30-44
Daily Use
Enlarged Pores
Sensitive Skin
I have used this on it's own before moisturizing or added a drop to my moisturizer and it works very well. My pores are largest on my nose and I see a visible difference when I use this product. I usually alternate days with this booster and the Vitamin C. The smell is a little off, but it disappears once the product is applied. A little goes a long way, for me.
Service and delivery comments:
Great delivery and service.
Lightweight
Moisturizes
Non-Greasy
Soothes Skin
So I am reviewing more based on the customer service, and will update once I get to use the product more. But I received my bottle, used it once, and then I went to use it that night and put it on my counter and it shattered. I was so confused because it happened so quickly - I wasn't forceful with the bottle at all. But I must say I contacted PC and the customer service team helped me to resolve my issue. They were extremely kind and understanding - this kind of behavior really makes me want to use nothing but PC forever!