Images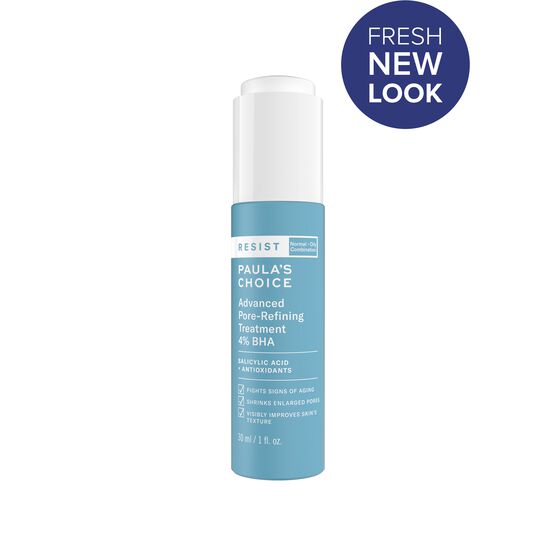 When it's time to take it to the next level, this powerful-yet-gentle, antioxidant-rich exfoliant goes deep to unclog pores for smoother younger-looking skin.
BHA clears & minimizes the look of congested pores
Antioxidants visibly fight signs of aging
Lightweight serum texture for all skin types
Apply after cleansing & toning
RESIST Advanced Pore-Refining Treatment 4% BHA
Details
https://www.paulaschoice.com/resist-advanced-pore-refining-treatment-4pct-bha/7791-7791.html
When it's time to take it to the next level, this powerful-yet-gentle, antioxidant-rich exfoliant goes deep to unclog pores for smoother younger-looking skin.
BHA clears & minimizes the look of congested pores
Antioxidants visibly fight signs of aging
Lightweight serum texture for all skin types
Apply after cleansing & toning
Skin Types:
Combination Skin, Oily Skin
Concerns:
Wrinkles, Enlarged Pores, Anti-Aging, Bumpy Skin
Additional Information
Why is it different?
The unique, high-concentration of 4% BHA goes deep to exfoliate skin quickly so problematic pores, bumps, and uneven skin texture are improved in half the time. The time-released formula delivers dramatic results, while antioxidants revive skin's firm appearance for a more youthful look—all with a luxe serum texture that glides over skin for a soothing finish.
What does it do?
Skin becomes dull, dry and congested when dead skin cells build up on its surface. BHA (beta hydroxy acid) mimics the natural exfoliation process of younger skin by helping it shed extra layers while unclogging and clearing pores. Antioxidants step in to further reduce visible signs of aging.
How to use
Use after cleansing and toning, daily or weekly. Dispense a few drops and smooth over face, neck and chest. Do not rinse. Follow with the rest of your evening skincare routine.
Show details
Research
Journal of European Academy of Dermatology and Venerology, September 2016, issue 9, pages 1480-1490

Phytotherapy Research, August 2015, issue 8, pages 1117-22

Evidence Based Complementary Alternative Medicine, 2013, volume 2013, article 827248

Journal of Clinical, Cosmetic and Investigational Dermatology, 2015, volume 8, pages 455-461

Indian Dermatology Online Journal, April-June 2013, issue 2, pages 143-146
Ingredients
Product Ingredients
Water (Aqua), Butylene Glycol, Dimethicone, Salicylic Acid, Hydroxyethyl Acrylate/Sodium Acryloyldimethyl Taurate Copolymer, Glycerin, Aminomethyl Propanol, Adenosine, Allantoin, Dipotassium Glycyrrhizinate, Vitis Vinifera (Grape) Seed Extract, Avena Sativa (Oat) Bran Extract, Punica Granatum Fruit Extract, Sambucus Nigra Fruit Extract, Camellia Oleifera (Green Tea) Leaf Extract, Camellia Sinensis (Green Tea) Leaf Extract, Chamomilla Recutita (Matricaria) Flower Extract, Lycium Barbarum Fruit Extract, Peucedanum Graveolens (Dill) Extract, Hydrogenated Lecithin, Xanthan Gum, Citric Acid, Disodium EDTA, Benzyl Alcohol, Phenoxyethanol
Ratings & Reviews
Lightweight (52)
Non-greasy (44)
Softens skin (36)
Soothes skin (19)
Moisturizes (13)
Not effective (9)
Heavy (3)
Enlarged pores (40)
Daily use (38)
Uneven skin tone (27)
Fine lines/wrinkles (21)
Sensitive skin (16)
Reviewer Profile:
Beauty conscious (39), Beauty expert (9), Survivalist / minimalist (9)

Skin Type:
Combination (45), Oily (13), Normal (4)
I bought it to replace the Resist weekly retexturing 4% BHA and this just isn't effective. I do not notice a difference in the morning like I did with the weekly retexturing. This was unfortunately a waste of money for mem. I wish you would bring the weekly retexturing foam back.
Skin Type:
Combination
Age:
30-44
Previously, I had been using the Resist 2% BHA once a day to help prevent acne breakouts and my face had actually been doing very well. However, I am always on the lookout for the next new holy grail product and I thought more BHA would provide even better results. Sadly this was not the case for me. My face started breaking out immediately and continued to be problematic. So I have returned the 4% BHA to Paula's Choice for a refund. I'll stick with the Resist 2% BHA as well as the BHA 9 which is a life saver.
Service and delivery comments:
Prompt delivery in good condition.
Skin Type:
Combination
Age:
45-59
Lightweight
Non-Greasy
Softens Skin
Enlarged Pores
Uneven Skin Tone
This is my first experience with Paula's BHA products. I am so impressed! I have oily skin with large pores and dark spots. After just a week of using this daily (I use at night) my skin looked brighter, smoother, and my dark spots were lighter. I still have visible pores and small blackheads around and on my nose but they seem smaller. The product texture is lightweight and doesn't make my oily skin feel greasy at all. Will definitely repurchase!
Blackheads
Daily Use
Enlarged Pores
I've used PC's 2% BHA liquid twice-a-day since she started selling it in the early 1990's, I believe. (All of my skincare products have been Paula's Choice since the beginning, too.)
I'm a 52-year-old mom of college-aged kids and frequently receive jaw-dropping reactions when I share my age with people (including makeup artists and aestheticians).

I have always hoped that Paula would develop a stronger BHA product that worked for me. I'd tried the 9%, 4% foam, etc. I always went back to the 2% liquid for one reason or another. Problem is that I still had many stubborn blackheads in my t-zone...even with monthly facials and doing extractions myself once a week. I've been using the new RESIST Advanced Pore-Refining Treatment 4% BHA for a week and I literally have no more blackheads on my chin and nose. The rest of my skin looks like I had a microdermabrasion treatment...no dull skin, dewy, no flakes. I noticed after 24 hours that the blackheads were going away. I couldn't really believe it, as I watched in my magnification mirror each morning and evening! I've had no irritation at all (which I'd had when trying PC's 4% BHA Foam). I use it every morning in place of my 2% BHA liquid. I hope this product works for you. It seems miraculous to me.
Skin Type:
Combination
Age:
45-59
Lightweight
Moisturizes
Non-Greasy
Softens Skin
Daily Use
Enlarged Pores
Fine Lines/Wrinkles
Uneven Skin Tone
I agree with a previous reviewer's comments about the poor packaging. It's very clumsy to use. A simple squeeze top dropper would've worked better. A pump would be best and easiest of all. I do like the window to see how much product is left. The formula itself is great. Makes my skin smoother, brighter and very resurfaced looking. I have really large pores that still clog but with regular use of this product they're much easier to unclog, avoiding blackheads.
It would be nice to see the new AHA and BHA in better packaging. Please consider ease of use when developing new products.
Skin Type:
Combination
Age:
45-59
This product is excellent! It has a silky texture, easy to apply although the dropper application is a little tricky. I sometimes end up with more product than I anticipated. (This in turn would be my only complaint considering the price is a bit steep). I feel and see a significant difference in my skin. It's incredibly smooth and most of my stubborn spots are gone. I have been using it daily and find it non irritating. It leaves no greasy/heavy residue. I just ordered another bottle!
Skin Type:
Combination
Age:
30-44
Lightweight
Non-Greasy
Soothes Skin
I like the results of the product. However, the dropper system is terrible. It's hard to get the product out and since it's a water-like texture, product gets wasted dripping everywhere from the outside of the dropper. Worst of all, I accidentally tipped the bottle over putting the dropper back in and I lost half of the bottle! It's an expensive product and half of it gone within 2 seconds. Just like water down the sink. I'm hopeful they will change the delivery mechanism as I'm not sure I will buy again because of the packaging
Service and delivery comments:
Great delivery time
Skin Type:
Combination
Age:
30-44
I had really high hopes for this product because of how much I loved the 2% liquid BHA, and also because of how great the reviews were. I have been using this for a few months. I wanted to make sure I really gave it a chance before I left a review. However, I'm just disappointed. I don't think it does half of what the liquid 2% does for me. I'm going to switch back to that because this one is not worth the price. Atleast, for my skin it didn't really make a difference. The 2% liquid BHA i highly recommend. I see results as soon as the next day.
Service and delivery comments:
Delivery and service is always good.
Skin Type:
Combination
Age:
18-29
I used this several nights in a row and just could not stand to use it a fourth night. It is VERY greasy. I have oily skin and do not like to put anything oily or greasy on it. This felt like I was putting Crisco on my face and it would not absorb. Left a horrible film on my face. I returned it.
This product delivers as advertised. I find it extremely effective at reducing the size of the pores on my nose. However, I don't find this version of BHA exfoliant significantly better than the cheaper and always available 2% version. As other reviewers have mentioned, the dropper is awkward to use but I do appreciate the clear "window" on the side of the bottle that lets you know how much product is left in the bottle.
Service and delivery comments:
I am a Canadian customer and have noticed lately that my orders are delivered much more quickly. I don't know if you've changed anything but kudos!
Skin Type:
Combination
Age:
45-59