Images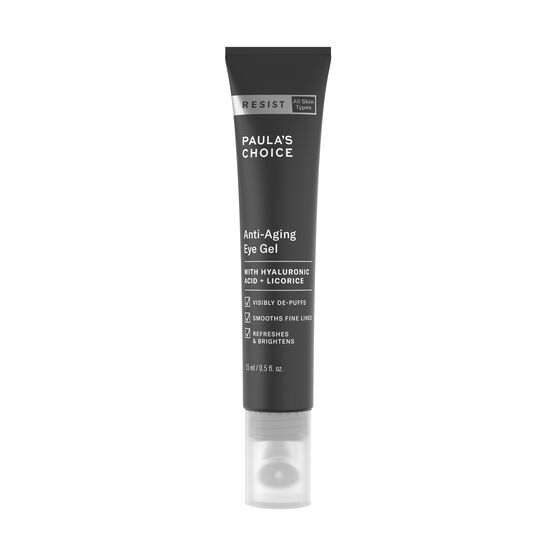 A light, refreshing gel that addresses multiple signs of aging, hydrates, minimizes fine lines and visibly brightens to eliminate signs of fatigue.
RESIST Anti-Aging Eye Gel
Details
https://www.paulaschoice.com/resist-anti-aging-eye-gel/214-2140.html
A light, refreshing gel that addresses multiple signs of aging, hydrates, minimizes fine lines and visibly brightens to eliminate signs of fatigue.
Refreshes & renews delicate skin around the eye
Contains peptides, hyaluronic acid & licorice
Cooling applicator soothes puffiness on contact
Use twice daily as needed
Skin Types:
All Skin Types
Concerns:
Anti-Aging, Wrinkles
Additional Information
Why is it different?
A unique blend of multi-functional ingredients visibly brighten, hydrate, minimize the appearance of fine lines, and reduce signs of fatigue around the eye area.
What does it do?
Antioxidant-rich plant extracts sooth skin and protect from environmental stress, including the visible effects of pollution.
How to use
Using applicator or finger, gently massage a small amount (no larger than the size of a pea) around the eye area. For daytime, follow with a broad-spectrum sunscreen rated SPF 30 or greater.
Show details
Research
International Journal of Pharmaceutics, March 2017, pages 158-162; and January 2013, Pages 192-201

International Journal of Cosmetic Science, August 2016, ePublication

Indian Journal of Experimental Biology, April 2016, pages 280-285

Journal of Drugs in Dermatology,April 2016, supplemental, pages 63-71; and September 2011, pages 990–1000

Bulletin of Experimental Biology and Medicine, May 2016, issue 1, pages 175-178
Cosmetics, August 2015, pages 259-276
Clinical, Cosmetic, and Investigational Dermatology, July 2015, pages 405-412
Fitoterapia, October 2013, pages 160-184
Dermato-endocrinology, July 2012, pages 253–258
Journal of Clinical and Aesthetic Dermatology, September 2011, pages 22-42; and July 2010, pages 20-31
Ingredients
Product Ingredients
Water (Aqua), Cyclopentasiloxane (hydration, texture enhancer), Butylene Glycol, Pentylene Glycol(hydration, slip agents), Tapioca Starch (texture enhancer), Methyl Gluceth-20 Benzoate (emollient), Glycerin (skin-replenishing), Dimethicone, Cyclohexasiloxane, Polysilicone-11 (hydration, texture enhancers), Palmitoyl Tripeptide-38, Caprooyl Tetrapeptide-3, Palmitoyl Tripeptide-5 (skin-restoring, hydration), Niacinamide,Phospholipids (skin replenishing agents), Hyaluronic Acid, Sodium Hyaluronate (skin replenishing, hydration), Vitis Vinifera (Grape) Seed Extract (plant extract, antioxidant), Panthenol (hydration, skin-soothing), Salix Alba (Willow) Bark Extract (antioxidant, skin-soothing), Camellia Sinensis Leaf Extract (green tea antioxidant), Adenosine (skin-restoring), Glycyrrhiza Glabra (Licorice) Root Extract (plant extract, skin-soothing), Pisum Sativum (Pea) Extract (antioxidant), Polyacrylate Crosspolymer-6 (film-forming agent), Dunaliella Salina Extract (plant extract, antioxidant, skin-soothing), Hydroxypropyl Cyclodextrin (chelating agent/stabilizer), Dextran (texture enhancer), Polysorbate 20 (emulsifier), Ammonium Acryloyldimethyltaurate/VP Copolymer (film-forming agent), Disodium EDTA (chelating agent), Phenoxyethanol (preservative)
Ratings & Reviews
Lightweight (31)
Non-greasy (26)
Moisturizes (23)
Soothes skin (20)
Softens skin (15)
Daily use (25)
Fine lines/wrinkles (17)
Sensitive skin (15)
Reviewer Profile:
Beauty conscious (23), Survivalist / minimalist (6), Beauty expert (3)

Skin Type:
Combination (22), Dry (5), Normal (5)
Burning sensation
Not Effective
I'm new to Paula's Choice and this was one of my first products, along with some samples, a skin brightening serum, and a Retinol product, which I love. The skin around my eyes has begun to actually *fall*, so that there is a horizontal line of eyelid in front of the top quarter of my eye. I had been using Argan oil there, but have come to accept that I need something more. This was my first attempt, and I couldn't get over the burning sensation this product gave me--it eventually went away, and there wasn't any redness or other sign of irritation, but between the burning sensation on the skin around my eyes and the fact that it didn't seem to have an effect after a couple of weeks of use, I am returning it. The other PC eye product sounds like it may be too thick for my skin, so I'm going with an otc caffeine cream for now.
Service and delivery comments:
So very prompt! Impressed with that.
Skin Type:
Normal
Age:
45-59
Lightweight
Moisturizes
Non-Greasy
Softens Skin
Soothes Skin
I haven't noticed anything about wrinkles ( I'm 31 and have laugh lines) but I gave it 5 stars because I was amazed at how my dark circles completely disappeared! One day I was just putting my make up on and realized I don't even need a concealer because my under eye area is not dark anymore! And that's been a huge problem for a while, I go through concealers so fast because I always have to cover up my dark circles.
Lightweight
Moisturizes
Non-Greasy
Softens Skin
Soothes Skin
Daily Use
Fine Lines/Wrinkles
I've been using this for 6 months and really see a difference in my under eye area! I have very crepy skin and this moisturizes well without being heavy or greasy, my BB cream blends into it well too! I do also use the resist skin firming line minimizer around my eyes, which I see is being discontinued, but like the eye gel best I think anyways. I will be getting a free trial of the eye cream and am excited to compare, but had originally purchased the gel based on reviews. I get a lot of compliments on my skin from skin care professionals and attribute it to my 5+ years of using PC products, love this line and its been far better than the more expensive brands I used to use.
Skin Type:
Combination
Age:
30-44
Lightweight
Moisturizes
Non-Greasy
A black tube came out on top of the applicator
Daily Use
Fine Lines/Wrinkles
Sensitive Skin
I love this product but when I went to apply it I noticed a black tube blocking the eye gel from coming out. Still have product left so I had to cut off the applicator to obtain product. Not impressed.
Skin Type:
Combination
Age:
45-59
I really love this! I have definitely noticed a change in my undereye area, it visibly brightens, smoothes lines and wrinkes and hydrates. It does not reducd my under eye circles at all, but I still love this product. I use it religiously and noticed results. I feel like my wrinkes are sooo much less pronounced and less "deep".
Product not so much. I admit to being a PC junkie and try out pretty much every new product suitable for my skin type and needs. For years, Paula has said an extra eye product is unnecessary but I tried out the eye cream any way and like it for the colder months. Wanting something lighter, I gave this a try. Although some other reviewers dislike the applicator, I enjoy using it while admitting it is kind of gimmicky. The cooling and soothing sensation is pleasant as is the gentle massage. But, no matter how much I work it in, the amount I apply, when I apply it or how long I wait before beginning my makeup, it pills up badly. I end up having to rub/brush away the little balls which kind of defeats the purpose of having a product designed to soothe and freshen this delicate area. Have recentoy been trying out a sample of the LaRoche PigmentClare under my concealer and may spring for the full size.
Service and delivery comments:
As always, delivery and customer service is the best in the biz!
I use the product as directed, morning and night. I have been using it for probably a month now and have not noticed any benefits whatsoever. The only benefit here would have been if I had saved my money unfortunately. Very disappointed
Skin Type:
Normal
Age:
30-44
Lightweight
Moisturizes
Non-Greasy
Softens Skin
Love the consistency and applicator
Skin Type:
Combination
Age:
18-29
Lightweight
Moisturizes
Non-Greasy
Daily Use
Fine Lines/Wrinkles
Sensitive Skin
This product is insanely good. From the past year I developed lines under my eyes. I bought the sample version of this ($12) and tried it out. It didn't do anything for the first week but I kept applying it every night and morning and WABAM I noticed (maybe after a week n a half or two) my lines significant improved... my left under eye wrinkle has pretty much disappeared and my right still has a stubborn faint line. No complaints though since it's way better than it was weeks ago! I felt very confident today, my concealer looked smooth for once and I looked so rested! Given I HAVE been trying to sleep 8+ anyways but this eye gel really surpassed my expectations and I couldn't be more happier!!! I can't wait to continue to use the sample up and buy a full size!
Service and delivery comments:
I love in Vancouver so since it ships from Seattle I get my deliveries super fast! 2-3 days
Skin Type:
Combination
Age:
18-29
Lightweight
Moisturizes
Non-Greasy
Soothes Skin
Fine Lines/Wrinkles
Sensitive Skin
The gel cools and soothes my dry skin and smooths the fine lines under and around my eyes; but, after using the travel-size tube, I've noticed no difference in my dark circles and under-eye puffiness. That said, I did notice a marked improvement in the staying power of my foundation and concealer under my eyes. Coupled with a Paula's primer, this product helped keep my under-eye makeup smooth and flake-free all day -- and in the dead of winter when my eyes tear and face is extremely dry. Bottom line: I'll keep using it at least during the cold weather.
Service and delivery comments:
Prompt as always