Images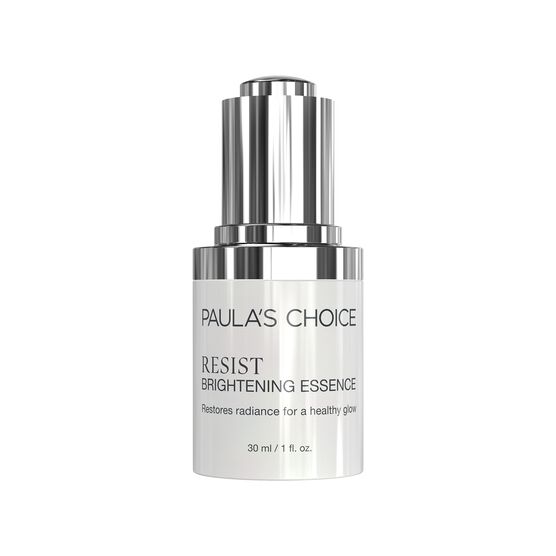 This lightweight fluid works to refine an uneven skin tone and revitalize a dull complexion for visibly brighter, radiant-looking skin.
RESIST Brightening Essence
Details
https://www.paulaschoice.com/resist-brightening-essence/795-7950.html
This lightweight fluid works to refine an uneven skin tone and revitalize a dull complexion for visibly brighter, radiant-looking skin.
Replenishing antioxidants brighten & revitalize skin
Instantly restores skin's radiance for a healthy glow
Lightweight fluid texture
Use twice daily after cleansing, toning & exfoliating
Skin Types:
All Skin Types
Additional Information
Why is it different?
RESIST Brightening Essence is an innovative formula that contains a multi-brightening complex ideal for any skin type. The fluid texture has a concentrated blend of plant extracts, antioxidants, and skin soothing ingredients celebrated for their skin-brightening properties. Licorice extract, arbutin, vitamin C, and niacinamide, along with peptides, are infused in a quickly-absorbing delivery system to create intense, bright, and even results. The superior hydration delivered by two forms of hyaluronic acid increase the reflecting level of skin making it appear glowing and revived.
What does it do?
Combines a powerful brightening complex of arbutin and licorice extract with a unique mix of plant and vitamin-derived ingredients, including acetyl glucosamine and vitamin C, that research has shown can improve a dull, sallow, ashen or uneven skin tone. Its formula works quickly to boost skin's radiance for more luminous, even skin.
How to use
Apply 2-3 drops onto face and neck. For optimal results, use AM and PM. For daytime, follow with a broad-spectrum sunscreen rated SPF 30 or greater.
Show details
Research
Phytochemistry Letters, Volume 13, 2015, pages 35-40;

Journal of Cosmetic Science, January 2012, pages 43-54;

Asian Journal of Chemistry, April 2012, pages 1805–1808

The Journal of Clinical and Aesthetic Dermatology, March 2014, pages 27-29; and February 2010, pages 22-41;

The Journal of Investigative Dermatology, Volume 13, April 2008, pages 20–24;

Journal of Cosmetic Dermatology, September 2010, pages 218-225; March 2007, pages 20-26; and December 2006, pages 309-315;

Skin Research and Technology, May 2006, pages 105-113; Pigment Cell Research, August 1998, pages 206-212
Ingredients
Product Ingredients
Water (Aqua), Butylene Glycol (hydration/penetration enhancer), Glycerin (skin-replenishing), Arbutin (skin-brightening), Acetyl Glucosamine (skin-restoring), Ascorbyl Glucoside (vitamin C/antioxidant), Glycyrrhiza Glabra (Licorice) Root Extract (soothing extract), Arcostaphylos Uva-Ursi Leaf Extract (brightening plant extract), Morus Alba Root Extract (brightening plant extract), Niacinamide (skin-restoring ingredient), Sodium Hyaluronate (skin-replenishing/antioxidant), Hyaluronic Acid (skin-replenishing/antioxidant), Palmitoyl Tripeptide-1 (skin-restoring ingredient), Palmitoyl Tetrapeptide-7 (skin-restoring ingredient), Allantoin (soothing agent), Adenosine (skin-restoring ingredient), Silanetriol (antioxidant), Carbomer, (texture enhancer) Polysorbate-20 (texture enhancer), Citric Acid (pH adjuster), Sodium Citrate (preservative), Sodium Hydroxide (pH adjuster), Disodium EDTA (stabilizer), Ethylhexylglycerin (preservative), Phenoxyethanol (preservative).
Ratings & Reviews
Lightweight (54)
Evens skin tone (26)
Easy to use (25)
Soothes skin (21)
Works effectively (19)
Irritates skin (10)
Difficult to use (9)
Doesn't work (7)
Not effective (4)
Ineffective (3)
Uneven skin tone (37)
Brightening (25)
Fine lines/wrinkles (23)
Daily use (20)
Redness/ blotchiness (7)
Reviewer Profile:
Beauty conscious (35), Beauty expert (17), Survivalist / minimalist (13), Skin care professional (5)

Skin Type:
Combination (23), Dry (8), Normal (7), Oily (3)
Lightweight
Moisturizes
Non-Greasy
I like the product so far but not the packaging. I haven't noticed a difference in my skin yet, I have only been using it for two and a half weeks, but the dropper dispenser is driving me a little crazy. To start I like dropper dispensers, they help keep the item from being contaminated by your hands, however this dropper keeps giving me way too much product. The dropper has a push button on top and when I carefully press down I never know how much I am going to get. A rubber stopper would be easier to manipulate then this container. Every time I go to use this product I gently press down on the button and more often then not I end up with three days worth of product coming out. It s very wasteful and aggravating. Occasionally I will get one drop out but when I push for the next it ends up squirting out enough product for two or three days. Perhaps I have a faulty dropper, maybe a bad spring, but at this point I am hoping the product does NOT do something miraculous for my skin because I would not want to have to continue dealing with this dropper dispenser for any longer. Container aside the formula is very nice! Sort of a serum texture but no noticeable results yet.
Skin Type:
Normal
Age:
30-44
Irritates Skin
Not Effective
I've used Paula's products for 30 + years. Every now and then there is a gimmick in the design of the bottle. This product does not dispense. If it hadn't been so expensive I would have thrown it out. I used it 2 times per day on sensitive skin. I have used it for 3 months and I do not notice a difference. It's impossible to get 2-3 drops from the gimmick bottle. I say gimmick because when a bottle such as this looks so cute, but does not work, then it's a gimmick bottle. I will not buy this again. It is easy to apply, non greasy, and has a very nice feel to it.
Service and delivery comments:
Delivery was promt, as always. Love my other Paula products!
Skin Type:
Combination
Age:
60+
Lightweight
Softens Skin
Soothes Skin
Daily Use
Fine Lines/Wrinkles
Uneven Skin Tone
Have been using the brightening treatment and various boosters, which not only work well for me but are easy to dispense accurately, and looked forward to trying this out. I love the texture and "feel" of this essence and it does make a difference in the texture and general look of my skin. But I find it virtually impossible to get the recommended amount out of the dropper. I have tried the tricks given by other reviewers but with little success. It's either far too much or too little. The only time I have been able to dispense two or three drops is when I pump most of it back in the bottle and then fill and dispense one little drop at a time. Waaaaay too much trouble. I never have this problem with the droppers in the various boosters I use. In fact, I'm thinking about thoroughly cleaning one of the old booster droppers and trying it since I do like the product and its effect on my skin. As for recommending it, I am ambivalent.
Service and delivery comments:
Super as always.
break out
Irritates Skin
Not Effective
Without fail, this makes me break out every time I use it. I have combination oily skin. I haven't really noticed a positive difference when I do use it either. I guess it might moisturize my skin a little bit, because it's basically an oil. Definitely not worth the price for me.
Service and delivery comments:
Delivery and service was great as always.
Skin Type:
Combination
Age:
18-29
I got a free bottle of this with my last purchase. I put it on one side of my face twice a day for a month; and then switched to the other side for a month. I like the feel of the lotion, and I even like the container. It didn't cause any problems with my (older) somewhat sensitive, blemish-prone skin. But I didn't see any improvement either. I'll finish the bottle, but I can't see any reason to continue using it after that. Sorry, Paula; I love so many of your other products...which have really helped me. I'm a fan, and I still look forward to trying other new products.
Service and delivery comments:
Prompt delivery, as always.
Skin Type:
Combination
Age:
60+
Lightweight
Moisturizes
Non-Greasy
Softens Skin
Soothes Skin
Daily Use
Enlarged Pores
Fine Lines/Wrinkles
Redness/ Blotchiness
Sensitive Skin
Uneven Skin Tone
Wow! Just WOW. Makes my redheaded, freckled skin look perfect and bright.
Service and delivery comments:
Amazingly fast shipping to Hawaii.
Skin Type:
Combination
Age:
30-44
Lightweight
Moisturizes
Softens Skin
Daily Use
Fine Lines/Wrinkles
I've always been skeptical of "brightening" products. I don't really understand what that means or if I need that?? But I have to admit, this product makes my skin look and feel amazing!!! Just don't get why the drastic departure from the great packaging I'm used to with PC. The bottle is very heavy - not great for travel. The dropper is impossible to use, you have to hold it between your fingers in just a certain way & it only dispenses a tiny bit, so you have to go back in and dip it again. It's awkward & slippery. And it doesn't get all the product out at the bottom when it starts running low, so now I'm pouring it out onto my fingers. Nevertheless, I LOVE the product & will order again in hopes a new packaging coming soon!
Skin Type:
Combination
Age:
45-59
Brightening
Fades dark spots
Lightweight
Non-Greasy
Daily Use
Uneven Skin Tone
So it's been up and down with me and Paula's Choice products. I love and swear by some, and some just do not work for me. But in the specific skin "brightening" category I've tried the vitamin C booster but it broke me out so I could never tell if it was doing much since I stopped using it. This product however has been a wonderful surprise as I received it as a gift with purchase when I was stocking up on my regular PC products during a holiday promotion. I was wary of using another PC serum type product that either broke me out or just didn't do anything and I honestly wasn't expecting much (for reference I love her AHA body lotion, 2% BHA liquid, BHA 9, Skin Recovery Daily Moisturizing lotion SPF 30, Redness Relief Moisturizer, and Niacinamide Booster but I thought the Line Minimizer did absolutely zilch, I didn't care for her Oil Booster and have found several alternatives that outperform it with a lighter texture, and any serums of hers with retinol break me out as did the vitamin C Booster). But this was free so I gave it a go and I'm really happy with the results! I see a marked difference in the hyperpigmentation around my eyes. I started out using only once a day to make sure I didn't have any negative reaction, then I started using it morning and night and have noticed even better results. It's visible, not just in my head, haha. I always follow with a hydrating oil when I apply it under my eyes as my skin there is quite thin and sensitive and with that routine I've never noticed any irritation. Now I'm hooked and I will be adding this to my routine from now on and purchasing again when I run out. I suspect it's the Arbutin that's doing the heavy lifting in this formula but I like that it has additional ingredients that may add a little something as well. Only draw back is the price since you can get an arbutin serum from the Ordinary for much cheaper but I'll stick with this as I appreciate the nuanced formula and extremely water-like lightweight texture.
Service and delivery comments:
Prompt and well packed.
Skin Type:
Normal
Age:
30-44
Lightweight
Non-Greasy
Softens Skin
Soothes Skin
It's a very lightweight product. Good to is with C15 booster, adding more radiance to my face ! Love it!
Skin Type:
Combination
Age:
18-29
Daily Use
Fine Lines/Wrinkles
I noticed a difference after using this the first week. Amazing and definitely will be buying again
Skin Type:
Combination
Age:
18-29