Images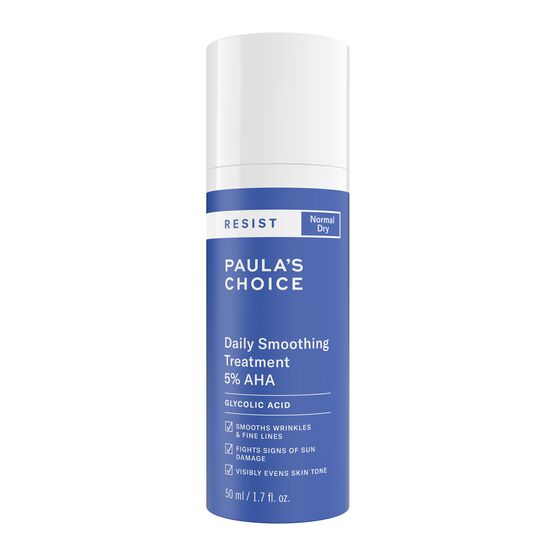 A daily leave-on AHA exfoliant that reveals a truly smoother, more radiant, even-toned complexion by helping skin naturally exfoliate as younger skin does.
RESIST Daily Smoothing Treatment with 5% AHA
Details
https://www.paulaschoice.com/resist-daily-smoothing-treatment-with-5pct-aha/766-7660.html
A daily leave-on AHA exfoliant that reveals a truly smoother, more radiant, even-toned complexion by helping skin naturally exfoliate as younger skin does.
Renews the appearance of dry, sun-damaged skin
Naturally exfoliates dead skin cells
Lightweight, hydrating lotion consistency
Use once or twice daily after cleansing & toning
Skin Types:
Dry/Very Dry Skin
Concerns:
Wrinkles, Anti-Aging
Additional Information
Why is it different?
RESIST Daily Smoothing Treatment with 5% AHA refines the surface of skin with exceptionally gentle and completely non-abrasive exfoliation. It also offers additional benefits, including hydration, soothing antioxidants, and a mix of fortifying skin-restoring ingredients.
This product has an optimal pH range of 3.5–3.9.
What does it do?
Reveals youthful radiant skin and helps reduce the appearance of fine lines and wrinkles. This innovative daily-use formula includes glycolic acid to continually revitalizes skin's texture, visibly evens skin tone, and helps promote visibly firmer-looking, smoother skin. A specially selected mix of antioxidants helps fight the impact of free-radical damage, while ceramides and peptides bind moisture for beautifully radiant skin.
How to use
Apply once or twice daily after cleansing and toning. Apply a dime-sized amount over the entire face, avoiding direct contact with eyes and lips. Do not rinse. For daytime, follow with a broad-spectrum sunscreen rated SPF 30 or greater.
When using your product for the first time, you may need to "prime" the dispenser. To prime, simply pump the dispenser slowly about 10-15 times. If the dispenser stops working at any time, simply repeat the "priming" step. Do not attempt to dismantle the package.
Sun Protection Advice When Using Any AHA Exfoliant: This product contains 5% glycolic acid, an ingredient that may increase your skin's sensitivity to the sun and the possibility of sunburn. Always apply a broad-spectrum sunscreen rated SPF 30 or greater every day. When outdoors, wear protective clothing whenever possible, seek shade, and avoid prolonged sun exposure.
Show details
Research
The New Ideal in Skin Health: Separating Fact From Fiction
, Allured Books, Thornfeldt Carl MD, 2010, pages 180–181
Dermatologic Surgery, July 2009, pages 1,109–1,118
Clinical Evidence Online, December 16, 2008
Seminars in Cutaneous Medicine and Surgery, September 2008, pages 170–176
Journal of Dermatological Science, December 2005, pages 195–204
Plastic and Reconstructive Surgery, April 2005, pages 1156–1162
Cutis, August 2001, pages 135–142
Dermatologic Surgery, May 2001 pages 1–5
Journal of the European Academy of Dermatology and Venereology, July 2000, pages 280–284
American Journal of Clinical Dermatology, March-April 2000, pages 81–88;
Dry Skin and Moisturizers: Chemistry and Function, edited by Marie Loden and Howard Maibach, 2000, page 237
Ingredients
Product Ingredients
Water (Aqua), Glycolic Acid (alpha hydroxy acid/exfoliant), Cetyl Alcohol (texture-enhancing), Butylene Glycol (hydration), Dimethicone (hydrations/texture enhancer), Polyacrylamide (texture-enhancing), PPG-14 Butyl Ether (texture-enhancing), Palmitoyl Hexapeptide-12 (skin-restoring ingredient), Ceramide NG (skin replenishing), Tetrahydrodiferuloylmethane, Tetrahydrodemethoxydiferuloylmethane, Tetrahydrobisdemethoxydiferuloylmethane (skin-soothing/antioxidants derived from curcumin), Epigallocatechin Gallate (antioxidant), Salicylic Acid (BHA exfoliant/skin-soothing), Disodium Lauriminodipropionate Tocopheryl Phosphates (vitamin e based antioxidant), PEG-10 Phytosterol, Cucumis Melo (Melon Fruit Extract (antioxidant), Bisabolol (skin-soothing), Allantoin (skin-soothing), Cyclopentasiloxane, Cyclohexasiloxane, Dimethiconol (hydrations/texture enhancers), Tribehenin (texture enhancer), Polysorbate 20 (texture-enhancing), C12-15 Alkyl Benzoate, PEG-40 Stearate, Sorbitan Stearate (texture-enhancings), PVM/MA Decadiene Crosspolymer, Disodium EDTA (stabilizer), C13-14 Isoparaffin (solvent), Laureth-7 (texture-enhancing), Sodium Hydroxide (pH adjuster), Caprylyl Glycol (preservative), Ethylhexylglycerin (skin conditioning agent), Hexylene Glycol (solvent), Phenoxyethanol (preservative).
Ratings & Reviews
Lightweight (38)
Softens skin (34)
Non-greasy (31)
Moisturizes (21)
Soothes skin (12)
Irritates skin (10)
Not effective (5)
Daily use (29)
Fine lines/wrinkles (23)
Uneven skin tone (23)
Sensitive skin (12)
Enlarged pores (10)
Reviewer Profile:
Beauty conscious (18), Survivalist / minimalist (12), Beauty expert (9)

Skin Type:
Dry (19), Combination (17), Normal (3)
Reviewed by 237 customers
Lightweight
Non-Greasy
Softens Skin
Daily Use
Enlarged Pores
Fine Lines/Wrinkles
Sensitive Skin
Uneven Skin Tone
This is my absolute favorite skincare product. I use it every morning and it keeps my skin smooth and even. If I could only use one product besides sunscreen it would be this!!
Service and delivery comments:
Great service at PC!!
Enlarged Pores
Fine Lines/Wrinkles
Uneven Skin Tone
My skin feels smooth and refreshed after use, and can tell a difference when i don't use it. Not harsh but very effective!
Skin Type:
Combination
Age:
45-59
Nice texture
Non-Greasy
Smells Great
Love at first use! Smells delightful and goes on easily with a light creamy texture.
Redness/ Blotchiness
Uneven Skin Tone
Paula, hope you're reading this. You helped save a life. I am in my early thirties. For about 7 years I had developed something akin to rosacea, or a persistent irritated red patch over my face. My forehead was the worst. It had a red triangle right in the middle of it. I started wearing a fringe. I looked bad with a fringe, but at least my forehead was covered. I tried everything over the counter and the expensive products as well, Murad, Dermalogica, Skinceuticals. Nothing worked. I started to use your Resist Barrier Repair with Retinol and it cured my acne! Last week I discovered the AHA 5% Resist Treatment. In 3 days, I have equal skin tone. I can see the color of my skin, my real skin color, not the red mask that used to make me so sad. God bless you, woman. You are a genius.
Service and delivery comments:
Excellent delivery always.
Enlarged Pores
Fine Lines/Wrinkles
Sensitive Skin
Uneven Skin Tone
I use this every other night in the winter and every night in the summer. This has made a huge difference in the brightness of my skin. Believe me......i have went up and down the aisles at high end department stores and drug stores looking for a good AHA. I bought one 5% and went back and bought 2 more!. At first i broke out in a couple bumps but the next time i used it my skin was flawless. Of course i use a non alcohol toner before i use it.....wish i would have found this years ago. Pores smaller and lines temporarily diminished. I love the great discount around the holidays and the generous samples.
Lightweight
Non-Greasy
Softens Skin
I love the product itself. Had to use "chat" because it would not dispense. Got info from them and finally got it to work. No one should have to go through such a hassle to get a product to work! Worked ok for about 2 weeks and then stopped working. I contacted the company and they are sending me a new product. Hopefully this one works. If it doesn't they can contact me when they get the packaging issues resolved. I've had packaging issues with their other products in the past. I don't understand why a company uses an inferior packaging method.
Skin Type:
Combination
Age:
60+
Lightweight
Moisturizes
Non-Greasy
Smells Great
Softens Skin
Soothes Skin
Bha level/percentage not listed.
I like this product but I hate that the bha percentage is not listed.
Skin Type:
Combination
Age:
18-29
Causes breakouts
Not Effective
I received this product in the RESIST travel kit and was super excited about an exfoliant like this. I have used the 9% BHA and the 5%AHA resurfacing products before and my skin reacts very well to those products.
Not so with this product. I had breakouts within 6 hours of application. I thought to myself "maybe it is stress of travel", and tried again a few weeks later at home. The product caused breakouts again.
Pump doesn't work. To use this product I have to open it and of course opening it diminishes it's quality :-(
Service and delivery comments:
This is my first time using Paula's Choice and I am very excited. The delivery was prompt.
Fine Lines/Wrinkles
Uneven Skin Tone
This is a very good product. However, I am left with no choice but leave a 3-star rating because of it's flawed applicator bottle design. The pump broke after a few weeks of use. There was no way of fixing it and it was very difficult to get the rest of the product out.
Skin Type:
Normal
Age:
30-44