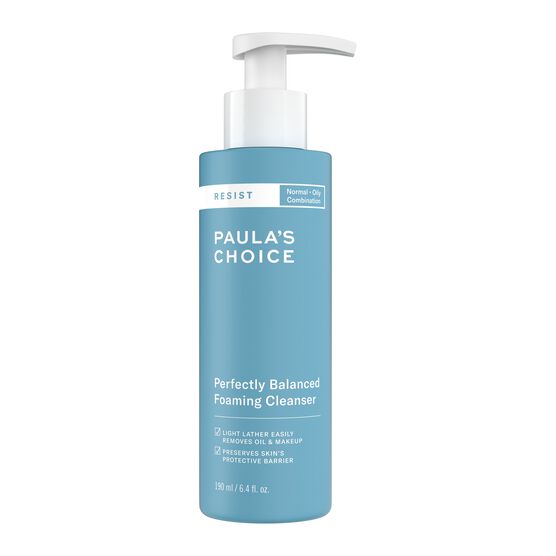 A gentle daily cleanser that helps balance moisture while removing makeup, impurities and excess oil.
RESIST Perfectly Balanced Foaming Cleanser
https://www.paulaschoice.com/resist-perfectly-balanced-foaming-cleanser/783-7830.html
A gentle daily cleanser that helps balance moisture while removing makeup, impurities and excess oil.
Thoroughly and gently cleanses skin
Contains skin-restoring ingredients
Unique pearlescent cream-to-foam formula
Use as the first step in your AM/PM skincare routine
Concerns:
Anti-Aging, Large Pores
Why is it different?
RESIST Perfectly Balanced Foaming Cleanser is an advanced anti-aging, pore-reducing cleanser specially formulated to gently remove excess oil and makeup without disturbing skin's protective barrier.
What does it do?
Removes makeup and excess oil to help visibly reduce enlarged pores and leave skin with a refreshed feeling. Replenishing ingredients such as hyaluronic acid help condition skin, leaving it feeling exceptionally smooth, soft, and younger-looking after cleansing.
How to use
Wet face and apply a small amount of cleanser (1-2 pumps) to your face and eye area with vigorous, yet gentle, circular motions. Rinse well. To remove heavy makeup, repeat or use with a clean, wet washcloth.
Show details
Research
American Journal of Clinical Dermatology
, 2003, issue 2, pages 107-29
International Journal of Cosmetic Science, February 2000, issue 1, pages 21-52
Skin Pharmacology and Physiology, 2011, issue 6, pages 289-93
International Journal of Toxicology, 2001, supplement 1, pages 21-45
Journal of Cosmetic Science, May-June 2007, issue 3, pages 229-44
Dermato-Endocrinology, July 2012, issue 3, pages 253-8
Skin Research and Technology, February 2001, issue 1, pages 49–55
Ingredients
Product Ingredients
Water (Aqua), Sodium Lauroamphoacetate, Sodium Cocoyl Isethionate (cleansing), Stearic Acid (texture-enhancing), Glycerin (hydration/skin replenishing), Glycol Distearate (texture-enhancing), Helianthus Annuus (Sunflower) Seed Oil (non-fragrant antioxidant plant oil), Acrylates Copolymer, Cetearyl Alcohol, Sodium Hyaluronate, Ceramide NP, Ceramide AP, Ceramide EOP (hydration/skin replenishing), Phytosphingosine (skin-restoring), Phospholipids, Sphingolipids (hydration/skin replenishing), Lecithin (skin-restoring), Arginine (amino acid/hydration/skin replenishing), Cholesterol (hydration/skin replenishing), Aloe Barbadensis Leaf Extract (hydration/skin-soothing), Disodium EDTA (stabilizer), Sodium Chloride (stabilizer), Sodium Hydroxide (pH adjuster), Sodium Lauroyl Lactylate (texture-enhancing), Xanthan Gum, Carbomer (texture-enhancing), Hexylene Glycol, Phenoxyethanol (preservatives), Caprylyl Glycol.
Ratings & Reviews
Love this for morning use! It's so gentle and never leaves my oily skin feeling dry!
JF
WI
I HAVE COMBO ACNE PRONE SKIN THAT JUST HAPPENS TO ALSO BE SENSITIVE. I ADORE THIS CLEANSER, ITS SIMPLE, EFFECTIVE AND GENTLE AND A LITTLE GOES A LONG WAY. I
KMOORE
KANSAS CITY,MO
I see this cleanser is out of stock.. NOOOOO! This is my go to cleanser now for a few years. It makes my skin soft and gives hydration but not too much to irritate my acne prone skin. Hopefully this isn't out of stock for too long.
Marissa
Viera, FL
All-time favorite cleanser
This is such a lovely cleanser for my combination skin. Never irritating or harsh, never drying, and never leaves a residue. My skin just feels clean and soft. Will continue to buy again and again!
Emily Nelson
Saint Paul, MN
I have used this for three years straight....longer than any other brand. I love how it's foamy and takes off all makeup. Leaves skin feeling great. Has done wonders for my skin.
JKG
San Jose, Ca
I got a sample of this and I am here to buy it today. I have large pores and they get clogged badly. I thought this cleanser was great the very first time I used it. My pores were very clean. Some people say that it is drying, well I can understand that because it is really getting in there and doing a great job. Follow with a moisturizer as you normally would anyway.
Diane
Near Houston
Great for combination, acne prone skin!
I think it foams great and you don't really need a lot! Definitely not a full pump. It cleanses great and doesn't leave me feeling too dry. I have combination/oily skin that is prone to red spots and acne. I highly recommend this for anyone who wants flawless skin! It really helped minimize my pores too!
No-Make-Up Jenna
Warren, Michigan
The best cleansing foam I ever used!
I have used Korean ( Sul Hwa Soo, IOPE, Amore ) and Japanese ( Various lines of Shiseido products ) but none of the products I have mentioned worked as well and gentle to my skin as this one. This is it, unless they decide to change the ingredients and it doesn't work as well anymore, this will be my forever cleanser . I honestly even tried all sorts of natural and no chemical added facial cleanser too, and they might be gentle to my skin, but they don't do what a cleanser should do.
Idontwant2age
Naperville, IL
Great Non-Irritating Product
This is a great hydrating cleanser. It cleans make up off well and hydrates at the same time. A little goes a long way which is a plus!
Renee
Moss Point, Ms
I have used this product for over a year and a half and it is the best skin care product I have ever used. I have acne prone, sensitive and dry skin. It is really difficult to find products that work for my skin. The acne products dry my skin out so bad, and the products for dry skin make my skin break out. Paula's choice products are a life saver and a game changer. I can not express enough how amazing they are. My skin has cleared up and stays clear, even through the monthly hormone changes. I ran out of this cleanser last month, and decided to go get a cleanser from the drug store instead. BAD CHOICE! My skin immediately started breaking out and stayed broke out for three weeks until I finally ordered more of this cleanser. I will never be without it again!!!
Ashlee
Sonora, CA