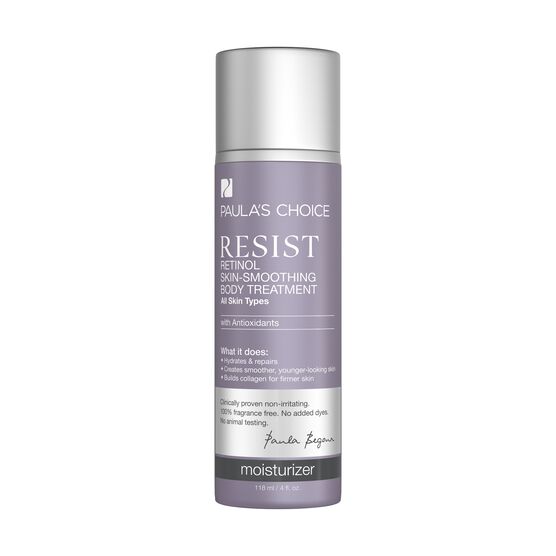 An advanced moisturizing body lotion that gently gives skin the transforming power of pure retinol to help diminish the appearance of uneven skin tone and rejuvenate the feeling of soft firmer skin.
RESIST Retinol Skin-Smoothing Body Treatment
https://www.paulaschoice.com/resist-retinol-skin-smoothing-body-treatment/580-5800.html
An advanced moisturizing body lotion that gently gives skin the transforming power of pure retinol to help diminish the appearance of uneven skin tone and rejuvenate the feeling of soft firmer skin.
Pure retinol & antioxidants help transform skin
Natural butters & plant oils beautifully hydrate skin
Rich texture moisturizes dry skin, yet is non-greasy
Skin Types:
All Skin Types
Why is it different?
RESIST Retinol Skin-Smoothing Body Treatment melds key anti-aging ingredients normally seen in facial moisturizers into a silky-textured, lightweight, and thoroughly hydrating body lotion for all skin types. It is designed to gently give skin the transforming power of pure retinol to help diminish the appearance of uneven skin tone, alleviate dry skin, and rejuvenate the feeling of soft but firmer-looking skin.
What does it do?
Uses a specialized retinol complex and potent antioxidants to intensively smooth and soften skin from the neck down. This silky, concentrated lotion, energized by the power of retinol, goes to work immediately to hydrate dry skin as well as give skin the essential ingredients it needs to look younger. Soothing emollients and plant oils provide an instant, healthy-looking glow you'll love seeing and feeling.
How to use
Apply a small amount to clean skin. May be used daily for all-over smoothing, or applied as a spot treatment where needed. For daytime, follow with a broad-spectrum sunscreen rated SPF 30 or greater. If irritation occurs, reduce frequency or mix into your favorite moisturizer (without retinol). If irritation persists, discontinue use.
Show details
Research
International Journal of Cosmetic Science, July 2016

The Journal of Clinical and Aesthetic Dermatology, June 2011, issue 6, pages 45-55

International Journal of Cosmetic Science, August 2005, issue 4, pages 243-9

Journal of Cosmetic Science, July-August 2011, issue 4, pages 361-70

Pharmacology and Physiology, March-April 2005, issue 2, pages 81-7

Indian Dermatology Online Journal, April-June 2013, issue 2, pages 143-146

Cosmetics, 2015, volume 2, issue 3, pages 259-276
Ingredients
Product Ingredients
Water, Cetearyl Alcohol (emollient/texture-enhancing), Cetearyl Ethylhexanoate (emollient/texture-enhancing), Cyclopentasiloxane (hydration), Dimethicone (hydration), Glycerin (hydration/skin replenishing), Butylene Glycol (hydration), Cetyl Palmitate (emollient/texture-enhancing), Butyrospermum Parkii (shea butter/emollient/antioxidant), Glyceryl Stearate (emollient/texture-enhancing), PEG-100 Stearate (texture-enhancing), Oenothera Biennis Oil (evening primrose oil/non-fragrant oil/emollient/antioxidant), Vitis Vinifera Oil (grape seed oil/non-fragrant oil/antioxidant/emollient), Cetyl Alcohol (emollient/texture-enhancing), Retinol (vitamin A/skin-renewing), Tetrahexyldecyl Ascorbate (vitamin C/antioxidant), Tocopheryl Acetate (vitamin E/antioxidant), Caprylic/Capric Triglyceride (emollient/skin replenishing), Panthenol (hydration), Carnosine (skin-soothing/antioxidant), Dimethiconol (emollient/texture-enhancing), Dimethicone/Vinyl Dimethicone Crosspolymer (texture-enhancing), Cera Alba (beeswax/texture-enhancing),Magnesium Aluminum Silicate (texture-enhancing), Sodium Hydroxide (pH adjuster), Xanthan Gum (texture-enhancing), Dicaprylyl Carbonate (emollient), Decylene Glycol (hydration), Disodium EDTA (stabilizer), Chlorphenesin (preservative), Phenoxyethanol (preservative).
Ratings & Reviews
I've been waiting on this for a while and I LOVE it so.
JWatts
Fayetteville AR
I adore Paula's products and with acne prone and sensitive skin I'm very conscious of the products I choose to put on my skin. This is one of my holy grain products and I hope to see it restocked soon I've been waiting for a while and it's hard to live without a staple in my routine! ☹️
Tara
Arizona
I have dry skin and have been using full body lotion for over 20 years, this is the most moisturizing, non-greasy, long lasting lotion I've tried. My skin feels so soft, when I started using this over 4 years ago I couldn't stop touching myself :). It's pricey but worth it- I use for my whole body in 4-5 weeks. I met my boyfriend camping in the desert, & one of his first comments was how soft my skin was! Seriously works in any climate! I like the "smell," to me it has a mild smell like natural oils. Love it!
KK
san francisco
I've been using this for years.
I have been using this since it was first introduced. At first I used two pumps (one for each leg) only on the backs of my thighs to remove the little bumps (not acne). It was 100% effective! As prevention, I now use one pump but spIit it between both legs. Last summer, I noticed little bumps on the backs of my upper arms. I started using half a pump (1/4 pump on the back of each arm) every morning after my shower and it was 100% effective in taking those away too! I've continued to use this on those places and have not had any more bumps. I have not noticed any odor from the lotion and I'm pretty picky. This is expensive, that is the reason I'm so 'stingy' with the amount I apply, but I will continue to buy this because it works. It also absorbs very well into my skin and does not cause a 'sticky' feeling under my clothes. For the rest of my body, I use Paula's 10% AHA body lotion. That also absorbs wonderfully!
EEE
Galion, OH
I use this product sparingly because of the price, but then when I look at what I spend on my face, this is really nothing in comparison. I use it only on my legs after I shower, while my skin is still damp, to help it spread, and it is hands-down the best moisturizer I've ever used. My legs tend slightly on the dry side, and they're easily irritated from shaving, but this takes care of that, goes on smoothly, and leaves a non-greasy feel. I made my bottle last a long time, but in the end, I'll have to get over it and just use it regularly because it really is the best. I only hope that when I place my next order, they'll have fixed the pump, because it doesn't spring back on its own any more. As for the comments about the smell, I figure that's what you get when something has no added fragrance. I'll take the pure efficacy over a fragrance any day.
Deanna
Honolulu, HI
Truly the best skin of my life!
I am 41 and have been under dermatologists' care since my early 20s for rosacea and acne. I started using this product 2-3 weeks ago, and my skin looks better than ever! My mom even commented on how "perfect" my skin looks, and she is rarely impressed with anyone's skin. I use this product in conjunction with Paula's 2% BHA lotion, 10% AHA, Clinical Ultra Rich moisturizer (at night), and Skin Balancing Ultra-Sheer Daily Defense Broad Spectrum SPF 30 (daytime). My acne is gone, my rosacea has disappeared, and I finally feel confident in my own skin. Paula's Choice is a skin saver!
Cosmetics realist
Dayton, Ohio
Got as a gift from my cousin, I use it on my face, it's a great buy for 4oz of product. My skin is very sensitive but I use a little of this mixed with my cerave Sa lotion and my skin has never looked better. Please never discontinue this you will have a buyer for life and it's affordable.
Shiloh
New York
First, I'd like to mention that I did buy this with the intention to use it on my face. I read a Q&A on here where they said the ingredients were gentle enough to use on the face and I generally prefer a richer night cream anyways, so I figured it was worth a shot. I have very very pale skin and (a few months ago especially) was dealing with hormonal acne. Because my skin is so fair the scarring from these were extremely noticeable even with makeup on, but this product has helped lighten acne scars, completely took away my mild smile lines (I'm only 20, but I could see them creeping up on me!), and reduced my pore size. I didn't have any issues with this product breaking me out more, in fact this (along with the skin recovery hydrating mask left on overnight) completely healed any acne I had overnight. I always struggle with fighting acne off because most topical acne medications dry out the skin and leave me with flakey scarring, whereas this product kept my skin nice and moisturized while still fighting breakouts and improving the tone of my skin more and more every day! I also found that makeup glides over this product BEAUTIFULLY! Better than all of the primers I have, however I'll only use this if I am applying makeup to go out at night as the retinol makes you more sun sensitive. I wear SPF every day anyways, but I'd rather not risk it so I keep this product for nighttime use only!
SomeGingerChild
San Diego, CA
I am using this product for long time, twice a day after shower and I love it. It leaves the skin smooth but it is consistency what you need to see the results: a firmer skin. PC should consider other packaging, it is the second time I a got a broken pump which is quite annoying (it happened to me too with the 1% retinol). Further it would be nice to have a bottle or tube which you can open to use the rests of the product at the end.
Caro
Dubai
Great product for aging skin
I am a 50 y.o., Caucasian woman with sensitive, sun damaged skin who uses this product twice daily on neck, chest, hands, arms, and feet. It has made a difference in the tone and texture of my skin and leaves it soft and supple. I've noticed lightening of brown spots on my hands. It does not cause breakouts on my chest or neck. My request is for it to come in a larger size. It's a body treatment, and therefore I use more of it than other products made for only the face and neck. Also, I would like the ability to remove the top to access any remaining product once the pump stops producing the lotion. Lovely product that works very well on my aging, sun damaged skin.
Jo
Missouri
RESIST Retinol Skin-Smoothing Body Treatment
83.0