Images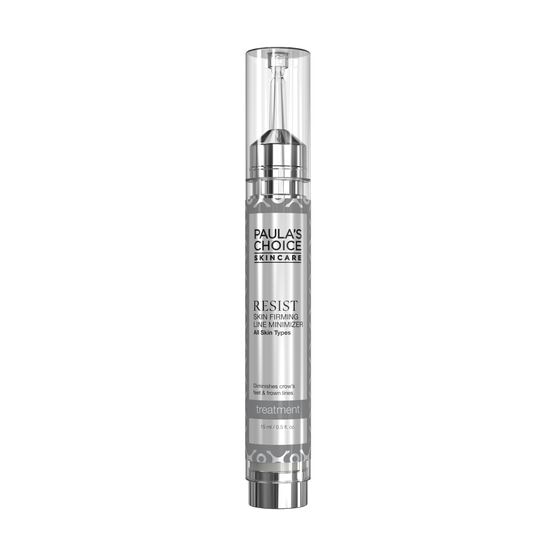 This fast-absorbing serum energizes your skin to visibly improve the appearance of fine lines, wrinkles, and the loss of firmness.
RESIST Skin Firming Line Minimizer
Details
https://www.paulaschoice.com/resist-skin-firming-line-minimizer/791-7910.html
This fast-absorbing serum energizes your skin to visibly improve the appearance of fine lines, wrinkles, and the loss of firmness.
Helps skin regain its youthful "bounce"
Promotes the feel of firmer-looking skin
Silky, hydrating formula give skin a soft radiance
Use twice daily after cleansing, toning & exfoliating
Skin Types:
All Skin Types
Concerns:
Wrinkles, Anti-Aging
Additional Information
Why is it different?
RESIST Skin Firming Line Minimizer contains a research-proven anti-wrinkle complex that helps skin regain its youthful "bounce" and energy. The result? Visibly smoother, healthier, and more supple skin! Special packaging keeps the key ingredients stable while also allowing for precise application.
What does it do?
A targeted, anti-wrinkle complex that helps rev up skin's natural energy to help appear younger, smoother, and have a more hydrated appearance. The result is a feeling of firmness and a softened appearance of wrinkles and lines with a youthful resilience.
How to use
Smooth a few drops onto face, neck and eye area before moisturizing (or use alone). For optimal results, use AM and PM. For daytime, follow with a broad-spectrum sunscreen rated SPF 30 or greater. Remove the cap from the applicator. Gently depress the button at the bottom of the component once to dispense product.
Show details
Research
Cosmetics & Toiletries, Allured Business Media, March 2014, pages 70–84
Journal of Drugs in Dermatology, September 2011, pages 990–1000
Journal of Dermatological Science, October 2009, pages 43–50
International Journal of Green Pharmacy, Volume 3, Issue 3, 2009, pages 234–238
Journal of Pharmaceutical and Biomedical Analysis, May 2006, pages 385–392
Dermatologic Surgery, July 2005, pages 860-865
Skin Pharmacology and Physiology, September-October 2004, pages 207–213
Journal of Cosmetic Dermatology, April 2004, pages 88–93
Phytotherapy Research, October 2003, pages 987–1000
International Journal of Cosmetic Science, February 2000, pages 21–52
Ingredients
Product Ingredients
Water (Aqua), Glycerin (hydration/skin replenishing), Niacinamide (skin-restoring), Glycosaminoglycans (hydration/skin replenishing), Sodium Hyaluronate (hydration/skin replenishing), Sodium Chondroitin Sulfate (hydration/skin replenishing), Copper Lysinate/Prolinate (hydration/skin replenishing), Glucosamine HCL (hydration/skin replenishing), Panthenol (hydration/skin replenishing), Bambusa Vulgaris Leaf/Stem Extract (bamboo extract/antioxidant), Pisum Sativum Extract (pea extract/antioxidant), Methylglucoside Phosphate (emollient/texture-enhancing), Polysorbate 20 (texture-enhancing), Disodium EDTA (stabilizer), Ethylhexylglycerin (preservative), Phenoxyethanol (preservative).
Ratings & Reviews
Lightweight (102)
Non-greasy (60)
Easy to use (32)
Reduces fine lines/wrinkles (21)
Softens skin (21)
Not effective (33)
Ineffective (16)
Irritates skin (6)
Fine lines/wrinkles (84)
Daily use (53)
Sensitive skin (20)
Uneven skin tone (9)
Enlarged pores (7)
Reviewer Profile:
Beauty conscious (72), Beauty expert (21), Survivalist / minimalist (19), Skin care professional (3)

Skin Type:
Combination (46), Dry (22), Normal (20), Oily (4)
Reviewed by 143 customers
Lightweight
Non-Greasy
Softens fine lines
Softens Skin
Daily Use
Fine Lines/Wrinkles
I am on my 2nd bottle of this. I didn't give it a good enough shot the first time - tried it for maybe a week and saw no difference and THREW THE BOTTLE AWAY. Why would I do that??? I decided to try again and this time I've used it consistently and more of it all over my face. My fine lines are MUCH less noticeable now - around my mouth especially (upper lip) and around my eyes. I just ordered two because I heard it is being discontinued, and when I asked PC, they said it is not being reformulated and they're not currently working on a replacement. This makes me so sad!!!
Skin Type:
Combination
Age:
30-44
Lightweight
Non-Greasy
Softens Skin
This is the only one of Paula's products that totally did not work for me.
It did not irritate my skin and provided lightweight moisture. But it did absolutely nothing to minimize lines or make skin firmer. This is my second bottle. I was not very consistent in use with the first bottle and would miss a day or so in a week. This time I was very diligent and had hoped to see at least a little bit of improvement. I did not see even slightest improvement. ( I always apply sunscreen without fail.)
Skin Type:
Normal
Age:
30-44
Paula's prices keep increasing. Despite the high price I tried this but it was a waste of money. Totally ineffective! Does not do a thing. Certainly does not work as advertised. Good thing it is being phased out. We need skin care that really works, not empty promises, we can get that at the cosmetics counter at the department stores. I am very disappointed in this product and expect better from Paula. She really missed the mark on this one, overpriced and ineffective.
I mostly used this product to target developing mouth lines and wrinkles below the orbital bone that are spreading toward the cheeks. I even bought a second bottle to see if it would help but there was no improvement. I feel that I wasted good money.
Skin Type:
Normal
Age:
45-59
This is being discontinued!!?? I hope that's not true but just in case just ordered 3 bottles.
At 50, my skin gets me mistaken for 35 all the time. I am starting to get minor marionette lines but have no wrinkles, no sunspots, no crepeyness, largely because I'm a sun-phobic skincare junkie and have developed a routine consisting mostly of PC products that so far is keeping time still for my face. I don't usually see a huge difference when adding a new product because my skin looks good to begin with. I say this to underscore the fact that this is the only product that I have added recently that gave me a noticeable difference. I struggled with how to use it and wasn't seeing a difference using it as a spot treatment but wanted to add it since the active ingredient is unique in the PC repertoire. Finally, I started using it as a booster (2 pumps) to my all-over moisturizer (currently PC Omega serum but varies with season) and within a week or two saw a difference in the depth of the marionette lines. Incredible, since those are largely from volume loss rather than textural changes. Anyway, now I don't want to be without it. I hope the discontinuing rumors are untrue.
Skin Type:
Combination
Age:
45-59
Daily Use
Fine Lines/Wrinkles
Sensitive Skin
I tried this product a couple of years ago under my eyes because there were lots of fine lines, crepey-ness, and little bumps like chicken skin. Awful. After applying this morning and night for a few weeks, the chicken skin is gone and my under eyes are smooth. Crepey skin gone and fine lines much, much improved. I also typically am very sensitive around my eyes and often allergic to products, but no problem with this. I understand Paula is discontinuing this product and I don't know what I will do! Bereft!
Lightweight
Moisturizes
Non-Greasy
Softens Skin
Soothes Skin
I am a product junkie and probably use far too many things on my face twice a day. However, I got this on sale and thought I'd really put it to the test since the first time I used it (maybe over a year ago) I dotted it very conservatively only around my eyes here and there. This time I really went to town and slathered it all over my face right after my bha liquid (that I've used for years daily) twice a day. I never thought much about it until I went to get botox about a month later, and the nurse I've seen for years said my forehead looked like glass. I got no botox in my forehead this time, only around the eyes. Well, I ran out of this and a few weeks later I noticed those naggy fine lines on my forehead. I have a heavier eyebrow and have a habit of raising my brows a lot. I re-ordered this and will never stop using it. There's nothing else that could have changed my skin the way this did, because I haven't used anything new or done anything different. It seems this is one of those love it or hate it products, but it definitely works for me. I wish it came in a larger size and was slightly less pricey.
Daily Use
Fine Lines/Wrinkles
After using this "tube" consistently as directed, I noticed zero visible changes in my fine lines or my deeper wrinkles. Unfortunately for me, not worth the price.
Service and delivery comments:
Excellent as always.
Skin Type:
Combination
Age:
45-59
Daily Use
Fine Lines/Wrinkles
I use this on my forehead, around my mouth, and on my upper lip. Greatly reduces the look of the lines there.
Skin Type:
Combination
Age:
45-59
Lightweight
Moisturizes
Non-Greasy
Daily Use
Fine Lines/Wrinkles
Sensitive Skin
I use this product 2X per day and my crow's feet have improved so much. They are much less visible and I'm so pleased with the results. Instead of applying as the last step in my routine, I apply it after the BHA exfoliator and before my serum. I seem to get much better results when it is applied earlier in my PC routine. I also love the applicator because it gets it right on the necessary spot without any waste. This product is definitely a keeper and worth the high price tag.
Service and delivery comments:
PC service was prompt as always.