Images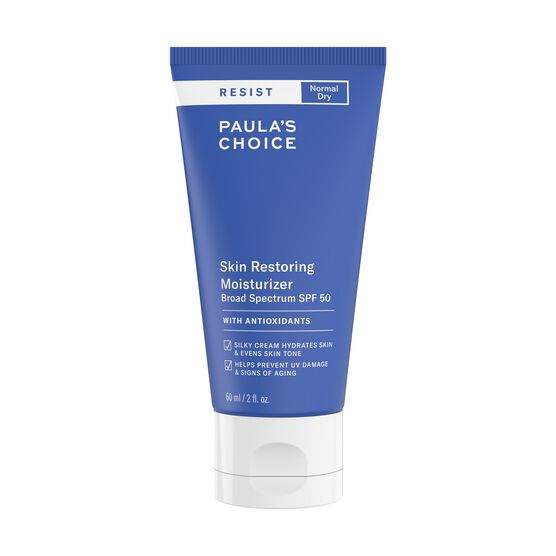 This antioxidant-rich spf moisturizer hydrates and protects with superstar ingredients like niacinamide, shea butter and licorice for flawless, younger-looking skin.
RESIST Skin Restoring Moisturizer with SPF 50
Details
https://www.paulaschoice.com/resist-skin-restoring-moisturizer-with-spf-50/797-7970.html
This antioxidant-rich moisturizer hydrates and protects with superstar ingredients like niacinamide, shea butter and licorice for flawless, younger-looking skin.
Helps prevent premature aging
Antioxidants protect against environmental stressors
Hydrating cream leaves a dewy finish
Use as the last step in your AM skincare routine
Skin Types:
Dry/Very Dry Skin
Concerns:
Wrinkles, Anti-Aging
Additional Information
Why is it different?
RESIST Skin Restoring Moisturizer with SPF 50 protects against the entire range of sun's UVA rays while also providing UVB protection. Powerhouse antioxidants like shea butter, coffee seed and apple are joined by tone-improving niacinamide and licorice for skin whose appearance gets better with each use.
What does it do?
Broad spectrum SPF 50 helps prevent premature aging while helping to improve skin health and hydration. Leaves a soft, dewy finish and provides superior anti-aging benefits.The SPF 50 is a significant benefit as it decreases the risk of skin cancer and early skin aging caused by the sun if used as directed with other sun protection measures.
How to use
Use as the last step in your AM skincare routine. Apply liberally 15 minutes before sun exposure. If not applied liberally, you'll need to reapply every two hours after skin is exposed to direct sunlight. If you plan to swim or perspire, you must apply a water-resistant sunscreen.
Show details
Research
Journal of the American Academy of Dermatology, March 2017, pages S100–S109;
Indian Dermatology Online Journal, July-August 2015, pages 311-315;
Oxidative Medicine and Cellular Longevity, September 2015, ePublication;
Pharmaceutical Biology, July 2015, pages 5-18; Pharmacognosy Review, January-June 2014, pages 52-60;
Antioxidants, September 2013, pages 181-193;
The Journal of Clinical and Aesthetic Dermatology, January 2013, pages 16-26; DermatoEndocrinology, July 2012, pages 308-319;
Journal of Complementary and Integrative Medicine, January 2012, ePublication; and Journal of Agricultural Food and Chemistry, 2006, issue 7, pages 2,558-2,562.
Ingredients
Product Ingredients
Active Ingredients: Avobenzone 3%; Homosalate 5%; Octinoxate 7.50%; Octisalate 5%; Oxybenzone 5% (sunscreen actives). Inactive Ingredients: Water (Aqua), Silica (opacifier and texture enhancer), Glycerin (hydration), Cetearyl Alcohol (texture enhancer), Dimethicone (hydration), Butylene Glycol, Pentylene Glycol (hydration), Potassium Cetyl Phosphate (emulsifier), Cyclopentasiloxane (hydration), Pyrus Malus (Apple) Fruit Extract (skin-restoring), VP/Eicosene Copolymer (texture enhancer), Butyrospermum Parkii (Shea) Butter (emollient), Allantoin (skin soothing), Niacinamide (skin-restoring), Tocopherol (vitamin E/antioxidant), Glycyrrhiza Glabra (Licorice) Root Extract (skin soothing), Aloe Barbadensis Leaf Juice (hydration, soothing), Atractylodes Macrocephala Root Powder (antioxidant), Avena Sativa (Oat) Kernel Extract (skin soothing), Coffea Arabica (Coffee) Seed Extract, Portulaca Oleracea Extract, Mahonia Aquifolium Root Extract, Diethylhexyl Syringylidenemalonate (antioxidants), Sarcosine, Capryloyl Glycine, Maltooligosyl Glucoside, Cetearyl Glucoside (skin softeners), Dimethiconol (texture enhancer), Acrylates/C10-30 Alkyl Acrylate Crosspolymer (stabilizer), Hydrogenated Starch Hydrolysate (hydration), Hexylene Glycol (texture enhancer), 4-T-Butylcyclohexanol (emollient), Glyceryl Stearate, PEG-100 Stearate (texture enhancers), Sodium Hydroxide (pH adjuster), Xanthan Gum (stabilizer), Disodium EDTA (chelating agent), Phenoxyethanol, Caprylyl Glycol (preservatives), Ethylhexylglycerin (skin softening).
Ratings & Reviews
Non-greasy (32)
Moisturizes (31)
Lightweight (30)
Softens skin (26)
Soothes skin (15)
Irritates skin (15)
Bad smell (4)
Not effective (4)
Daily use (31)
Sensitive skin (16)
Fine lines/wrinkles (13)
Redness/ blotchiness (6)
Uneven skin tone (5)
Reviewer Profile:
Beauty conscious (24), Survivalist / minimalist (10), Beauty expert (7)

Skin Type:
Dry (27), Combination (10), Normal (10)
Lightweight
Moisturizes
Non-Greasy
Softens Skin
I'm surprised by this sunscreen and by the reviews. I purchased a travel size to try and was pleasantly surprised. I have oily/combo skin that is more normal/dry in the winter. This sunscreen had a pleasant texture, a bit creamy and absorbed well. Yes, it smells and stings- that's the trade-off for a higher spf rating. The smell does go away after a while. I layer a tinted moisturizer with sunscreen over this and no issues with pilling.
Skin Type:
Combination
Age:
30-44
I LOVED the old formula so I was excited to try this new formulation. Much to my disappointment, this new formula is extremely irritating to my skin causing redness, swelling, burning, and flaking skin. OUCH!!
Service and delivery comments:
Service and delivery were excellent, as usual.
Sensitizing product. There is simply a very high amount of "chemical" sunscreen ingredients that give it that particular stench an sensitize. Not sure why it needs to be 50 when an SPF 30 provides almost same level of protection but uses significantly lower amounts of those sunscreen ingredients and does not have that distinct "bad smell" and sensitizing effect.
Lightweight
Moisturizes
Non-Greasy
This is my go-to daily moisturizer. It absorbs quickly, protects against the sun, and provides a smooth base for days I wear makeup. My skin is dry and I live in a desert climate, so I usually use a little aquaphor on my extra-dry spots, but otherwise this does a good job of keeping my skin moisturized throughout the day. I don't know how I ever lived without it! I will buy this again and again.

For those leaving 1-star reviews because it irritated your skin: no skin products work for absolutely everyone and that is a straight up fact of life. Please remember to patch test your new products so you know if it's a good match for you! This is a great product with a great formula and it seems like it works for most, and I feel like that needs to be accounted for. :-)
Lightweight
Moisturizes
Non-Greasy
Smells Great
Softens Skin
Soothes Skin
Daily Use
Enlarged Pores
Fine Lines/Wrinkles
Redness/ Blotchiness
Sensitive Skin
Uneven Skin Tone
This is the BEST skin care product I have ever used in my life! Period! As a guy, I hate the feeling of anything on my face. That doesn't exactly play out well if you've got dry skin like I do. So naturally, I have to put at least moisturizer on my face, but the ones that are liquid in texture dry nicely, but still leave me dry. And the ones that are thick and moisturizing, leave my face looking shiny. But I took a chance with this daytime moisturizer with sunscreen and I couldn't be happier! This is the first moisturizer with sunscreen to comfortably hydrate my face but still look imperceptible. Prior to this, I was using the moisture boost spf 30, which I thought was good as it gets. But man was I wrong! This product goes on even smoother (like a whipped cream/butter) and effortlessly sinks into my skin. It doesn't irritate my eyes nor does it cause breakouts. I have no idea how a product this good was ever invented. Like how is it even possible? This sunscreen is substantially lighter in texture yet more hydrating than its predecessor (which I did try and didn't like). This was definitely an improvement and a step in the right direction. I prefer chemical sunscreen over mineral because they absorb so much better and look less visible on my skin. This moisturizer is so good that I plan on using it as my nighttime moisturizer as well once my moisture boost hydrating treatment cream runs out. And that's great because that's one less product I have to buy. The only negative thing is the price. If only they could make the product bigger and cost less. Anyways, I give it 100 stars!
Moisturizes
Softens Skin
Soothes Skin
Daily Use
Fine Lines/Wrinkles
Definitely an improvement from the previous formula, which was pasty and chalky. Absorbs fast, feels good, layers great, and makes skin look fantastic. It could be a tad more emollient, but nothing's perfect.
Moisturizes
Non-Greasy
Softens Skin
Soothes Skin
Daily Use
Fine Lines/Wrinkles
Redness/ Blotchiness
Sensitive Skin
Uneven Skin Tone
I cannot tell you enough how I love this moisturizer. The 50spf is amazing for keeping sun spots from sneaking back after working so hard to diminish/vanish them. It melts right into my dry/combo skin without making me look greasy and makeup just glides on without getting all balled up or sticking to dry patches. I have used other PC moisturizers that I've liked, but this is Love. A definite keeper and part of my everyday routine.
Lightweight
Moisturizes
Non-Greasy
Softens Skin
I'd been using this cream for 3+ months and love it. It's easy to apply on the skin and it makes my skin feel very nice and not sticky. I used the RESIST Daily Moisturizer SPF 25 before and I definitely like this new cream better. The Resist Daily Moisturizer SPF 25 is thicker in consistency and it feels heavier on my skin.
Lightweight
Moisturizes
Non-Greasy
Not sticky
Smells Great
Softens Skin
Daily Use
Enlarged Pores
Sensitive Skin
After trying a series of sunscreens that all felt sticky or greasy when applied (and always returning to my favorite Moisture Boost product here), I feel like I hit the jackpot with this daytime moisturizer. Great smooth feel, very light, no sticky/tacky feel at all. Excellent. And the added peace of mind knowing I'm using a good sunscreen! Paula's Choice gets it right again. Thanks
Service and delivery comments:
Delivery is always well packed and prompt.
Please think twice about purchasing. After two days of use, my skin is bright red, painful and peeling. My skin is not sensitive and I have worn chemical sunscreens at much higher SPFs than this, and this burned and dried out my skin terribly. I am also a regular nighttime retinol user and have never experienced a reaction to a product like this.

Cellular Defense was my favorite moisturizer - this is NOT a replacement. I would not even consider this a moisturizer.