Images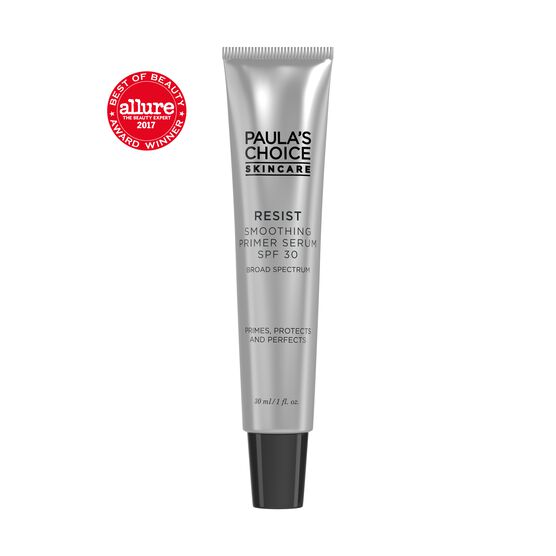 A multi-tasking primer that softens and smooths skin with a formula that features antioxidants and broad-spectrum SPF 30, resulting in a flawless, makeup-ready complexion.
RESIST Smoothing Primer Serum SPF 30
Details
https://www.paulaschoice.com/resist-smoothing-primer-serum-spf-30/9151-91580.html
A multi-tasking primer that softens and smooths skin with a formula that features antioxidants and broad-spectrum SPF 30, resulting in a flawless, makeup-ready complexion.
Targets fine lines & wrinkles
Preps skin for a perfect makeup application
Protects against sun damage
Prevents early signs of aging
Lightweight, silky texture
Skin Types:
All Skin Types
Additional Information
Why is it different?
RESIST Smoothing Primer Serum SPF 30 is a lightweight, silky primer serum that combines broad spectrum SPF 30 sun protection with a mix of plant-based, soothing antioxidants known to safeguard skin from environmental damage. But that's just the beginning, because this anti-aging primer also beautifully enhances makeup application and wear, so you'll see better-looking skin and makeup.
What does it do?
Prevents premature aging and contains antioxidants green tea, coffee seed, and chamomile to help defend against the visible effects of pollution and environmental attack. This unique formula's silky serum texture softly blurs fine lines and large pores for a younger-looking, smoother complexion.
How to use
For full sun protection, apply liberally and then apply your foundation. For use just as a primer, apply a pea-sized amount to face over your daytime moisturizer with sunscreen or under your foundation with sunscreen.
Show details
Research
Biomolecules and Therapeutics, January 2014, pages 73-77

Cosmetics & Toiletries, October 2013, ePublication

Fitoterapia, July 2013, pages 160-184

Journal of Cosmetic Dermatology, March 2013, pages 25-35

Oxidative Medicine and Cellular Longevity, June 2012, ePublication

Food and Chemical Toxicology, January 2011, pages 309-318

Molecular Medicine Reports, November 2010, pages 895-901

The Journal of Clinical and Aesthetic Dermatology, July 2010, pages 20-31

Dermatologic Therapy, September-October 2007, pages 330-342

Photochemistry and Photobiology, May-June 2006, pages 823-828

The Journal of Nutrition, June 2000, pages 1,202-1,208

Free Radical Biology & Medicine, January 2000, pages 261-265

Journal of Ethnopharmacology, December 1999, pages 3-37
Ingredients
Product Ingredients
Active Ingredients: Avobenzone 2%, Homosalate 4.0%, Octinoxate 6.0%, Octisalate 4.0%
Other Ingredients: Isododecane (texture enhancer), Dimethicone/Vinyl Dimethicone Crosspolymer (texture enhancer/skin-softening), Butyloctyl Salicylate (skin-softening),Polysilicone-11 (texture enhancer), Bisabolol (skin soothing), Coffea Arabica (Coffee) Seed Extract (antioxidant), Glycyrrhiza Glabra (Licorice) Root Extract (antioxidant/skin soothing), Chamomilla Recutita (Matricaria) Flower Extract (antioxidant/skin soothing), Retinyl Palmitate (antioxidant), Aloe Barbadensis Leaf Extract (hydration), Calluna Vulgaris Flower Extract, Camellia Sinensis Leaf Extract (antioxidants), Chlorella Vulgaris Extract (antioxidant), Caprylic/Capric Triglyceride (skin-replenishing), Physalis Angulata Extract (skin soothing), Pyrus Malus (Apple) Fruit Extract (skin-restoring), Diethylhexyl Syringylidenemalonate (antioxidant).
Ratings & Reviews
Lightweight (71)
Easy to apply (57)
Smooth (47)
Blends well (29)
Easy to take-off (26)
Greasy (9)
Doesn't work (7)
Heavy (6)
Not effective (5)
Causes breakouts (4)
Everyday (40)
Daily use (33)
Sensitive skin (30)
All skin types (26)
Fine lines/wrinkles (13)
Reviewer Profile:
Classic style (31), Natural style (29), Beauty conscious (20), Survivalist / minimalist (14), Beauty expert (4)

Skin Type:
Combination (19), Dry (12), Normal (7), Oily (3)
Reviewed by 111 customers
Product made my skin feel greasy! Please bring back barely there tint!
Service and delivery comments:
Always great service!
Skin Type:
Combination
Age:
45-59
I added this product to my routine and began getting breakouts of little clogged white heads around my mouth and nose. It took me a few weeks to realize what was causing it. I stopped using the product and the breakout cleared, used it a couple more times and the little zits came back.
I purchased this product as an introduction into the concept of primers because it promised a smooth canvas and spf. I love that I can get a primer and spf and beneficial ingredients in one product. It took a few tries to learn how to use this product effectively. If you are not careful when squeezing it, much more comes out of the tube than is needed. Restated, a tiny dab is all that is needed for most dry complexions. Really. I estimate I dispense a dab the size of a pencil eraser, and this is plenty when properly emulsified among my fingers. Much more and even dry skin can look greasy. I start on my dryer areas (cheeks, under eyes), then apply the rest to my forehead, nose, and chin. Again, I don't have an oily t-zone, but this product had a tendency to make me look shiny (in not a good way) when I first started applying 2-3x this amount.

It works best when you wait for it to settle into your skin before applying foundation. It gives a super smooth canvas that makes me want to touch my face. Used this sparingly, it leaves a more dewy appearance. Smooth in a non-silicone smooth way. It tends more toward the consistency of an oil, but is not as watery and has some more surface tension to it than Paula's facial oil. I really like this product now that I've learned how to carefully apply it. Would not waste it in a beauty blender or brush, as the tools will absorb much of this product and waste it. Probably best for patting to the face gently with fingers.
Service and delivery comments:
No comments or complaints!
Lightweight
Moisturizes
Non-Greasy
Softens Skin
I don't write reviews very often but I felt compelled to write to say how much I like this product. I use it over my moisturizer before applying the foundation. It takes only a very small drop or two to make the skin smooth and moist which allows the foundation to go on so much more evenly.
Lightweight
Moisturizes
Non-Greasy
Smells Great
Softens Skin
Soothes Skin
I didi not try this primer when it first came out. Because I had pribe I liked. I finally broke down and tried and I will never buy another primer except this one. I absoutlely love it. It has added sunscreen that does not break my dry skin out and it feels so good on my skin. I am very happy with this product !!!!!!!!!!!!
Service and delivery comments:
delivery was fine
Lightweight
Non-Greasy
Softens Skin
This is my first review of any product ever! I never felt compelled to write a review until I tried this primer. I love the texture of this product and how it layer under my Resist super-light daily wrinkle defense SPF30. Home run!
Service and delivery comments:
Excellent
Skin Type:
Normal
Age:
30-44
Tried this product with high hopes but totally disappointed It goes on fine if that's ALL you plan on wearing but I use Paula's resist super-light tinted daily defense (which is wonderful) on top and it goes on like cake batter. Pills and uneven. If you're looking for a sunscreen then it's ok but this is not at all a "primer". Will be sending back.
Skin Type:
Combination
Age:
30-44
I've tried many Paula's Choice products, most of which I love! I received this primer as part of a free gift with an order. Unfortunately this is the first Paula's Choice product that didn't work for me. I was very excited about trying out a clear primer with sunscreen but it made my face greasy and my foundation look horrible a couple hours after I applied it. I still love Paula's Choice products and will continue to purchase other products! This one just didn't work for me.
Service and delivery comments:
Delivery was prompt and product in perfect condition when received.
Skin Type:
Combination
Age:
18-29
Lightweight
Moisturizes
Softens Skin
Soothes Skin
Daily Use
Fine Lines/Wrinkles
Sensitive Skin
Beautiful product. My skin drinks it in and it makes foundation application flawless!
Lightweight
Moisturizes
Non-Greasy
Softens Skin
Soothes Skin
Daily Use
Enlarged Pores
Fine Lines/Wrinkles
My foundation looks flawless with this under it! Reminds me of the Smashbox Photo Finish Primer which I was about to re-purchase however saw this and decided to give it a try, I won't be going back! The product smooths fine lines and poor, foundation looks like skin over it, the added skin care benefits AND SPF is a clear winner for me. I always find SPF's make my foundation sit funny as they don't fully absorb into my skin, not with this product, it makes my foundation look like skin and gives a nice blurring effect. I always have problems with foundation pilling and I've tried this now with multiple different types of foundation and not once have I had this problem.

Only additional comment would be that I would still recommend a serum under it if you have somewhat dry skin. I use this as a primer only and the serum ingredients of it I consider a bonus on top.