Images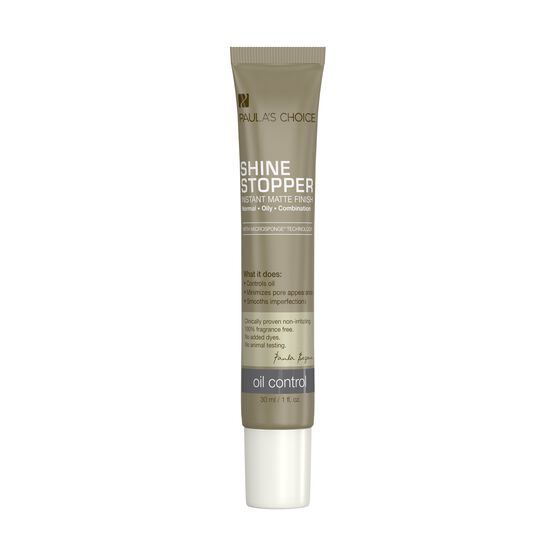 This oil-control primer gives you a silky, powder-like finish that controls oil, minimizes the appearance of pores, and wears beautifully.
SHINE STOPPER Instant Matte Finish with MICROSPONGE® Technology
Details
https://www.paulaschoice.com/shine-stopper-instant-matte-finish-with-microsponge%C2%AE-technology/360-3600.html
This oil-control primer gives you a silky, powder-like finish that controls oil, minimizes the appearance of pores, and wears beautifully.
Unique MICROSPONGE® Technology controls shine
Can be worn alone or under makeup
Keeps oil under control for hours
Skin Types:
Oily Skin, Combination Skin
Additional Information
Why is it different?
SHINE STOPPER Instant Matte Finish has an oil-absorbing formula that works quickly to keep oily skin shine-free. Its unique MICROSPONGE® Technology works invisibly to keep oily shine in check while minimizing the appearance of pores.
What does it do?
The weightless formula dries to a soft, powder-like finish that smooths out skin imperfections. Can be worn alone or under makeup to help it stay in place all day long. Dab a tiny bit on during the day to maintain results.
How to use
Dispense a pea-sized amount and using clean fingers or a foundation sponge, dab (do not rub) lightly over oily areas as the last step of your skincare routine or over your foundation. If you wish to apply powder or blush over SHINE STOPPER, let SHINE STOPPER set completely first. Reapply as needed.
Show details
Research
International Journal of Cosmetic Science, Epublication, July 2010
Molecular Pharmaceutics, September–October 2009, pages 1,441–1,448
British Journal of Dermatology, November 2006, pages 890–894; and www.microsponge.com.
Ingredients
Product Ingredients
Water, Methyl Methacrylate/Glycol Dimethacrylate Crosspolymer (texture-enhancing/absorbent), Caprylic/Capric Triglyceride (emollient/texture-enhancing), Dimethicone (hydration), Cetearyl Alcohol (emollient/texture-enhancing), Glycerin (hydration/skin replenishing), PEG-100 Stearate (emollient/texture-enhancing), Magnesium Aluminum Silicate (absorbent), Glyceryl Stearate, Myristyl Myristate (texture-enhancing), Ceteareth-20 (texture-enhancing), Xanthan Gum (texture-enhancing), Disodium EDTA (stabilizer), Benzyl Alcohol (preservative), Phenoxyethanol (preservative).
Ratings & Reviews
Lightweight (97)
Mattifies/controls oil (68)
Easy to use (59)
Works effectively (57)
Non-greasy (33)
Ineffective (7)
Not effective (6)
Irritates skin (5)
Difficult to use (4)
Daily use (32)
Oil control (14)
Enlarged pores (12)
Oily skin (12)
Breakouts (6)
Reviewer Profile:
Beauty conscious (67), Survivalist / minimalist (41), Beauty expert (17), Skin care professional (4)

Skin Type:
Combination (72), Oily (70), Dry (3)
Reviewed by 446 customers
I love this stuff!!! Keeps the irritating oily shine under control like no other!!! If you are unsure about buying, don't be!! And, a little goes a long way.....well worth the money!!!!
Skin Type:
Combination
Age:
45-59
Lightweight
Non-Greasy
Stops shine
This stuff is nothing short of a miracle. I was shocked that it actually works. I purchased a second tube a couple weeks later when I saw it on sale. Figured I should stock up. You tap it on after your concealer/foundation but before any powder. My skin is disgustingly oily, and I notice that's it's a lot less shiny midday when I wear this product. I don't soak through multiple oil-blotting sheets.
First time wearing it all day made me break out in a red, itchy, flakey rash. I will be throwing this product away.
Service and delivery comments:
Delivered on time
Skin Type:
Combination
Age:
30-44
I bought this product based off of the great reviews I read and had high hopes for it, but it wasn't working for me. I tried applying after foundation like the directions, but it made my pores look larger and my skin tone uneven. I then tried to use it before my foundation but that made my foundation apply unevenly. I was about to give up on this when I thought about the other PC products I use, and decided to try blending it with my foundation prior to applying.....Success! I didn't see any other reviews stating they blended it but this works great for me, I can get through the workday without looking so shiny people would think I'm sweating. It also doesn't clog my pores like other primers/mattifiers have. I'm absolutely in love with this product.
Lightweight
Non-Greasy
Softens Skin
I had previously written a review for this product but wanted to write another to make note of the "ghost" shadow it leaves on my face. As you can see from the photos, the areas where I applied this are much brighter than the rest of my face when applied as directed (tapped on over top of makeup).
Lightweight
Non-Greasy
Softens Skin
Use daily on my forehead. Everything is perfect and works great!!!!
Skin Type:
Combination
Age:
18-29
I have a shiny forehead, nose, and chin. What I used to do was dust on the powder and/or use blotting papers. The shine would reappear a couple of hours later. I didn't like that cakey look the powder gave and having to constantly retouch throughout the day was a hassle. BUT this product changed all that! I dab a bit on those shiny areas in the morning and it soaks up the oil like nothing else. No greasy feel...no heaviness. And it lasts!! I'm amazed and will never be without it..!! :)
Skin Type:
Combination
Age:
45-59
This really works. I've been using it a few years now during our humid summers to help with oiliness
Skin Type:
Combination
Age:
45-59
I love this product so much I have bought 4, 5, or maybe more! Not only does it make my skin look matte but it also makes my skin feel soft all while not breaking me out. I've used this everyday in the summer and have never broken out, I'm so thankful!
I have always always always had a shiny face. I would use 10+ blotters a day just to keep the shine down. I have been using Paula's products for years, and my skin is looking pretty good, but it was still shiny. I saw this product and was skeptical since other, similar products hadn't worked. I scoured the reviews, took note of all the application tips, and finally splurged on a tube. Instant love. My face is matte all day long now. At most, I blot once, but most days I am matte until I take off my makeup. Definitely put it on after your make-up and allow plenty of time for your wet make-up to dry and set - I usually give it at least 5 minutes, but usually 10-15. Then tap, tap, tap, tap it on. Tapping is so important. If I am going without make-up, I allow the same amount of time for my moisturizer to set, and then tap it on. I use a pea-size amount and it is enough for my nose, chin, and forehead. This is the best product I have tried in years.