Images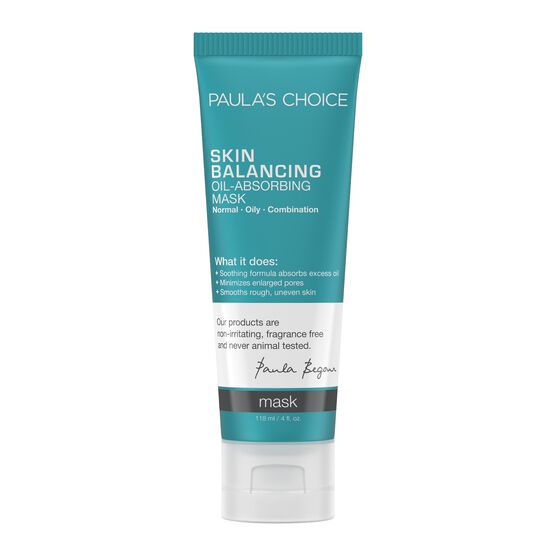 A mix of mineral clays work together to noticeably refine pore size and promote a healthy-looking, shine-free complexion.
SKIN BALANCING Oil-Absorbing Mask
Details
https://www.paulaschoice.com/skin-balancing-oil-absorbing-mask/275-2750.html
A mix of mineral clays work together to noticeably refine pore size and promote a healthy-looking, shine-free complexion.
Leaves skin looking refreshed and smooth
Sea whip and oatmeal soothe skin
Natural clays absorb excess oil
Use after cleansing at least once per week
Skin Types:
Combination Skin, Oily Skin
Additional Information
Why is it different?
SKIN BALANCING Oil-Absorbing Mask contains an exclusive mix of natural clays plus skin-restoring and soothing ingredients to balance and revitalize combination, oily skin.
What does it do?
Balances skin by visibly absorbing excess oil without over-drying or making skin feel tight. The clay's gentle drawing action helps dislodge debris from congested pores while soothing plant extracts help visibly calm skin. Rinses easily, leaving skin soft, matte, and smooth. Best of all, it is free of stress-causing ingredients, such as menthol, peppermint, or alcohol, which can make oily skin worse.
How to use
Use on clean skin. Apply a generous layer all over the face and neck (if needed). Let dry for 10-15 minutes. Rinse thoroughly with tepid-to-warm water. May be used as often as needed. Those with oily to very oily skin can use this mask several times per week, while those with normal to slightly oily skin can use it less frequently (once or twice per week, for example).
Show details
Research
Skin Pharmacology and Physiology, August 2012, issue 5, pages 227-235

Journal of the American Academy of Dermatology, November 2015, issue 5, pages 856-863

Indian Journal of Dermatology, 2008, issue 4, pages 163-166

Indian Dermatology Online Journal, April-June 2013, issue 2, pages 143-146

Indian Journal of Dermatology and Venereology, March-April 2012, issue 2, pages 142-145

International Journal of Cosmetic Science, February 2000, issue 1, pages 21-52

Journal of Cosmetic Science, July-August 2011, volume 62, issue 4, pages 361-370

Journal of Clinical Interventions in Aging, December 2006, issue 4, pages 327-348

Marine Drugs, 2004, volume 2, issue 2, pages 73-82
Ingredients
Product Ingredients
Water (Aqua), Kaolin (clay absorbent), Bentonite (white clay/absorbent), Glycerin (hydration/skin replenishing), Salix Alba Extract (willow bark extract/skin-soothing), Stearic Acid (texture-enhancing), Steareth-2 (texture-enhancing), Aloe Barbadensis Leaf Juice Powder (hydration/skin-soothing), Sea Whip Extract (skin-soothing), Colloidal Oatmeal (skin-soothing), Bisabolol (skin-soothing), Ascorbyl Palmitate (vitamin C/antioxidant), Tocopheryl Acetate (vitamin E/antioxidant), Phospholipids (hydration/skin replenishing), Panthenol (skin replenishing), Retinyl Palmitate (vitamin A/antioxidant), Caprylyl Glycol (preservative), Butylene Glycol (hydration), Ethylhexylglycerin (preservative), Hexylene Glycol (preservative), Disodium EDTA (stabilizer), Phenoxyethanol (preservative).
Ratings & Reviews
Softens skin (18)
Soothes skin (12)
Lightweight (9)
Non-greasy (9)
Smells great (6)
Enlarged pores (22)
Uneven skin tone (7)
Sensitive skin (5)
Weekly use (3)
Reviewer Profile:
Beauty conscious (14), Beauty expert (8), Survivalist / minimalist (8)

Skin Type:
Combination (19), Oily (11)
Reviewed by 108 customers
Even though my t-zone is not nearly as oily as it once was, I still struggle with pore size. Since one can only exfoliate so much, there are few choices for helping with pore size. Thankfully this is one of them. My skin can tolerate this probably every other day but I usually only take the time to use it once or twice weekly--t-zone only. My cheeks can blush with vitamin C but since I don't apply this product there, I do not have a reaction to this. And since it only stays on the skin for a few minutes, I'm not sure what benefit it would have anyway. Also works great for controlling oil on my back. And when i'm diligent about taking the time to use this, pretty sure I have fewer t-zone breakouts.
Service and delivery comments:
always prompt service
Skin Type:
Combination
Age:
30-44
Lightweight
Moisturizes
Non-Greasy
Smells Great
Softens Skin
Enlarged Pores
Redness/ Blotchiness
Sensitive Skin
Uneven Skin Tone
I absolutely love this mask. It cleans deeply and when rinsed and dried off, leaves my skin looking bright and even toned. I use once a week but will be using it more often now that my skin is used to it (I have very sensitive skin and this is perfect for it). Love. Will always purchase this product!
Service and delivery comments:
Delivery is super fast normally. There was only one time that my order showed up late but that was on the postal service being backed up.
Skin Type:
Combination
Age:
30-44
Lightweight
non drying
Non-Greasy
Softens Skin
Daily Use
Enlarged Pores
Redness/ Blotchiness
Uneven Skin Tone
I am a waitress so I usually wear makeup daily as wells as sweat on nights we get slammed. I was using Origins rose clay mask and it was ok but i felt like it kept my skin less oily for a few hours but when i tried this after much research i fell in love with it. It literally absorbed excess oils and i almost feel like it balanced the oil glands. I also love this easy application and removal of it unlike most clay mask, there is some tingle but not too bad i got use to it.
Service and delivery comments:
FAST DELIVERY!
Just got a sample with my last order. Hopped on to purchase full size and saw some of the negative reviews! At least try a sample, maybe it will work for you!

I don't think it burns at all. For reference, I'm 26 years old, I have very very oily skin all over my face. I have taken Accutane in the past but still an oil slick and, like most people, I have blackheads on my nose. I use PCs 4% BHA frequently, although still would consider myself on the sensitive side.

I love this mask because its easy to apply a properly thin layer (not super duper thick and hard to spread like some clay masks), it really is truly great at absorbing oil (when it dries you can visibly see where the pores are with their little damp dots of oil - gross but you know what I mean), it dries quickly, and unlike vast majority of clay masks I found, it rinses off suprisingly easy.
Service and delivery comments:
delivery always very fast
I use kaolin and bentonite clay often with no issues. However for some reason this product makes my face burn immediately! I don't have sensitive skin either. I've only had a reaction like this once before 20 years ago to PABA in a sunscreen. Maybe it's the willow bark? I don't know but I think the ingredients should be reexamined. Would love to try an improved product. I'm just glad I only ordered the sample!

That said, I love this brand and many of the products they make. Just this one was a miss.
Skin Type:
Combination
Age:
30-44
I'VE USED THIS MASK OFF AND ON FOR A FEW YEARS NOW WITH MIXED FEELING. FIRST, I NEVER LEAVE IT ON FOR MORE THAN 10 MINUTES MAX. WHEN I'M READY TO RINSE IT OFF I RINSE IT THOROUGHLY I IMMEDIATELY USE A MOISTURIZER WHEN I TAKE OFF THIS MASK. I DEFINITELY FEEL THI S MASK CAN DEFINITELY HAVE THE POTENTIAL TO IRRITATE THE SKIN, IF IT'S LEFT ON TOO LONG, IS NOT RINSED THOROUGLY AND NOT MOISTURIZED IMMEDIATELY. I REALLY WISH PAULA WOULD REFORMULATE THIS MASK, AS THERE ARE OTHER MASKS ON THE MARKET THAT CLEAN THE SKIN WITHOUT STRIPPING THE SKIN. THE PERFECT BALANCE WOULD BE TO UNCLOG THE PORES WITHOUT IRRITATING THE SKIN.
Service and delivery comments:
DELIVERY IS ALWAYS SUPER FAST
Skin Type:
Combination
Age:
60+
I absolutely love Paula's Choice and some of her products are my holy grails, but this one is absolutely not. I received a sample of it recently and decided to give it a try. I don't have sensitive skin but this mask made it so irritated. I almost immediately felt a burning sensation when I applied it and it started to get worse. I washed it off and the burning lingered for a bit before going away. I love clay masks and this brand, so I hope it can be reformulated into one that doesn't hurt.
Skin Type:
Combination
Age:
18-29
I have super thick skin that is usually slathered with prescription retinol day night or Drunk Elephants TLC aha/bha serum... I've recently been getting into Paula's Choice because I love everything it stands for. For some reason my not so sensitive skin is tingling and kinda burning with this mask on... to put some of the blame on myself, I was picking last night due to stress and had put a lot of AHA's on my face... I'm not going to really grade this until I give it a fair shot. I love the ingredients!

My skin is oily with huge pores due to past picking and popping:( I think the only thing left to do for them is TCA cross or Fraxel :(

If pores are my biggest concern I guess I'm lucky...
Service and delivery comments:
Delivery was amazing as usual
This mask goes on without any tingling sensation to start (which made me think it was going to be gentler than other masks I've tried), but once washed off (in the time outlined in the instructions) it actually made my face burn and feel incredibly raw! I was floored that a Paula's Choice product could produce such a sensation to my skin - I usually love PC products and buy several exclusively. This mask was incredibly disappointing, however, and I will never use this product again.
Skin Type:
Combination
Age:
18-29
Oily Skin
Uneven Skin Tone
Weekly Use
I have a ridiculously oily t-zone and normal skin on other area of my face. I use this on a weekly basis as an optional treatment to even out my skin texture, specially my oily zones. It's a really great product, my skin is not sensitive, therefore it doesn't burn or irritate when I put it on and leave it in. I always protect my skin from sun exposure during the day, so my skin has stayed pretty tough and clear due to sunscreen layering. I wash and exfoliate my face before using this mask, and then rinse and re exfoliate to get the extra bits off my skin, it works fine without any issues. Overall a great product.
Service and delivery comments:
Everythig was perfect
Skin Type:
Combination
Age:
18-29