Images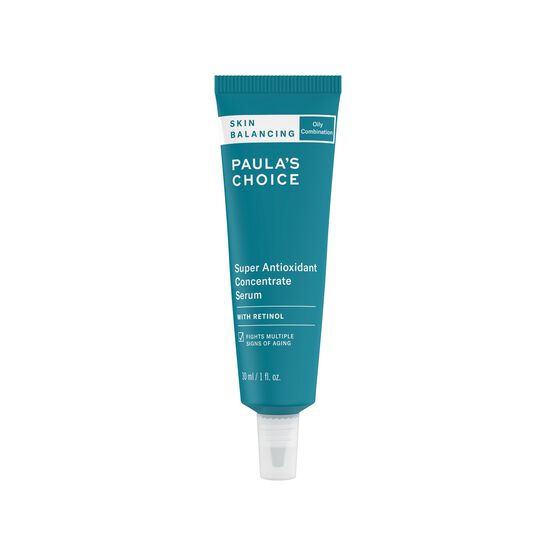 A skin-renewing antioxidant serum with an effective but gentle amount of retinol that helps develop a balanced-looking complexion while helping defend against environmental stressors.
SKIN BALANCING Super Antioxidant Concentrate Serum with Retinol
Details
https://www.paulaschoice.com/skin-balancing-super-antioxidant-concentrate-serum-with-retinol/335-3350.html
A skin-renewing antioxidant serum with an effective but gentle amount of retinol that helps develop a balanced-looking complexion while helping defend against environmental stressors.
Replenishes and improves skin's appearance
Antioxidants soothe and recondition skin
Weightless gel formula
Use twice daily after cleansing, toning & exfoliating
Skin Types:
Combination Skin, Oily Skin
Additional Information
Why is it different?
SKIN BALANCING Super Antioxidant Concentrate Serum has a unique texture with a soft, light feel that supplies skin with an exciting mix of antioxidants and retinol to help soothe skin, unclog congested pores and visibly improve the appearance of wrinkles and uneven skin tone. This revitalizing serum amplifies your skin's hydration and fends off environmental assault for a refreshed, more even-looking complexion.
What does it do?
Delivers an invisible layer of retinol and age-fighting antioxidants to ease the appearance of first signs of aging. It also hydrates and helps defend skin against environmental assault. This cutting-edge formula helps to balance and revitalize skin, leading to a healthier, more normal-looking appearance.
How to use
Smooth a few drops onto face, neck and eye area before moisturizing (or use alone). For optimal results, use AM and PM. For daytime, follow with a broad-spectrum sunscreen rated SPF 30 or greater.
Show details
Research
Cosmetics, 2015, issue 3, pages 259-276

Current Pharmaceutical Biotechnology, 2014, issue 2, pages 173-81

Archives of Dermatology, August 2000, issue 8, pages 989-94

Molecular Medicine Reports, November 2010, issue 6, pages 895–901

Journal of Drugs in Dermatology, September 2014, issue 9, pages 1092-7

Acta Biochimica Polonica, 2012, issue 1, pages 43-7

Pharmacology and Physiology, March-April 2005, issue 2, pages 81-7

Journal of Clinical Interventions in Aging, December 2006, issue 4, pages 327–348

Indian Dermatology Online Journal, April-June 2013, issue 2, pages 143-146
Ingredients
Product Ingredients
Cyclopentasiloxane (hydration), Isododecane (texture-enhancing), Cyclohexasiloxane (hydration), Dimethicone Crosspolymer (texture-enhancing), Neopentyl Glycol Diheptanoate (texture-enhancing), Retinyl Palmitate (Vitamin A/antioxidant), Caprylic/Capric Triglyceride (emollient/texture-enhancing), Retinol (antioxidant/skin-restoring), Tocopheryl Acetate (vitamin E/antioxidant), Tetrahexyldecyl Ascorbate (vitamin C/antioxidant), Haematococcus Pluvialis Astaxanthin Extract (antioxidant), Bisabolol (skin-soothing), Chamomilla Recutita Matricaria Flower Extract (skin-soothing), Camellia Sinensis Leaf Extract (green tea extract/antioxidant), Camellia Oleifera Leaf Extract (green tea extract/antioxidant), Salix Alba Leaf Extract (willow extract/skin-soothing), Vitis Vinifera Seed Extract (grape extract/antioxidant), Ginkgo Biloba Leaf Extract (antioxidant), Calluna Vulgaris Flower Extract (heather extract/antioxidant), Vaccinium Macrocarpon Fruit Extract (cranberry extract/antioxidant), Rubus Idaeus Fruit Extract (raspberry extract/antioxidant), Betula Alba Bark Extract (white birch extract/antioxidant), Glycine Soja Oil (soybean oil/non-fragrant oil/antioxidant), Silica (texture-enhancing), Phenoxyethanol (preservative).
Ratings & Reviews
Lightweight (36)
Easy to use (20)
Soothes skin (19)
Works effectively (14)
Mattifies/controls oil (11)
Difficult to use (5)
Ineffective (5)
Irritates skin (5)
Doesn't work (3)
Uneven skin tone (13)
Fine lines/wrinkles (12)
Daily use (7)
Breakouts (6)
Brightening (4)
Reviewer Profile:
Beauty conscious (34), Survivalist / minimalist (12), Beauty expert (4)

Skin Type:
Combination (40), Oily (11)
Reviewed by 331 customers
Lightweight
Non-Greasy
Softens Skin
Soothes Skin
Cannot be used with exfoliants
Hard to use
Daily Use
Fine Lines/Wrinkles
Sensitive Skin
Uneven Skin Tone
I absolutely love this product! I use it every morning, after washing my face and applying my Clear daily cream. After I put this on, I add the light tinted moisturizer with SPF and then my powder. I never use foundation, this is my regular morning skin routine and my face makeup for the day.
The only thing to be very careful about... do not use it with exfoliants! I have a 2% BHA exfoliant, but I cannot use it prior to put this serum on. It burns my skin pretty badly.
Lightweight
Non-Greasy
Softens Skin
This is the best overall treatment I use every night, I find it improves my skin tone immensely.
Skin Type:
Combination
Age:
45-59
Lightweight
Moisturizes
Non-Greasy
Softens Skin
Soothes Skin
I have used this product for years and really like it. I would probably get more out of it if I used it more frequently BUT do not make my mistake. Do not use this with any BHA product. I tried it after applying the resist daily pore-refining treatment with 2% BHA and my face was on fire for over a week. I could not even wash my face! I applied cold oatmeal water washcloths and aloe but it burned and itched for 10 days.
Skin Type:
Combination
Age:
45-59
I had been using this one for 3years....Because I 've been using Skin Balancing cleanser, toner, gel for many years too, so I was thinking maybe I should use all products that are from skin Balancing would give me better result... But this one seems worked nothing for me can you imagine it?? Until last month I stop it... I changed to the lightweight one which is Resist ultralight serum, that one has good effects for my skin.
Lightweight
Non-Greasy
Softens Skin
Soothes Skin
Daily Use
Redness/ Blotchiness
Sensitive Skin
Uneven Skin Tone
This is a wonderful antioxidant, but I have stopped buying it because I can't stand the cap! Paula, the small cap makes this thing unstable if you try to stand it up, which many of us do. It is constantly tipping over, causing minor chaos on my toiletries shelf. If these serums have to be in tubes, could you please give them large caps so they can stand up properly? Better yet, could they all come in a pump container, like the Calm serum? That would also help with dispensing the right amount. This antioxidant is so thin that I often got too much out of the tube.

Other than that, this is a wonderful, lightweight serum that leaves skin silky soft.
Service and delivery comments:
Always excellent.
Skin Type:
Normal
Age:
45-59
I use every day before under eye concealers
Moisturizes
Softens Skin
Soothes Skin
This product fills in tiny crows feet perfectly
Daily Use
Fine Lines/Wrinkles
Sensitive Skin
Uneven Skin Tone
I have used this product for 3 years daily around my eyes. The silicone base conceals and softens wrinkles around the eyes unlike any product I've ever used. I apply before my concealer. I'm 56 and I do have crows feet. My 30 year old daughter is jealous that I don't have wrinkles around my eyes.
Skin Type:
Combination
Age:
45-59
Lightweight
Moisturizes
Non-Greasy
Softens Skin
Soothes Skin
Daily Use
Enlarged Pores
Uneven Skin Tone
I love this product I am using it every night before going to bed and I find it amazing! My skin looks relaxed and fresh in the morning.
In love with PC products!
I can only use it at night though. It takes a very long time to fully soak into my skin, which makes it almost impossible to use under makeup without pilling. It could be just that I have oily skin. I put on a light layer before going to bed and let it work its magic overnight. In the morning my skin feels nice and dewy and the redness around my nose and chin has calmed. It does have a noticeable scent to it, so keep that in mind if you are sensitive to smells. I find it pleasant though and it doesn't last very long.
Skin Type:
Combination
Age:
30-44
Bizarre texture
Difficult to evenly distribute
Not Effective
Not a bad product because it's made with good ingredients and doesn't tick off my finicky skin. It's just not worth repurchasing for myself. It's so, so strange. Of all the PC products I've tried, this is the most mediocre, oddly formulated thing I've tried. Imagine the original Smashbox Photo Finish primer, the really thick, clear silicone one. This feels like that, only you have to shake this very well every time you go to use it or else it squooshes out liquid. Once it's shook and you squeeze some out, it's exactly like that primer, only a goldish color, with no real scent. When you go to spread it, it dries instantly, so quickly that it's really difficult to feel if you've evenly distributed it around your face. I guess if you like that extremely matt, silicone feeling on your skin, the texture wouldn't bother you. But I like serums that feel more like liquidy gel, light ones that I can feel myself spreading and massaging across my skin. I like a moment of glowy, dewy-ness after application before it absorbs. I like being able to FEEL what I'm putting on my skin. With this serum, I feel like I'm applying nothing. I also didn't see any really outstanding results in my skin other than some pleasant softness the morning after use. There's another PC serum that does so much more for me, a real performer. But this one is, in a word, "Meh". Hate the texture, didn't get results I wanted. Not buying again. Just not for me. I highly advise getting a sample. Don't get the sample packet. You really can't properly shake those and you don't get a good idea of the product with those at all. Get the travel size tube. It's an actual plastic tube that you can really shake. It's the best way to experience the texture in all it's bizarre glory.
Skin Type:
Combination
Age:
18-29
Comments about SKIN BALANCING Antioxidant Serum with Retinol - 1 oz:
I first tried Paula's antioxidant serum back when there was just one that came in a white tube. It was too oily for me, and made me break out (I had oily skin). Because of that experience, I was hesitant to try the newer ones. But I'm so glad that one year ago, I ordered this Skin Balancing version. I've had no bad reactions to the small dose of retinol, and best of all, it doesn't cause me to break out. Some people don't seem to like the texture, but I do...it leaves a silky feel that dries completely matt (more matt than the Resist Weightless version), but it allows other products to effortlessly slide on top, whether it's sunscreen, makeup, or whatever. One tube was too dry and rubbery, but they replaced it without a hitch. Sometimes the product "separates"; shaking may be required. I've never noticed any kind of odor. I prefer to use the Resist Weightless version around my eyes for the extra moisture. I use this on the rest of my face day and night, unless I'm using the Wrinkle Repair Retinol in the evening. I love this product, and don't want to be without it. My only complaint is that the price seems to go up every time I buy it. Getting really expensive for this retired senior because it doesn't lasts long. Still love this, and will use it as long as I can afford it.
Service and delivery comments:
Great service; fast delivery.