Images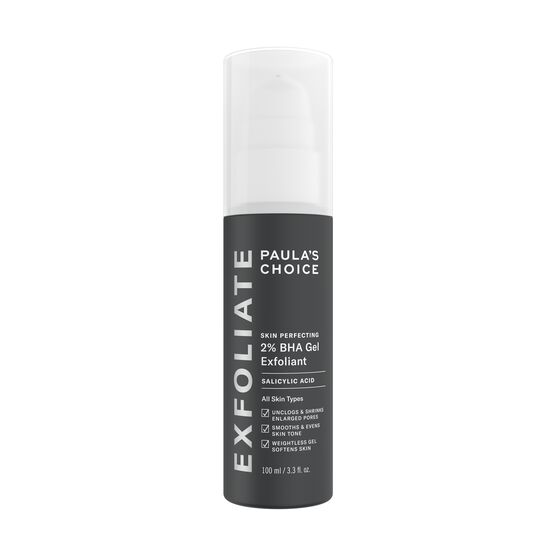 This leave-on gel exfoliant is a completely non-abrasive way to remove layers of dull skin to reveal younger skin hiding underneath. It also shrinks clogged pores, diminishes the appearance of wrinkles, and improves skin tone.
SKIN PERFECTING 2% BHA Gel Exfoliant
Details
https://www.paulaschoice.com/skin-perfecting-2pct-bha-gel-exfoliant/204-2040.html
This leave-on gel exfoliant is a completely non-abrasive way to remove layers of dull skin to reveal younger skin hiding underneath. It also shrinks clogged pores, diminishes the appearance of wrinkles, and improves skin tone.
Gently reveals smoother, radiant skin
Refines and clarifies pores
Gel texture hydrates and perfects skin's surface
Use up to twice daily after cleansing & toning skin
Skin Types:
Combination Skin, Oily Skin
Concerns:
Wrinkles, Anti-Aging, Enlarged Pores, Blackheads
Additional Information
Why is it different?
SKIN PERFECTING 2% BHA Gel Exfoliant is a leave-on, water-light formula that gently and naturally exfoliates dead skin, just like your skin did when you were younger. This creates an immediate and dramatic improvement in skin's appearance and feel. Your skin will look more radiant and smooth, with diminished pore size, while softening the appearance of wrinkles.
This exfoliant has a pH range of 3.2–3.8.
What does it do?
Works to create a younger appearance, revealing a glowing, smoother radiance, and diminishes pores, smooths bumps, and minimizes lines and wrinkles. It also provides long-lasting hydration for healthier-looking skin. It's suitable even for skin prone to milia.
How to use
Apply once or twice daily after cleansing and toning. Apply a dime-sized amount over the entire face, including the eyes (avoid the lower lash line and eyelids). Do not rinse. For daytime, follow with a broad-spectrum sunscreen rated SPF 30 or greater.
Show details
Research
Journal of European Academy of Dermatology and Venerology, September 2016, issue 9, pages 1480-1490

Archives of Dermatology, August 2000, issue 8, pages 989-94

General Physiology and Biophysics, September 2013, issue 3, pages 347-59

Journal of Clinical, Cosmetic and Investigational Dermatology, 2015, volume 8, pages 455-461

Cosmetics, 2015, issue 3, pages 259-276
Ingredients
Product Ingredients
Water, Methylpropanediol, Butylene Glycol, (hydration), Polysorbate 20 (texture-enhancing), Salicylic Acid (beta hydroxy acid/exfoliant), Phytosphingosine (skin-renewing), Hydroxyethylcellulose (texture-enhancing), Vitis Vinifera Seed Extract (grape extract/antioxidant), Camellia Sinensis Flower/Leaf/Stem Extract (green tea/antioxidant) Epilobium Angustifolium Flower/Leaf/Stem Extract (willow herb/skin-soothing), Bisabolol (skin-soothing), Sodium Hydroxide (pH-adjusting), Tetrasodium EDTA (stabilizer).
Ratings & Reviews
Lightweight (51)
Softens skin (47)
Soothes skin (34)
Non-greasy (30)
Moisturizes (24)
Not effective (12)
Greasy (11)
Heavy (8)
Irritates skin (7)
Sticky (4)
Daily use (61)
Enlarged pores (58)
Uneven skin tone (37)
Sensitive skin (28)
Redness/ blotchiness (23)
Reviewer Profile:
Beauty conscious (37), Survivalist / minimalist (21), Beauty expert (9), Skin care professional (5)

Skin Type:
Combination (43), Oily (22), Dry (5), Normal (4)
Reviewed by 427 customers
Enlarged Pores
Uneven Skin Tone
I have had these really small bumps on my forehead they almost look like sweat bumps (commodone?) I have had them on and off since high school. Lately more on than off. My dermatologist has me on a very strong cream but they never went away. She suggested a chemical peel but after research I decided I can't go to work with my face peeling. I came across a review about this and thought I would try it. It's been like 2 weeks and they are completely gone. I haven't done anything different but try this gel so I know it's that. It did make my skin dry but only at first and I was maybe using it to much. Now I just use it at night before bed. It's gel so kind of gross but it does sink in to your skin. I think my fingers have gotten dry from using it too but I should maybe apply with a cotton ball or cotton pad. The smell is not good but I didn't expect it too be. My Dr said anything that smells good isn't good for your skin and that makes total sense to me. My order got lost by UPS and when I called Paula's they were really great. They said not to worry they would resend it to me at no charge and I thought that was fabulous. Thankfully UPS found my package and got it to me. I know everyone's skin is different but at 40 something this works wonders for me. I'm thankful I found it. I would have given 4.5 review if I could only because of the smell.
Service and delivery comments:
Paula's was great. Like really great! UPS not so much but I did finally get it.
Lightweight
Non-Greasy
Softens Skin
Daily Use
Enlarged Pores
Uneven Skin Tone
I use this product every morning and night along with a vitamin c serum. I always put sunscreen on after using it in the morning.
Skin Type:
Combination
Age:
18-29
This is a really good product for a good price. I use it morning and evening everyday, except for once a week when I use Weekly resurface AHA-peeling from the Resist line. My skin feels really smooth, has improved glow and I do believe it has made my pores appear smaller as well.
Skin Type:
Combination
Age:
30-44
Lightweight
Moisturizes
Non-Greasy
Softens Skin
Soothes Skin
Tends to ball up under certain moisturizers
Daily Use
Enlarged Pores
Redness/ Blotchiness
Sensitive Skin
Uneven Skin Tone
One pump is enough for my whole face, and it's spreadability is amazing. My face doesn't feel tight and it soothes my skin more compared to the liquid version. Sadly, it doesn't get rid of my blackheads just like liquid version, but I feel like when I use the gel, the breakouts are under control, my skin tone is more even and it produces less oil.
I have been using this for about 6 months. I first tried the 2% BHA liquid last year but I found that cotton balls were the best way to apply it for me, and I didn't like that in my routine. The gel is perfect because I can rub it in with my hands after cleansing and before moisturizer, twice per day. If I remember right, I didn't see results for the first three weeks, so just stay disciplined about it. I also started out using it every other day and slowly worked up to twice per day. I used to get about 10 blackheads per week and now I usually only see 1 per week. No change in the appearance of large pores, but I am logging in to buy an AHA just for nighttime use and see if that helps. Just had to stop by and let you know I like it a lot!
Oh. My. Goodness. I've been using Paula's products for a couple of years now, but this is the first time I've felt compelled to write a review. My main skin concern is always fine lines, but I bought this particular product because I read it could help with milia. I had one little bump under my right eye for over 2 years. I went to the doctor, but she wouldn't treat it because it was too small. I've had milia bumps before that I got rid of by mercilessly picking at them. I'm not proud of it and I know it's terrible for my skin, but I wanted them gone. I couldn't do that with this one because it was too close to my eye. So I was stuck with what looked like a whitehead under my eye and I hated it. I started using the 2% BHA gel about 2-3 months ago. I use it morning and evening, one pump every time, always careful to put a thin layer over the milia. After a few weeks of use I figured it wouldn't make the milia go away, but continued to apply the gel over it just in case. GUESS WHAT? A few days ago I was feeling the bump with my finger when it seemed a little harder and bigger than usual. I grabbed my mirror and realized the bump was coming out!!!! By itself!!!! The bump is completely gone!!!! I could not believe it. After trying so many different products and home remedies, the battle was finally over. I will be forever thankful to this product and I will not stop using it, as I know I'm prone to milia. I highly recommend it!
Service and delivery comments:
Delivery is always prompt.
Skin Type:
Combination
Age:
30-44
Lightweight
Moisturizes
Non-Greasy
Softens Skin
Daily Use
Enlarged Pores
Redness/ Blotchiness
I love Paula's Choice but unfortunately the 2% bha gel has broken me out a little bit. I have talked to one of their reps and said that it is not that unusual to break out from an exfoliant the first time you used it and it does makes sense to me though, since I know exfoliants speed up the cellular turnover thus bringing up the gunks more rapidly leading to some breakouts. I just dont know why it seems like the 2% liquid does better because when i tried a sample of the liquid most of my breakouts went away the next day. So im kind of torn which really works better.
Skin Type:
Combination
Age:
18-29
Enlarged Pores
Redness/ Blotchiness
Uneven Skin Tone
I do think this might be marketed to the wrong skin type. Oily types probably wouldn't like the way the gel sits on the skin. I have dry skin and love the formula. It's the least drying. . It brings down the redness It's not drying . I never had an issue with silicones. The BHA does penetrate deep in the pore.. I am not using this for ance. I use it for redness that is caused by clogs. That sebum makes me dryer and keeps eats all moisturizer. So this ends up helping my moisturizers work. I was so surprised that BHA and in gel form worked so well for me. . Most other actives are hard for me to use very often but this I can use 3 to 5 times a week. Never stop making it.

I also find it easy to apply the gel. It doesn't run down my fingers and I can tell where it is. I have been using this for about 5 years. It does coat the skin with a gel. I don't mind that and even find it soothing, slightly protective as a dry person. I use quite a bit of serums and moisturizers on top, which all penetrate fine.

I wish you stil made the 1% option. I started with that and I like to alternate strengths. I have tried to find a replacement for the 1% and haven't. I tried the 1% lotion and found it irritating. The liquid is way to drying. The Resist is a nice option but again drying.

If you are dry but have redness and clogs you might give this formula a shot.
I was not crazy about the texture of this formula. It seems slick and makes my face feel oilier in the morning when applied at night and forget about using in the morning with oily skin. I have used the liquid in the past but due to the watery consistency it is not always easy to apply. I decided to give the gel a try for ease of application. Easier to apply but not compatible with my skin.
Eliminates redness
Moisturizes
Non-Greasy
Softens Skin
Soothes Skin
Stops breakouts
Gel texture heavier than expected
Daily Use
Enlarged Pores
Redness/ Blotchiness
Sensitive Skin
Uneven Skin Tone
I'm over 60, and have dry, sensitive that is constantly prone to breaking out. I also have a lot of redness in my face although my dermatologist isn't sure it's Rosacea. Whatever it is, this product reduces it unbelievably! Between that and preventing breakouts, I can't remember when I've seen my skin so calm, so clear and so EVEN. I don't say this lightly but this stuff is a miracle! Because this has a gel texture I've been using it at night after I cleanse my face instead of in the morning when I'll be applying my makeup but this morning I accidentally put it on but then put primer foundation over it and proceeded as usual. My skin looked great! I haven't used it long enough to know if it will affect fine lines and while that would be a bonus, I'm already in love with this formula. I've tried the liquid version and am not nearly as impressed. Just having the redness/congestion gone has made me look much younger.
Service and delivery comments:
Super fast!