Images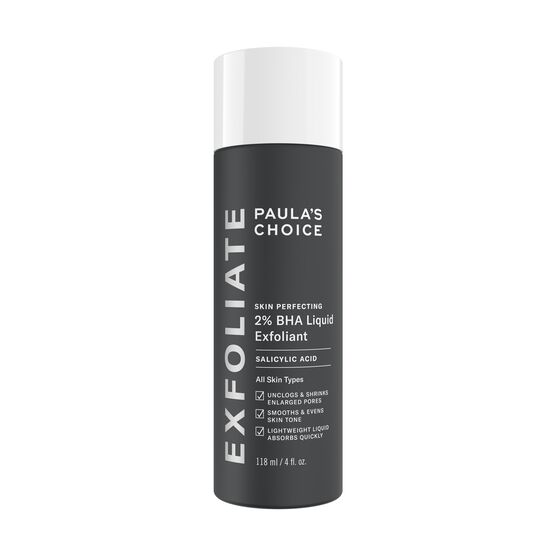 Our #1 product worldwide + cult favorite, this gentle leave-on exfoliant quickly unclogs pores, smooths wrinkles, and brightens and evens out skin tone.
SKIN PERFECTING 2% BHA Liquid
Details
https://www.paulaschoice.com/skin-perfecting-2pct-bha-liquid/201-2010.html
Our #1 product worldwide + cult favorite, this gentle leave-on exfoliant quickly unclogs pores, smooths wrinkles, and brightens and evens out skin tone.
Clears & minimizes enlarged pores
BHA (Beta hydroxy acid) sheds built-up layers of skin
Fluid, lightweight texture absorbs quickly 
Use twice daily after cleansing & toning
Skin Types:
Combination Skin, All Skin Types, Oily Skin
Concerns:
Enlarged Pores, Redness, Wrinkles, Anti-Aging, Blackheads
Additional Information
Why is it different?
A unique leave-on formula that's gentle enough for daily use on all skin types. Exfoliates dead skin cells while clearing pores for a more even, radiant tone, plus visibly reduces fine lines and wrinkles to reveal remarkably smoother, younger-looking skin.
This exfoliant has an optimal pH range of 3.2–3.8.
What does it do?
Skin becomes dull, dry and congested when dead skin cells build up on its surface. Beta hydroxy acid (BHA, also known as salicylic acid) mimics the natural exfoliation process of younger skin by helping it shed extra layers while unclogging and clearing pores.
How to use
Apply once or twice daily after cleansing and/or toning. Lightly soak a cotton pad and apply over the entire face, including the eye area (avoid lash line and eyelids). Do not rinse. For daytime, follow with a broad-spectrum sunscreen rated SPF 30 or greater.
Show details
Research
Journal of European Academy of Dermatology and Venerology
, September 2016, issue 9, pages 1480-1490
General Physiology and Biophysics, September 2013, issue 3, pages 347-59
Archives of Dermatology, August 2000, issue 8, pages 989-994
Journal of Clinical, Cosmetic and Investigational Dermatology, 2015, volume 8, pages 455-461
Ingredients
Product Ingredients
Water (Aqua), Methylpropanediol (hydration), Butylene Glycol (hydration), Salicylic Acid (beta hydroxy acid/exfoliant), Polysorbate 20 (stabilizer), Camellia Oleifera Leaf Extract (green tea/skin calming/antioxidant), Sodium Hydroxide (pH balancer), Tetrasodium EDTA (stabilizer).
Ratings & Reviews
Lightweight (1097)
Softens skin (949)
Non-greasy (782)
Soothes skin (614)
Moisturizes (433)
Greasy (142)
Irritates skin (133)
Not effective (99)
Heavy (41)
Bad smell (31)
Daily use (1108)
Enlarged pores (899)
Uneven skin tone (700)
Fine lines/wrinkles (506)
Redness/ blotchiness (492)
Reviewer Profile:
Beauty conscious (745), Survivalist / minimalist (419), Beauty expert (153), Skin care professional (27), Combination skin (3)

Skin Type:
Combination (805), Normal (220), Dry (186), Oily (150)
Reviewed by 2246 customers
Lightweight
Non-Greasy
Smells Great
Softens Skin
Irritates Skin
Not Effective
Daily Use
Fine Lines/Wrinkles
I have very sensitive skin. I use a couple other Paula's Choice products that I love. Thought I would add this one to my skin care routine. Bought the trial size to try and noticed no difference. In fact I started to get a a lot of breakouts on my chin. I recommend getting the trial size to try. Sacylic acid is not for everyone..
Skin Type:
Normal
Age:
30-44
Doesn't burn
Lightweight
Neutral smell
Soothes Skin
Enlarged Pores
Sensitive Skin
I ordered this because a lot of people claimed it to be a 'holy grail' item, but I didn't see very much effect on my skin in making my pores smaller or getting rid of my closed comedones. In fact when I skip putting this on my face during my skincare routine, nothing really changes, which leads me to think that this product really isn't all that effective.

However, I do greatly appreciate that this BHA seems like a gentle exfoliant - my AHA would consistently burn / make my skin reddish or splotchy, but this didn't have those effects. Doesn't smell awful either.
Skin Type:
Combination
Age:
18-29
A game-changer!
Lightweight
Non-Greasy
Softens Skin
Daily Use
Dullness, Rough patches
Enlarged Pores
Fine Lines/Wrinkles
Uneven Skin Tone
I use this twice a day, everyday after I cleanse and tone. This is a real game changer in my skincare routine! My skin has smoothen, evened out, and brightened as well. I don't feel rough patches nor I have occasional break outs, especially around my chin area.
I have been using this over the past two years or so, and co-workers usually ask what's my secret. I think this was that miracle in a bottle!
Skin Type:
Combination
Age:
30-44
Daily Use
Fine Lines/Wrinkles
Redness/ Blotchiness
Sensitive Skin
I use this as my daily spf/moisturizer. I mix it with a small amount of TrueMatch Foundation that has spf 17 to add a little color, and set it with neutral powder that also has spf. I have combination skin with a very oily T-zone. This product is a little oily for my T-zone, but works great on the rest of my face. I use Retin-A and PC 2% liquid BHA which makes my skin very sensitive. This does not sting at all.In fact I find it very soothing. I used to use the Skin Balancing SPF, but that can sting when my face is irritated. I never have issues with this product. Paula don't ever discontinue this!
Skin Type:
Combination
Age:
45-59
I don't understand the hype. I used the product off and on last year but have been using it twice a day every day for the past 2 months or so. I haven't seen any difference in my skin.
Enlarged Pores
Redness/ Blotchiness
Uneven Skin Tone
Hallelujah! I'm a believer! I'm on my third bottle of this magic potion. It took a few days, but this has
-evened my skin tone
- reduced the size of my pores
-eliminated blackheads
-has seriously cut down on those white heads under the skin that just never would go away
Skin Type:
Combination
Age:
18-29
Lightweight
Softens Skin
Soothes Skin
Daily Use
Sensitive Skin
Uneven Skin Tone
While using this product for the first time I wasn't sure what I felt. I definitely noticed improvement in my skin, but the slightly greasy texture made me want to explore other options. After finishing a bottle I decided to try the Clear regular strength bha. Huge mistake! Still can't believe what a disappointment that product was... anyway, I came running back to this formula and won't be without it again. The texture doesn't bother me at all now.
Skin Type:
Combination
Age:
18-29
Greasy
Heavy
Irritates Skin
Not Effective
Made my skin break out and feel super slicked with oil the next morning. I want to return this product so bad but it passed 180 days and i would never recommend to anyone
Irritates Skin
Not Effective
I was excited to try this due to all the great reviews but it was not me. It made my skin worse which is very depressing. I used it twice a day as directed but switched to once after noticing it can be drying at times. My skin started getting red and now I have more bumps covering my checks, plus acne that came to the surface that left red marks. It is crazy that as a adult my skin is in this state.
Service and delivery comments:
Delivery was prompt and product well packaged
Exfoliates
Lightweight
Moisturizes
Softens Skin
I have to say this is a FANTASTIC product. Nothing I have done including a chemical peel has gotten rid of my clogged pores. This is knocking it out. However, I have to say I am very glad I purchased the travel size because it is a bit much for me. I think I need more like the 1%. I will be purchasing that next. I do have to say again though I can understand why everyone raves about this product it is excellent!
Skin Type:
Combination
Age:
45-59