Images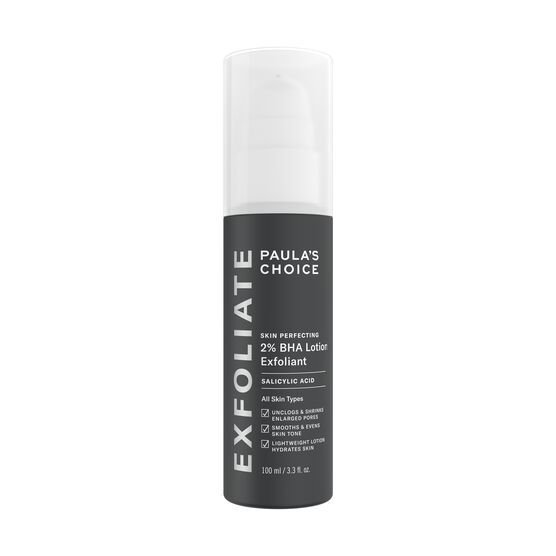 This skin-softening leave-on lotion exfoliant with 2% BHA is a completely non-abrasive way to shed built-up layers of dead skin to reveal the radiant, smooth skin hiding underneath.
SKIN PERFECTING 2% BHA Lotion Exfoliant
Details
https://www.paulaschoice.com/skin-perfecting-2pct-bha-lotion-exfoliant/205-2051.html
This skin-softening leave-on lotion exfoliant with 2% BHA is a completely non-abrasive way to shed built-up layers of dead skin to reveal the radiant, smooth skin hiding underneath.
Gently refines and clarifies pores
Diminishes the appearance of wrinkles
Moisturizing lotion hydrates skin's surface
Use up to twice daily after cleansing & toning skin
Skin Types:
Dry/Very Dry Skin, All Skin Types
Concerns:
Enlarged Pores, Wrinkles, Anti-Aging, Blackheads
Additional Information
Why is it different?
SKIN PERFECTING 2% BHA Lotion Exfoliant has a light lotion texture that softens and hydrates skin as it gently and naturally exfoliates dead skin, just like your skin did when you were younger. This lotion creates an immediate and dramatic improvement in skin's appearance and feel. Your skin will look more radiant and unbelievably smoother, with diminished pore size and less visible wrinkles.
This exfoliant has a pH range of 3.2–3.8.
What does it do?
Exfoliates dead skin to reveal the healthy-looking radiant skin hiding underneath. This optimal form of gentle exfoliation renews skin's youthful-looking texture, shrinks pore size, and diminishes the appearance of fine lines and wrinkles. Lightweight, hydrating emollients soften skin, leaving it feeling smooth and soft without flaking or redness.
How to use
Apply once or twice daily after cleansing and toning. Apply a dime-sized amount over the entire face, including the eyes (avoid the lower lash line and eyelids). Do not rinse. For daytime, follow with a broad-spectrum sunscreen rated SPF 30 or greater.
Show details
Research
Archives of Dermatology, August 2000, issue 8, pages 989-94

General Physiology and Biophysics, September 2013, issue 3, pages 347-59

Journal of Clinical, Cosmetic and Investigational Dermatology, 2015, volume 8, pages 455-461

Cosmetics, 2015, issue 3, pages 259-276
Ingredients
Product Ingredients
Water, Butylene Glycol (hydration), Polysorbate 20 (emulsifier), Cetyl Alcohol (thickener), Salicylic Acid (beta hydroxy acid/exfoliant), Ammonium Acryloyldimethyltaurate/VP Copolymer (thickener), Cyclopentasiloxane (silicone slip agent), Sorbitan Stearate (emulsifier), Camellia Sinensis Leaf Extract (green tea/antioxidant), Lauric Acid (fatty acid), Allantoin (soothing agent), Glycerin (skin-replenishing ingredient), Glycyrrhiza Glabra (Licorice) Root Extract, Avena Sativa (Oat) Bran Extract, Epilobium Angustifolium Flower/Leaf/Stem Extract (plant-based antioxidant soothing agents), Dimethicone (silicone skin-conditioning agent), Xanthin Gum (thickener), Magnesium Aluminum Silicate (absorbent slip agent), PEG-40 Stearate (thickener), Sodium Hydroxide (pH-adjusting agent), Hexylene Glycol (solvent), Disodium EDTA (chelating agent), Ethylhexylglycerin (skin-conditioning agent), Phenoxyethanol, Caprylyl Glycol (preservatives)
Ratings & Reviews
Lightweight (56)
Non-greasy (52)
Moisturizes (38)
Softens skin (36)
Soothes skin (27)
Irritates skin (25)
Not effective (17)
Drying (9)
Heavy (5)
Bad smell (3)
Daily use (52)
Enlarged pores (36)
Sensitive skin (32)
Uneven skin tone (29)
Redness/ blotchiness (21)
Reviewer Profile:
Beauty conscious (30), Survivalist / minimalist (13), Beauty expert (8)

Skin Type:
Combination (28), Dry (18), Normal (7)
Reviewed by 390 customers
Why did my favorite BHA change? This BHA lotion use to be perfect!!

I finally ran out of my old bottle and tried this new formulation and I'm horrified. It's thick and greasy and worst of all it doesn't soak in at all!! As I rubbed it into my face it was like trying to rub white paint into my skin, it just wouldn't soak in or go clear and didn't want to spread and would just sort of sit on top of the skin. Finally I got it all on and it felt disgusting, like I had put on a heavy night cream, which my skin can't tolerate. This BHA lotion is now unusable for me, and that's a real shame because I love Paula's products. But I don't know why they constantly have to ruin good products by reformulating them. Was anyone asking for this reformulation?
Skin Type:
Normal
Age:
30-44
The 1% BHA Lotion has been discontinued. I loved that product, it worked so well for me. Unfortunately this 2% Lotion is not even close. It is thick and will not soak into my skin for some reason. I'm using it on my upper arms just to get rid of it. I've switched to a AHA product but that does nothing for my large pores and blackheads. I'm very disappointed.
Sensitive Skin
Uneven Skin Tone
I have been searching for a long time for products that suit my constantly changing skin; I find that I need an entire arsenal to meet it's needs. For reference: I am 37, post-menopausal with a long-standing hormone condition all of which impacts my skin. It is sensitive, acne prone, very dry with significant post-inflammatory hyperpigmentation. I become quite frustrated when products are changed, discontinued etc as I have spent a lot of time and money on products in this long search. I have to say that my skin is the best it has been in about 5 years. My current routine is Lancôme eye makeup remover, Estee Lauder balm cleanser followed by Neutrogena hydroboost gel cleanser. One night with an AHA routine: Reversa Skin Smoothing 10% AHA cream, Paula's Choice Omega oil, La Roche Posay moisturizer, Poreuji Cream. then BHA routine the next night with Paula's Choice 2% Lotion formula, Paula's Choice Omega moisturizer, La Roche Posay Moisturizer, Poruji cream. I use Dr Jart tigergrass cream when my skin becomes upset/irritated as a spot treatment, usually on the sensitive skin around and under my nose. Each morning I use the Omega Oil moisturizer with two drops of Lightning Liquid Vitamin C concentrate followed by La Roche Posay moisturizer and then Klairs Light Blue SPF. I am truly praying that none of these products are discontinued!
Lightweight
Moisturizes
Non-Greasy
Softens Skin
Soothes Skin
Daily Use
Enlarged Pores
Redness/ Blotchiness
Sensitive Skin
Uneven Skin Tone
I truly cannot believe the reviews I am reading on this product. I think this BHA Lotion (yes, the updated version) is phenomenal! I liked the original formula, but I LOVE this new formula. For me, this product not only works better, but it's such a lovely gel-cream texture that is so, so hydrating. Sometimes I felt like the old formula kind of "sat" on my face. Not this one at all! I have friends with oily and dry skin, and we all love this BHA version compared to the other gel or liquids. I actually wrote a review a while back saying how much I loved this, but I felt as though I needed to put another review again, just to let PC know that I, along with a few of my close friends, adore this updated product. It makes your skin so soft, it calms down redness, and it helps prevent blackheads, pores, and minor breakouts. I'm actually quite a minimalist (most of my routine is Eucerin, Cerave, or Cetaphil), but believe me when I say - this product is irreplaceable!
Service and delivery comments:
Paula's Choice is amazing with delivery! I live in Texas and always get my order within 4 or 5 days!
Skin Type:
Combination
Age:
18-29
Drying
Irritates Skin
Not Effective
I am also one of the loyal customers who repurchased this not realizing the formula had changed and felt totally duped. I have sensitive, acne prone skin that definitely leans more toward the oily spectrum of combination. The old, thick formula was perfection. It evened out my bumpy skin texture and moisturized my face enough so that my skin didn't feel the need to overcompensate with a ton of natural oils. With this new thinner, gel-like formula my face feels irritated after application, which is definitely a big no no for sensitive acne prone skin. It's not very moisturizing at all which makes my oil glands go into overdrive and I'm a total grease-fest after a few hours. No idea why they messed with a good thing! I could see the old version working for numerous skin types, but I have no idea who this current formulation is catered to. Tried giving it a fair shot since PC doesn't have any other good alternatives that are comparable to the old formula, but this one is gonna be a total miss for me. I love PC and even got my mom into their products, but I would not repurchase the new version of this BHA "lotion" and would not recommend.
Skin Type:
Combination
Age:
18-29
I used the old formula of this product for as long as I can remember and, though it's just gotten more and more expensive, I continued to use it, unlike any of the other PC products which have been priced above their value. But now, with this formula change, I'm saying goodbye to PC. The new formula is more like a gel lotion than a cream and after the first few days of use caused a giant painful pimple to form on my nearly 40-year-old cheek...which would be an accomplishment if it didn't feel like a skin care crisis. I can get products I like this little for much less by shopping elsewhere.
I've been using the lotion for 7 or 8 years and it perfect - very moisturizing, soothing, and always kept my skin clear (I'd only break out when I wasn't using it). My last old bottle finally ran out (it takes me about a year to get through one) and I've been using the new formula for 3 or 4 weeks. Since 2003, I've tried almost all of the the PC AHAs and BHAs and I think the 2% BHA lotion was the only really moisturizing one of the bunch. I'm quite disappointed that the new formula is lighter in texture and lost some nice ingredients.

What was the reasoning for changing a great formula after so many years? One thing that I'm finding really annoying about PC is that formulas are changed and products dropped and there isn't enough information about why and when. I would have purchased a few samples of this before committing to a whole bottle if I had known. More communication, please!!
Service and delivery comments:
Delivery is always quick. No complaints here.
Irritates Skin
Not Effective
My daughter and I loved the old formula! I have been using it for 2-3 years. It did work well for my skin and my daughter's clogged pores. I ordered this one not knowing it's a new formula. I pumped it out and realized it's not the same. I tried it on anyway and it gave me big painful nodule. I stopped and the nodule disappeared, then tried again, and same thing happened. It did not work for my daughter either. it does not do anything for her clogged pores at all. After this one, I will not purchase it again!
Skin Type:
Combination
Age:
45-59
Ok so i've been using this product for about 2 wks. I purchased this to help with my large pores. I am
Not a big fan of the scent but i can deal With that BUT the first time i ever used this my face was stingy and itchy. I continued using it thinking its just an initial reaction and that it will get better. I feel my skin tighten the next morning a little itchy so i make sure i mositurize every time. But almost 2 wks and it still stings and burns. I stopped. Such a waste :(
Skin Type:
Combination
Age:
30-44
Lightweight
Moisturizes
Non-Greasy
Smells Great
Softens Skin
Soothes Skin
Daily Use
Fine Lines/Wrinkles
Redness/ Blotchiness
Uneven Skin Tone
I love the new formula so much!!! I always used the old one and thought it was great, but sometimes wish it was just a little more. So this one is perfect. Makes my skin much softer and brighter than before.
Skin Type:
Combination
Age:
18-29