Images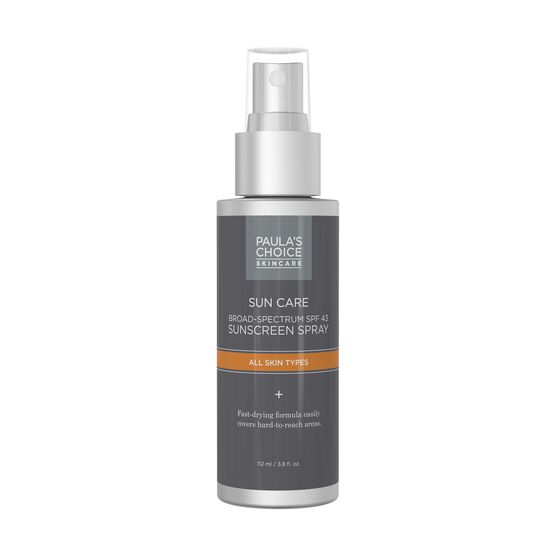 This lightweight, alcohol-free liquid sunscreen spray goes on evenly and absorbs quickly with a weightless finish, leaving you protected from head-to-toe.
SUNSCREEN Spray Broad Spectrum SPF 43
Details
https://www.paulaschoice.com/sunscreen-spray-broad-spectrum-spf-43/233-2330.html
This lightweight, alcohol-free liquid sunscreen spray goes on evenly and absorbs quickly with a weightless finish, leaving you protected from head-to-toe.
Sprays from any angle for those hard-to-reach places
Hydrates skin for a smooth, soft feeling
Quick-dry formula
Skin Types:
All Skin Types
Additional Information
Why is it different?
SUNSCREEN Spray Broad Spectrum SPF 43 has a silky, alcohol-free formula that provides broad-spectrum sun protection. The refreshingly light liquid sprays from any angle, ensuring easy application to all areas of exposed skin, even when you're on the go.
What does it do?
Protects skin with broad-spectrum sun protection while hydrating skin for a smooth, soft feeling. It also contains antioxidants to safeguard skin from the elements. The SPF 43 is a significant benefit as it decreases the risk of skin cancer and early skin aging caused by the sun if used as directed with other sun protection measures.
How to use
Apply liberally at least 15 minutes before sun exposure. Spray evenly onto skin from the neck down and massage into skin. Do not spray directly onto face; spray sunscreen into the palm of one hand and use fingers from your other hand to apply to face. If you plan to swim or will be perspiring, you must apply a water-resistant or very water-resistant sunscreen.
Show details
Research
Journal of Drugs in Dermatology, September 2016, issue 9, pages 1121-1123

The Journal of Clinical and Aesthetic Dermatology, January 2013, issue 1, pages 16-26

Dermatologic Therapy, 2012 May-June 2012, issue 3, pages 229-233

Indian Dermatology Online Journal, April-June 2013, issue 2, pages 143-146
Ingredients
Product Ingredients
Active Ingredients: Avobenzone 3.0%, Homosalate 8%, Octisalate 5.0%, Octocrylene 2.5%, Oxybenzone 5.0%Inactive Ingredients:Cyclopentasiloxane (hydration), C12-15 Alkyl Benzoate (emollient/texture-enhancing), Octyldodecyl Neopentanoate (emollient), VP/Hexadecane Copolymer (texture-enhancing), Tocopheryl Acetate (vitamin E/antioxidant),Tetrahexyldecyl Ascorbate (vitamin C/antioxidant), Phenyl Trimethicone (hydration), Panthenyl Triacetate (emollient).
Ratings & Reviews
Effective protection (10)
Rubs in well (6)
Lightweight (4)
Not greasy (3)
Greasy (6)
Doesn't rub in well (4)
Reviewer Profile:
Brand buyer (7), Beauty conscious (4), Budget shopper (3)
Excellent product for dry skin. Quick and easy application. Absorbs quickly. Great extra layer of moisture on my face in winter. Love it!!!!!
Broad-spectrum protection
Easy to apply
Lightweight
Daily Use
Oily skin
Under makeup
I am so happy that PC finally brought back a spray sunscreen. I used to use their spray sunscreen product exclusively in the mid 2000s. The consistency, smell, and application of this product is very similar. The older version spray sunscreen was suddenly discontinued due to a supplier shortage of one of the ingredients. I was devastated! And now, we have a new version! This product is a must for me in the morning because it's so fast to apply. I often forget to put on sunscreen before getting dressed or I end up changing what I'm going to wear at the last minute, thus changing the pattern of skin that needs to be protected. What I love most about this product is that it is weightless and invisible. There is no risk of getting a chalky white streak on the edge of my cuff or neckline. I just spray, rub in, and go. For face application, I spray onto my hands first and then apply. Please keep this product on the shelves this time, Paula! I need it! I love it!
Service and delivery comments:
Paula's Choice delivery is always very prompt and their customer service is some of the best in the industry.
Skin Type:
Combination
Age:
30-44
I rarely write reviews but feel compelled to write one for this. Most of PC's products actually are worthy of positive reviews from me. They line my bathroom and have for years. This product, their line of sunscreens, are worth special mention. The best I have found. Mostly without a scent, greaseless, and will not sting your eyes. A neighbor of mine who has fair and very sensitive skin was telling me that she can't use sunscreens b/c they cause rashes and breakouts and after I highly recommended that she use this one, she came back to me with an incredulous "I can't believe it. This is the only sunscreen that has no reaction on my skin." I have recommended this to everyone I know and all are very pleased. And the price point is very fair too. Thank you, PC team for the formulations you give us.
As a redhead, I was worried about sun protection when I visited New Zealand in the summer.. The hole in the ozone layer makes this one of the most dangerous places on earth as far as sun rays and I was out all day on treks. I used a cream on my face and this spray everywhere else. This spray made it so easy to get full coverage. I was able to reapply while hiking in a minute. No sun burn - I didn't even get tan!
I don't use this product daily, but If I going to be out running or hiking during the day - I will always use this (and a hat!)
Lightweight
Moisturizes
Non-Greasy
Smells Great
Softens Skin
Soothes Skin
Comments about SUNSCREEN Spray SPF 43 - 3.8 oz:
I bought this sunscreen this summer and I absolutely loved it. It is not greasy at all. It maybe looks that way when you first spray but it rubs in so quickly and dries flat. I also lived that it doesn't have the typical sunscreen smell most other sprays have. I sprayed it all over my family and I never noticed any staining of clothes either. I will be stocking up on this spray!
Comments about SUNSCREEN Spray SPF 43 - 3.8 oz:
I wanted to love this product because of how convenient sunscreen sprays can be. However, I found it to be extremely greasy and it takes forever to dry. It also stained my clothing. It's way too oily. I would stay away and stick to the sunscreen lotions.
Skin Type:
Combination
Age:
18-29
Comments about SUNSCREEN Spray SPF 43 - 3.8 oz:
I like this sunscreen. I do not find the oily texture greasy and so easy to apply. It turns matte as you rub and feels very light and comfortable. For once, applying sunscreen isn't a chore! Still, it doesn't deserve 5 stars because the 3.8 oz size means it can't be in a carry-on, and that is a major inconvenience. I tried to transfer to a smaller spray bottle but discovered the top is fixed.
Effective Protection
Great For Sensitive Skin
Non-comedogenic
Rubs In Well
UVA/UVB Protection
Comments about SUNSCREEN Spray SPF 43 - 3.8 oz:
I use sunscreen head to toe every day. I usually have to use four different sunscreens for different parts of my body: One low spf for the super sensitive skin on my neck, one for my oily face, one for my body, and one for my dry hands. I usually can't use more than an spf 15 on my neck or I get an itchy rash, however, I can wear this daily with no irritation at all. This sunscreen is very much like an oil, so it does feel a bit greasy initially, however, it soaks in so quickly that I even use it on my hands. It does indeed come out in a stream rather than a mist, however, I love it so much that I really don't care! It's easy to spray into your hand and then apply. I've finally found my perfect sunscreen! Less expensive would be nice, but this is the first sunscreen I've tried and loved that I'm hooked.
Comments about SUNSCREEN Spray SPF 43 - 3.8 oz:
I liked this product as a spray. Fast to put on & I could reach my back for protection. It has an oily finish but I liked it after I rubbed it in.

This bottle leaked on my flight home. Thank goodness I had it in a plastic bag. I checked & the lid was on tight. It did not leak on the flight out, but it was new and not opened.
Comments about SUNSCREEN Spray SPF 43 - 3.8 oz:
I like this products, it is a bit like an oil in texture but still fairly light. It doesn't soak into your skin completely right away but it is a nice light transparent texture. I would buy this product again as it is unique given the non aeresol spray formula which is hard to find. I do, however, have three complaints. It is expensive for the size, I wish it had physical rather that chemical sunscreen protection and finally, the size of the bottle is problematic for travel. The bottle is 3.8 oz which is just BARELY over the max travel size allowed for carry on luggage (3.3 oz) so there is no way to travel with this sunscreen. PC please sell a 2 or 3 oz size for travel, that would make this product more versatile and useful because who checks luggage these days anyway. Until then I will purchase other brands for travel... Overall good product but PLEASE MAKE A TRAVEL SIZE VERSION. Thanks!